Siachen braveheart Lance Naik Hanamanthappa Koppad, who survived miraculously for six days under a huge ice-and-snow debris after an avalanche hit his post before losing life to multiple organ failure, was on Sunday awarded the Sena Medal.
The doughty soldier's wife Mahadevi Ashok Bilebal received the medal from Army Chief Gen Bipin Rawat at Army Day parade here.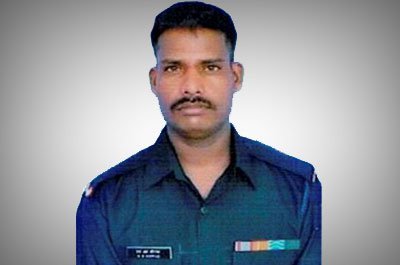 A resident of village Betadur in Dharwad district of Karnataka, the Madras regiment soldier was pulled out alive from under 30 ft of ice-and-snow debris where he lay buried for six days on the unforgiving Siachen glacier.
Dubbed as the 'miracle man', the soldier had managed to stay alive for six days in minus 45 degrees Celsius temperature, buried under ice and snow after an avalanche struck his post on February 3.
10 Army personnel, including Koppad, were were buried alive on February 3 in an avalanche in Siachen, the world's highest battlefield. In a miraculous turn of events, Koppad was found alive buried under snow in critical condition after six days of rescue efforts.
The Lance Naik was flown to Delhi's Army Referral and Research Hospital for treatment where he died on February 11 due to multiple organ failure, after waging a grim battle for life for nine days.
Among others, his death was deeply condoled by Prime Minister Narendra Modi, while the whole nation paid glowing tributes to the 33-year-old soldier.
He had served for 10 years in difficult and challenging areas out of his 13 years of service.
He had also served in the north-east in 2010-2012 where he participated in operations against NDFB and ULFA.Sena Medal for braveheart who survived 6 days under snow.
(Feature image source: Twitter/ANI)