A senior officer from Assam Police, was suspended on Saturday, for putting out anti-Muslim posts on Facebook. Anjan Bora, a Deputy Superintendent of Police from Karbi Anglong district allegedly posted messages which incited hatred towards members of the community. 
A departmental enquiry has ordered against him and he has been asked to not leave the state without prior permission.
Here are the series of posts which say  'Jai Shree Ram', 'Jai Hindustan' and 'We should join hands for a Muslim free Hindustan':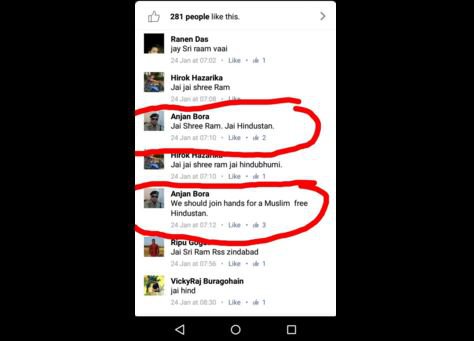 His Facebook friends 'welcomed' the inflammatory posts with many pledging their support for the 'cause'. 
A Northeast Today report says that he had also vowed to put an end to Azan (Muslim prayer call) and said that he had killed many Muslim people including Rafikul Islam, a Congress worker in BTAD (Bodoland Territorial Autonomous Districts).   
The incident led to several protests across the state demanding his dismissal from the service. According to a report by Assam Sentinel, activists belonging to All Assam Goriya Yuba Chatra Parishad and other youth and student organizations of indigenous Muslims of Assam burnt his effigy and demanded for his immediate arrest.
"We all thank the government of Assam for promptly suspending Anjan Bora, APS. I hope he will be terminated after following the due process. People like him are more dangerous than the dreaded terrorist", said Burhanur Rahman, an advocate at Gauhati High Court told the Hindustan Times.
The controversy comes at a time when the upcoming state assembly elections are just months away and in which the issue of Bangladeshi migrants is a major issue. However, Anjan Bora has denied all the allegations claiming that his Facebook account was hacked. 
(Feature image source: Twitter/CNN IBN News )