A senior police officer was caught on camera slapping a woman protester during an agitation for closure of a state-owned liquor outlet near Coimbatore, sparking outrage and condemnation. 
Following the incident on Tuesday evening, the Tamil Nadu government on Wednesday ordered closure of the outlet in Tirupur district and an inquiry. The incident occurred in Shamalpuram, about 20 km from Tirupur, when a group of people, including women, blocked a road demanding closure of the TASMAC liquor outlet that was relocated to their locality consequent to the Supreme Court ban on sale of liquor within 500 metres of the highways.
As the protesters refused to disperse, Additional Deputy Superintendent of Police Pandiarajan slapped one of the women and pushed two others, asking them to move away from the road. Protesting this, a section of the agitators allegedly pelted stones at the police, who then resorted to lathicharge to disperse them.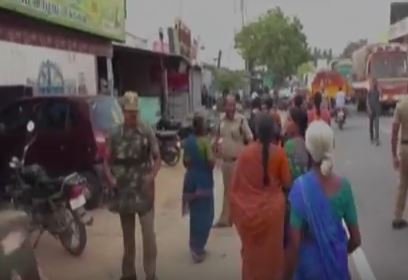 Police said three persons were injured in the melee with one of them being hospitalised. As the video showing the act went viral, various political parties, including DMK, condemned the 'police brutality'. Shops in the locality remained shut on Wednesday in protest against the police action. 
The incident came up in the Madras High Court when social activist Traffic Ramaswamy and PMK's legal wing member K Balu, made a special mention and sought action against the police officer. When the petitions came up for hearing before a bench of Chief Justice Indira Banerjee and Justice M Sundar, state Advocate General R Muthukumaraswamy submitted that action was being initiated against the erring police officer and an inquiry had been ordered.
He also said the licence for relocating the shop had been cancelled by the District Collector. The AG submitted that the government had initiated action to relocate the outlet as per the Supreme Court order banning liquor shops within 500 metres of national highways. During the course of relocation, a crowd gathered at the spot and staged a protest.
Police intervened when they started hurling stones, he said, adding some police personnel were also injured in the incident. The court then directed the government to give medical assistance to the injured at its cost in the hospital chosen by the victims and disposed of the petitions
A group of 27 local residents launched a fast late on Tuesday night, demanding action against the ADSP. District Superintendent of Police E S Uma rushed to the spot and held talks with them at around 3.30 am in a bid to persuade them to give up their protest. As they refused to call off the agitation, all the 27 weredetained later, police said. 
But another batch of around 75 people commenced a fast this morning, demanding the dismissal of the ADSP. They also demanded release of 27 people taken into custody.