Shudhh Desi Romance , they call it. And we couldn't agree more.In a time when ' sanskriti ' is fast-eroding and ' sanskaar ' has been reduced to a mere Alok Nath meme, Hindu Mahasabha has given us all an opportunity to redeem ourselves, by marrying off couples seen romancing on V-day. Aww.
So, in order to make the samaj-sewak Mahasabha workers' lives easier, a bunch of bright, young, non-'feminist type' people have announced a grand plan -- to show up in bright, colourful attire at the Mahasabha's office in Delhi, in pairs of course. Haye, such adarsh baalaks/baalikas , we tell you.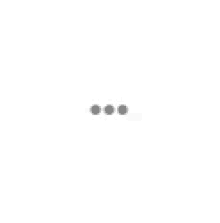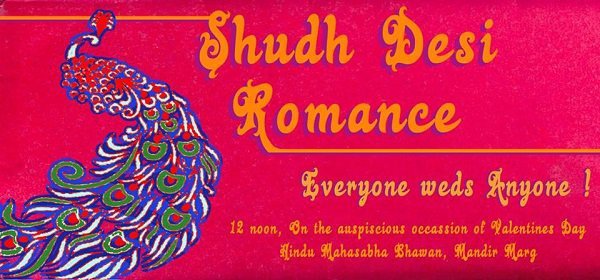 We caught up with one such baalika , who goes by the name Laxmi Bai, and asked her a few questions about her Hindu Mahasabha-funded mass wedding.
1. What does Hindu Mahasabha mean to you?
The Hindu Mahasabha is the best thing that could have happened to us. Their Shuddh Desi twist to Valentine's Day is the ultimate move needed to protect our sacred sanskriti and he institution of marriage, which is under attack by western influences and those horrid feminists.
The Hindu Mahasabha is leading the way in providing guidance to our Archies generation of youth, who think love can be bought and sold in the market and hence, they celebrate things like Valentine's Day.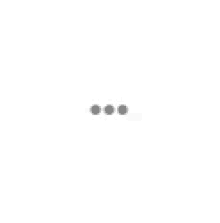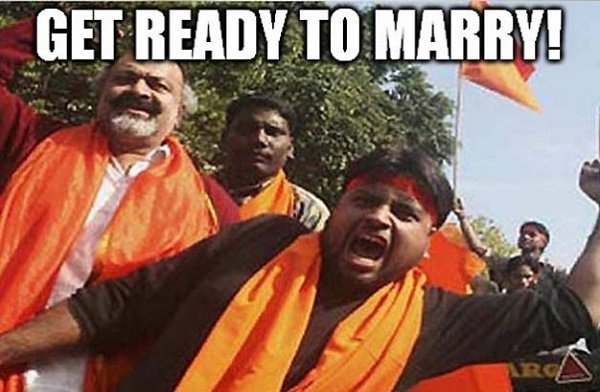 They have shown how true love is about responsibility and commitment -- love is not about roaming around in the streets holding hands and kissing, but about taking responsibility of the household, and especially your husband's needs (generally and sexually!)
Must congratulate her parents. Such sanskaar. :')
2. Have you found your suitable var for the event?
Yes, of course. It's high time na ! The lucky man is Prakash Kaushik, the head of the Hindu Mahasabha. He even has his own website . Such a handsome man, full on sapno ka raja types! Sigh! I wonder if he is 56inch too! I have placed an order with the PMO office for a special suit for him, you know that one with his name stitched on it all over in golden thread.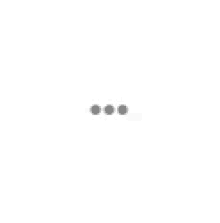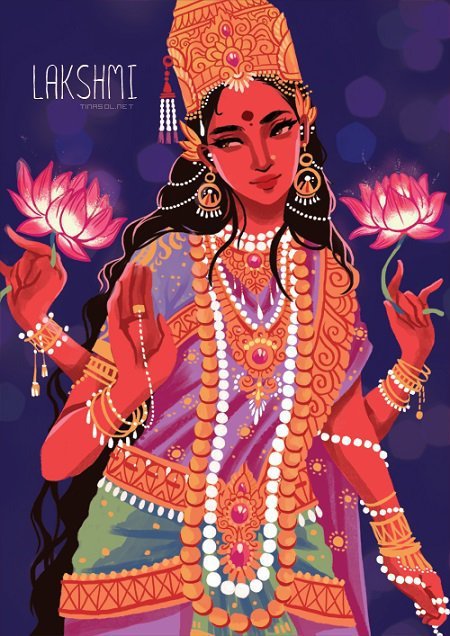 What a catch! Laxmi Bai Kaushik has a ring to it, no?
3. First reaction on hearing the great news from the Mahasabha?
Absolutely, totally fucking delighted! I mean, what a boon, for all of us -- struggling lovers, fighting family and society, barriers of religion, caste, class, gotra, gender etc. With the Mahasabha on our side, our transgressive love will finally attain the ultimate fulfilment that is marriage.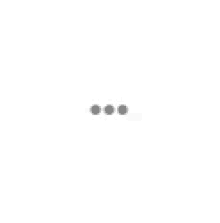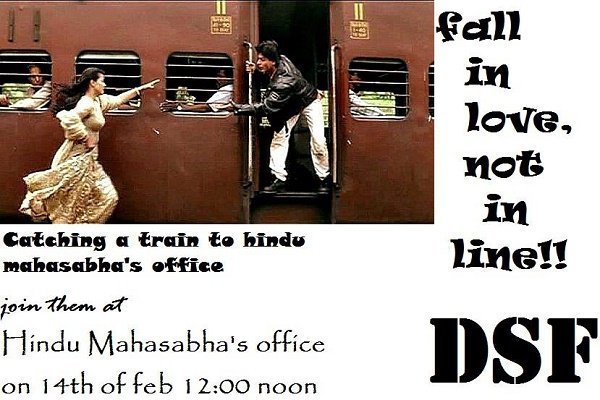 Of course, love 'jihadis' will have to undergo a shuddikaran. However, ghar wapasi tickets have been reasonably and auspiciously priced at Rs.11 each and will be on sale on the wedding day.
This is SUCH A fix all celebration. Who knew Indians could add so much meaning to Valentine's Day?
4. Do you think the Kejriwal's swearing-in ceremony is going to be a dampener for this mass wedding? (Both are at 12pm tomorrow)
We were annoyed that Kejru is trying to take our thunder away. Clearly the new CM has a more passionate romance with Feb 14.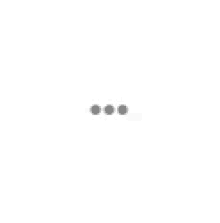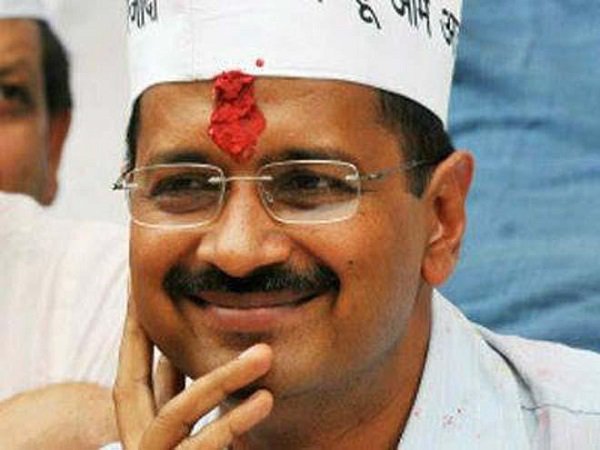 The morale of the Hindu Mahasabha is low after mufflerman became dapper. This is hence, the most opportune moment moment for lovers and otherwise to strike, to show their immense gratitude to the Hindu Mahasabha for its wonderful initiatives. What is that they say "Jaale peh namak cheerakna?"
Dear Kejriwal, Y U NO wait for one day?
5. How is this different from Kiss of Love? Or is it?
How dare you compare it to Kiss of Love? Chee chee! We only believe in marriage ( shuddh desi style) and in no public display of affection, which is totally against our culture.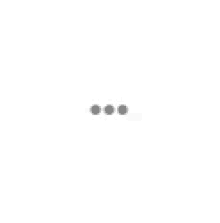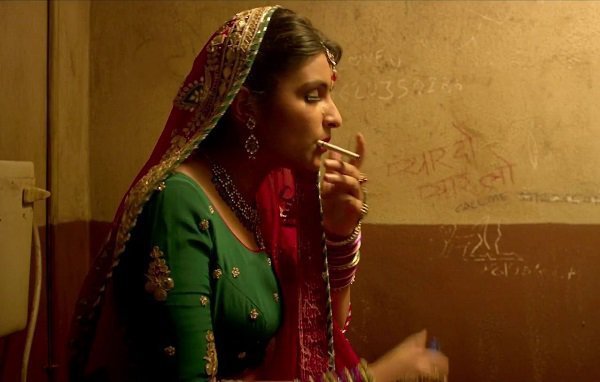 Please ask the feminists to stay away from our sacred wedding, we do not want them to at all dissuade our excited to-be newly-weds with their stupid (but fiery and persuasive) arguments
Sorry, sorry! Wrong question, Laxmi Bai madam.
6. Who are the people involved in organising this mass wedding? Other than the Mahasabha of course.
Now, there are many of us who have a stake in this. We are the Heer and Ranjha who were fined by the police in the park last month. We are those girls who are not allowed to wear jeans or carry mobile phones to college. Apparently chow-mien makes us hysterical.
We do not have A Room of One's Own and when we make love in the parks, we stand abused. We are the Laila who loves a Laila and were disowned by their parents last week.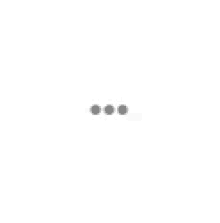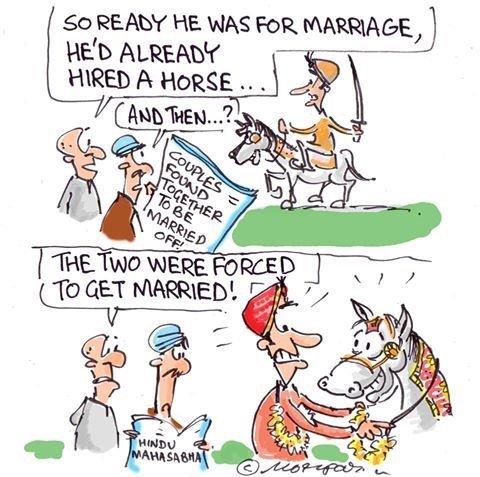 We are the run-away couple who will be murdered soon in the game of 'honour'. We could be that wife who is raped every night by her husband and for whom marital bliss is an oxymoron or the Dalit boy who was murdered for daring to love a Brahmin girl. The list goes on.
Let's just say, an idea was thrown and people have caught on and made it their own!
So what are you waiting for, saddi Dilli?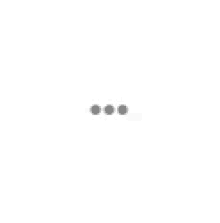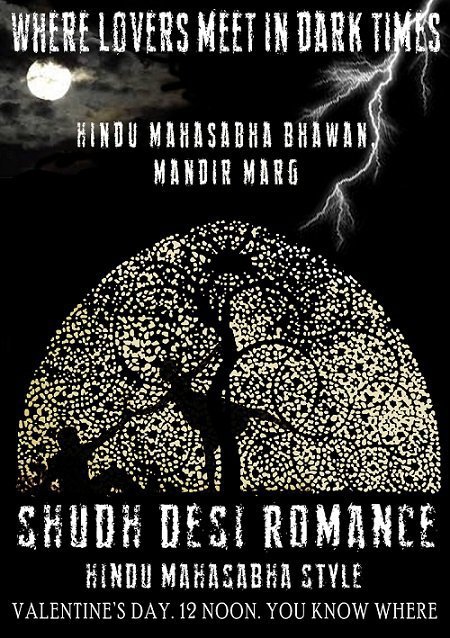 Visit their page for more details on your vivaah-lentines day tomorrow. We'll be there too (free wedding photographers!)
*Wedding bells be ringing*