It's been almost a month since anti-CAA protests began at Shaheen Bagh in Delhi. The sit-in organised by Muslim women here have continued despite the chilling cold and rain in Delhi.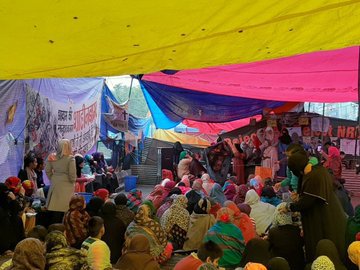 This Sunday, 12th January, saw one of the largest gatherings at Shaheen Bagh, ever since the protests started. Thousands of people gathered at the spot to show their solidarity with the protesting women. 
People of different faiths came together to participate in a multi-faith prayer ceremony. The Preamble to the India Constitution was also read along with the readings of the Bible, Quran and Gita.
It was truly incredible to see scores of people coming out and joining protests at Shaheen Bagh.