After the shocking news of police horse Shaktimaan having her leg broken during a protest, came the news that she might lose the limb. However, on Tuesday night there was some good news with the horse being operated upon and doctors saying she could even be back to normal by April-end. 
The Economic Times reported that a dozen doctors from the state government and Army operated on the police horse on Tuesday and also declared that she won't require an amputation. 
A doctor told the Indian Express that they will assess the horse's health again and they're pretty sure that it will be able to walk, and even run again. 
To ensure that she recuperates, a special sand enclosure is being built in the Dehradun Police Lines for Shaktimaan.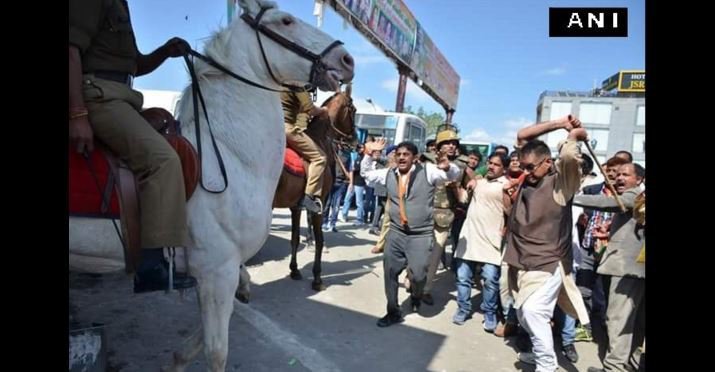 But while the white horse might have survived a broken leg, she has something far worse to deal with now: Politicians and politics. 
While the daughter of BJP MLA, Ganesh Joshi, who is accused of breaking the horse's leg defended him earlier, the lawmaker has also denied that he did anything to harm the animal. 
Joshi told the Economic Times that he had gone to visit the horse on Tuesday but was stopped from being able to see the animal. He also said he wanted to foot the cost of the treatment of the horse and even wanted to adopt it. 
He also put out a video in which a man is seeing pushing the horse, resulting in it falling, as proof of his innocence: 
But that wasn't it. 
According to a Hindustan Times report, a beeline of VIPs and politicians coming to see the injured horse meant that it was given painkillers just so that it could stand for them. Like when Chief Minister Harish Rawat came calling: 
The Chief Minister even came away with a deep understanding the horse's emotions and even its unsaid words: 
The police has finally had to stop concerned visitors from trying to visit the horse so that it could get some rest.