Shaktiman, the police horse which lost one of its legs after being mercilessly attacked and beaten up during a protest, allegedly by BJP workers, is all set to get an artificial limb from US, for free.
The majestic white-horse, who is presently being looked after by the Uttarakhand police at the Reserve Police Lines, Dehradun, got his injured hind leg amputated last week.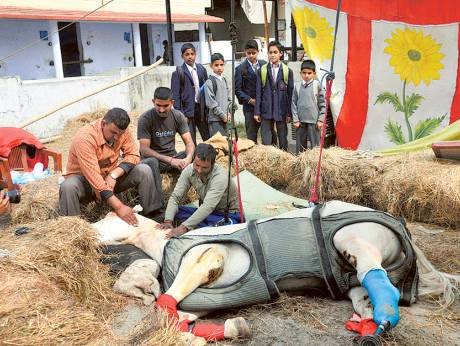 As per an Indian Express report, the prosthetic leg that is being shipped from US costs around $3,000 and Jamie Vaughan, who runs a US-based NGO working for veterinary care in Bhutan, is the one arranging the artificial limb from a US manufacturing firm.
"I love animals and I strongly opine that everyone should come forward to help an animal in need," she was quoted telling Times of India.
Jamie recently visited the horse to check on him and his health. She said that it will require regular dressings and good care for nearly a year to lessen his pain and help him lead a longer life.