New Delhi: On the eve of Gandhi Jayanti in 2014, Prime Minister Narendra Modi chose New Delhi to kick off of his ambitious clean India mission 'Swachh Bharat Abhiyan (SBA).' From the British-era boulevard Rajpath, Modi pronounced that "a clean India would be the best tribute India could pay to Mahatma Gandhi on his 150th birth anniversary in 2019."
While there was talk of pollution, there was hardly any mention of the hazardous air quality right in the capital. In fact only a month after the launch of SBA, a World Health Organization analysis revealed that 13 of the world's 20 most polluted cities in terms of air pollution were in India.
When the 'SBA' policy was announced, it wasn't a hard guess to ascertain where its focus lay.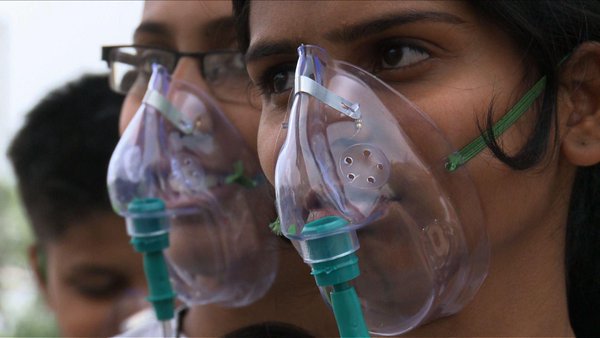 In the five years of its operation, the nation-wide drive with a budget of Rs 62,000 crores would aim to develop proper sanitation facilities in the country by creating toilets and solid waste management. It also talked about eradicating manual scavenging and "generating awareness about sanitation and its linkage with public health."
Notably, the policy had no framework for tackling air pollution. In fact, air pollution does not find even a single mention in the mission guidelines of the SBA – India's biggest cleanliness drive. 
Vivek Chattopadhyaya at Centre for Science and Environment (CSE) in Delhi says the government needs to broaden the scope and definition of pollution under SBA. 
"Irrespective of the fact whether Swachh Bharat Abhiyan is successful or not, the inclusion of air pollution under the mission would have scaled up focus towards healthy air quality among the public," Chattopadhyaya, who works as coordinator of CSE's Air Pollution Control Unit, told ScoopWhoop News.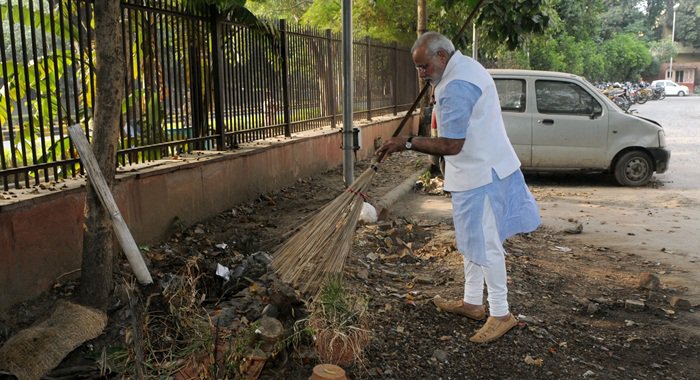 It's not that the government has brushed the air pollution under the carpet. 
In April last year, PM Modi launched National Air Quality Index to monitor quality of air on real-time in 10 cities of the country. Early this year, the central government launched a Rs 8,000 crore scheme to provide 5 crore free LPG connections to poor families across India. One of the objectives of the scheme was to reduce the usage of fossil fuels for cooking in households, a common health hazard across rural India. 
"Swachh Bharat Abhiyan did a wonderful job in making people aware and care about the pollution. However, people need to know sewage and dust are not the only pollution," Chattopadhyaya highlighted. 
NGOs and think-tanks in Delhi say they have brought up the suggestion of prioritizing the issue of air pollution before the government. Some even argue that they propagate the view in all the public forums. 
"It's natural if a government sends a message that it cares about a certain problem, the public does respond in affirmation. The same logic should apply to not only air pollution but other environmental concerns as well," Dhirendra Singh, Assistant Vice-President at The Imagindia Institute, a Delhi-based independent think tank, told ScoopWhoop News.
The Imagindia Institute, which works to promote the image and imagination of India, has been advocating the measures to better air quality at the government level, Singh said. One of their recent proposals was to install air purifiers in Delhi government schools. It didn't materialize.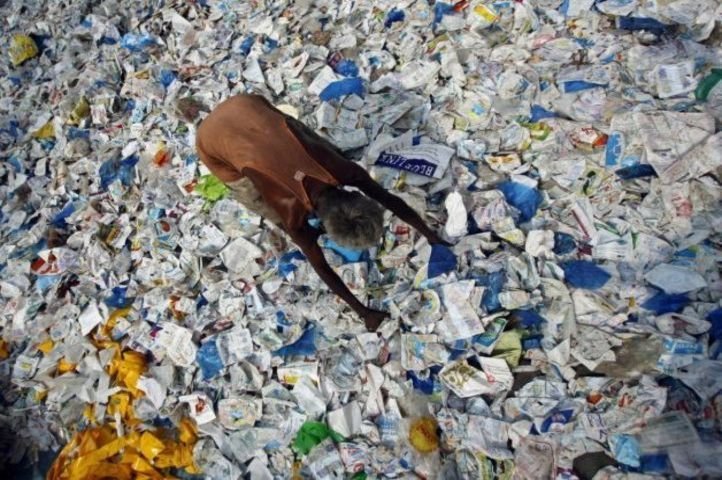 According to Singh, public will definitely welcome and cooperate if the government packages different pollution problems in a comprehensive policy at the central level.   
Chattopadhyaya from CSE also stresses on the similar view. "The centralized mechanism of such an environment policy will blur boundaries of states and regions. Air pollution will then be viewed as a national problem which calls for a national-level effort." 
Officials at the Ministry of Urban Development, the implementing agency for 'Swachh Bharat Mission' in Urban areas, say it's beyond their scope to explain the reasons why SBA is silent on air pollution. However, they do state that similar suggestions have been brought into their notice through various means. 
"The policy change may not be easy keeping in view the amount of resources such a change may require. Even the current SBA is not totally funded by government. It would definitely require a new strategy and source of finance will play a major part in that decision," a senior official from the Urban Development Ministry, who said he was not authorized to speak to media, told ScoopWhoop News.
Feature image source: PTI/File Photo