A Sikh Army captain filed suit against the U.S. military on Monday after being ordered to undergo "extraordinary, targeted, repetitive testing" before receiving permanent permission to wear a beard and long hair for his religion, court papers said.
Captain Simratpal Singh, a member of the 349th Engineer Battalion who was awarded the Bronze Star for his work clearing explosives from roads in Kandahar Province in Afghanistan, was granted a temporary accommodation last year allowing him to dress according to his religious beliefs, the court filing said.
But Assistant Army Secretary Debra Wada recently ordered additional tests before she would grant him a permanent exemption, saying she wanted to be certain he could safely wear a helmet and gas mask if he had a turban, uncut hair and a beard, the lawsuit said.
"Defendants abruptly informed Captain Singh that, because of his Sikh religion, he must immediately undergo extraordinary, targeted, repetitive testing ostensibly to ensure he can properly wear a combat helmet and safety mask," the suit said.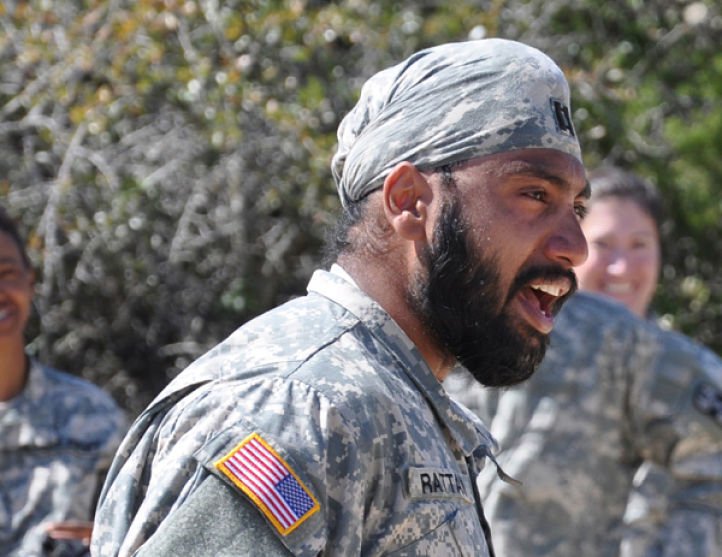 "This discriminatory treatment is unfounded and violates the Army's own regulations," the suit said, adding that other soldiers had not been subjected to testing beyond what is given to most troops. Singh recently passed the standard gas mask testing with the rest of his unit, his supporters said.
Air Force Major Ben Sakrisson, a Pentagon spokesman, said the department did not comment on ongoing litigation. But he said the military worked to "the maximum extent possible" to enable the free exercise of religion by all troops.
The U.S. military took steps in early 2014 to give individual troops greater latitude to wear turbans, head scarves, yarmulkes and tattoos if required by their religion.
The policy shift was mainly expected to affect Sikhs, Muslims, Jews and members of other groups that wear beards or articles of clothing for religious purposes. It also affected Wiccans and others who obtain tattoos for religious reasons.
Only three Sikhs have been granted permission by the U.S. military to wear turbans, beards and uncut hair over the past six years, court filings said. Singh and two other Sikhs are awaiting decisions on their requests for a waiver.
Singh is unusual among Sikhs seeking accommodations because in 2006 he attended West Point, where he gave in to pressure to cut his hair and beard.
But after a decade of service, including completing Army Ranger School, he obtained a temporary accommodation last year to enable him to follow the grooming traditions of his religion.