A six-year-old Indian girl has won praise for her brave attempt at stopping an axe-wielding robber, who attacked an employee at her father's store in New Zealand in a burglary. Sarah Patel was captured on CCTV trying to defend the staff member when a group of six armed men broke into the family's electrical shop in Auckland on Monday.
The footage shows the masked men kicking, punching and threatening employees with an axe and a crowbar, or iron lever, and smashing cabinets and stealing thousands of dollars worth of electronics. Patel, who was caught up in the violent drama, is seen in the video rushing towards one of the attackers standing over an employee with an axe, and tries to get him to stop his attack.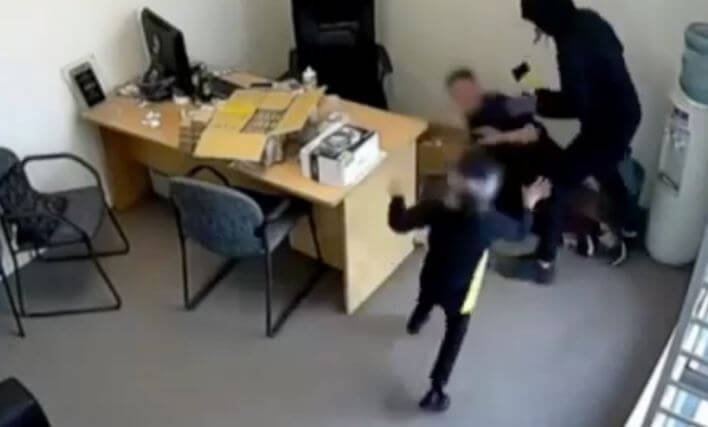 The girl grabbed onto the leg of the man during the armed incident that ended in a dramatic police chase from the North Shore to west Auckland. She told the New Zealand Herald she was "trying to save" the employee and that she "wasn't scared" of the bad guy. 
When Patel glimpsed the attacker's axe she fled. She later helped her grandfather out of the room and away from danger. Her father Suhail Patel told TVNZ he was "proud" of his daughter and though she had been shaken by the incident, she was recovering well.
"Last night she was very upset. Was in shock. We've been trying to say to her 'You're the bravest girl', that sort of thing," he said. Suhail said his daughter was extremely brave facing up to the man as he was holding what appeared to be a small axe. "I'm proud of her, definitely." 
Here is the video:
The proud father added his daughter was "always trying to help people" and he was not surprised she sprung into action. The video shows her being shoved aside by the man then helped up by her grandfather. Patel's mother Nashrin said her daughter initially thought the attacker was her father. After the intruders fled, they were pursued across West Auckland by police – as well as Patel, her mother and grandfather, who gave chase in their family car. 
They were eventually stopped by police road spikes laid out for them. Five 16-year-old boys have been charged with aggravated robbery, injuring with intent and breaching bail. A sixth suspect is still to be found. Several newspapers around the world today reported Patel's "astonishing bravery", calling her "fearless".