There isn't any CCTV footage or phone-captured video of what transpired on the night of October 14 in JNU's Mahi-Mandvi hostel. What is there are many voices recounting the events before one of the university's biggest controversies erupted. 
And there is also a statement – one that is signed by presently missing student, Najeeb Ahmad, witnesses, the students' union president and the hostel warden – that documents the initial version of what must have unfolded.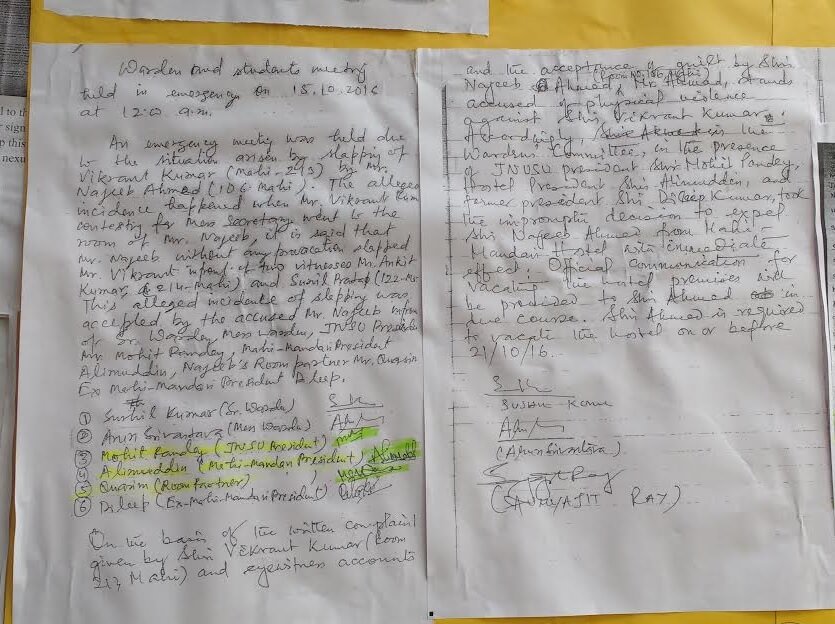 This document bears the minutes of the meeting that took place shortly after an alleged brawl between students involving Ahmad, a first-year student in masters course for biotechnology. Ahmad had joined JNU just three weeks earlier.
What the document says
This document says Ahmad slapped a student named Vikrant Kumar, without any provocation and in the presence of two other students, when he went to the student's room to campaign for the hostel polls. It further says Ahmad accepted his guilt in the presence of the senior warden and mess warden, JNU Students' Union president Mohit Pandey and hostel president Alimuddin Khan, among others.
This paper documents senior warden Sushil Kumar's decision to expel Najeeb from the hostel with immediate effect – that Najeeb would be given an official document and he would have to leave the hostel before October 21.
Senior warden Kumar told ScoopWhoop News that for him the matter was over, but the matter spiraled out of control after Ahmad went missing.
So did Ahmad really board an auto and quietly leave the campus, as some initial reports hinted? Has he been kidnapped by ABVP, as AISA member Mohit Pandey is alleging? Is he hiding in JNU, as ABVP president Saurabh Sharma claims?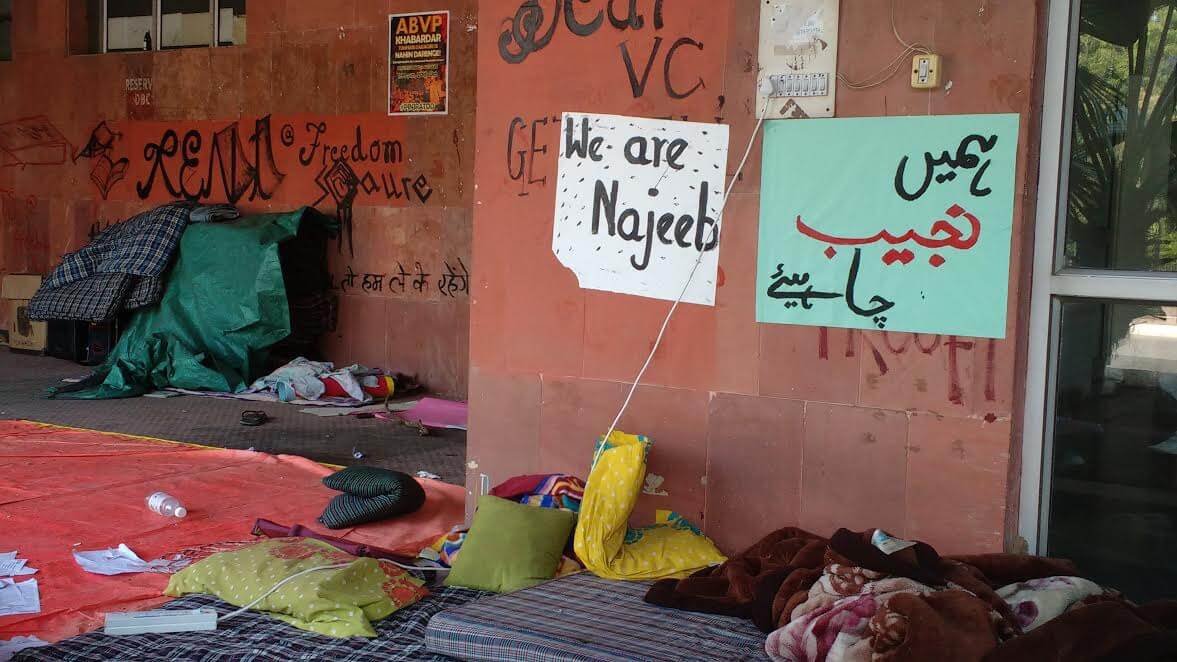 No one knows the answers and for now all are eyes are on the Delhi Police's Special Investigation Team.
What the victim says
So what prompted Ahmad to slap Vikrant? Vikrant alleges it was a hate crime. 
"I was doing a door-to-door campaign for the hostel elections. When I entered Ahmad's room, he asked me why was I wearing a red thread (kalewa) around my wrist and then slapped me," he says. 
What the hostel warden says
Senior warden Kumar says he was told about the thread on the night of the incident, but deemed it irrelevant and chose to ignore it. 
"What matters to us is not the reason but the act of physical abuse. Najeeb accepted he slapped Vikrant. Witnesses, including his roommate Qasim, supported the version and that was enough for disciplinary action from our side," Kumar says.
Kumar recalls that when Ahmad was being brought to him, a group was shoving, punching and kicking him from behind. But was it a "brutal assault" or "heinous lynching" that a JNUSU (AISA-SFI led) statement has alleged? 
"Nothing of that sort happened. The students around Najeeb were angry and heckling him," Kumar says.
Here's what the JNUSU pamphlet alleges: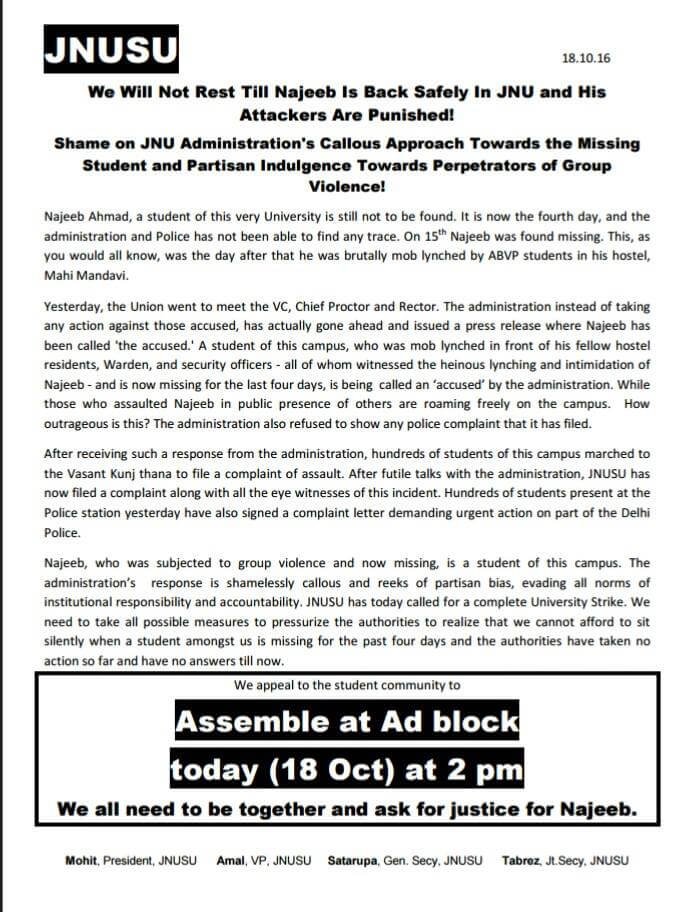 What about action against those who were delivering physical blows to Najeeb? 
"The issue of Najeeb's manhandling wasn't raised by any student then. Najeeb was brought to me as an accused. The initial complaint came from Vikrant," Kumar says. He added that after JNUSU raised the issue a day later, they are now looking into it.
What the hostel president says
Khan, who lives in the same hostel, and met Ahmad minutes after news of the scuffle spread, also strongly denies the allegations that Ahmad was beaten up. 
"I was informed about the incident minutes after it happened. I live in an adjacent wing, and was walking towards Najeeb's room when on the way I was told he tried to break the sacred thread a boy was wearing," Khan, a senior National Students' Union of India member, says.
"When I reached, Najeeb had been taken to a nearby washroom. He told me with folded hands that he indeed slapped Vikrant. When asked why, he said he was out of his mind," he says. 
Khan says he did not deem it fit to talk to Ahmad in the washroom so he, along with other students, took him to the warden. 
Khan says that on the way Najeeb was heckled. 
"Some students were punching him from behind. Even I got hit," he recalls.
It was the last night of campaigning for hostel elections and emotions were running high, he says.
"At the warden's place, there was a chorus of voices against Najeeb. His roommate Qasim said he felt threatened by him," he says.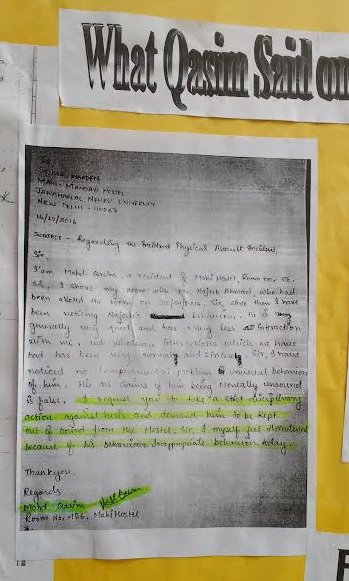 Khan says Ahmad had admitted to slapping Vikrant. But adds that other students weren't satisfied with the proceedings and wanted to "teach Najeeb a lesson themselves".
Khan feels the initial decision to expel Najeeb seemed like a bid to calm down the enraged crowd.
"Someone also called an ambulance even though Najeeb was fine. I saw him get into an ambulance, only to return 15 minutes later. I was told he had refused medication," Khan says.
Khan says the matter was settled as of then and everyone returned to their rooms. "But there was a buzz about the incident. Even I went to sleep only at six in the morning," he says
Khan says the student union president Mohit Pandey signed the initial document like all others present. But after Ahmad disappeared, the JNUSU has been twisting facts. 
"They have begun alleging that Najeeb was brutally beaten up by ABVP activists and are also criticising us not for standing up for a Muslim cause," Khan says.
Mohit Pandey of AISA has called the incident a case of communal profiling on social media, something Khan has strongly objected to. 
Khan claims that AISA has been provoking Muslim students to view this incident as a hate crime against a minority student by right-wing groups.
"What happened was a clash between students. It was not a religious issue," insists Khan. 
He reiterated it in a recent press release: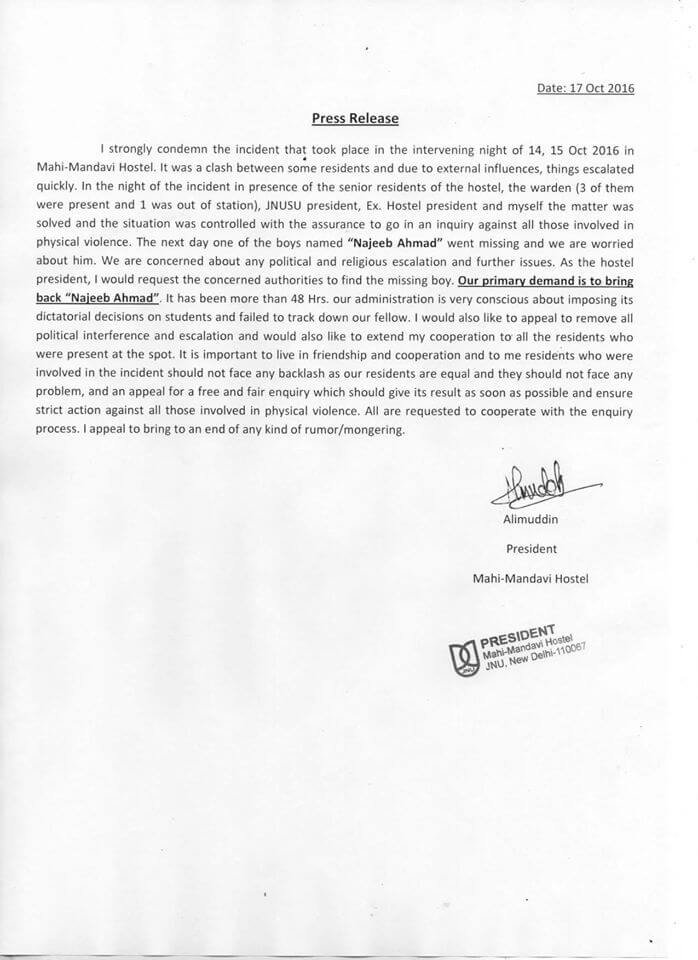 What the students' union president says
Pandey told ScoopWhoop News that it was possible that Najeeb admitted to having slapped Vikrant "under pressure".
"Najeeb was in no state to present his own case that night. He was scared to the bone," Pandey says.
But what about Pandey's own signature on the statement?
"I didn't sign on a fact. I signed on a version provided by the other party," he says. 
And what about the allegations of them fanning communal sentiments? 
"It's all a big lie," Pandey said, before rushing to join the protesting students raising slogans against the home minister on Friday.