PUMA's Chakravyuh Mein #SockThem anthem has become a rage on social media and fans have already showered their love by giving this video a big thumbs up and watching it over several million times. And, why not? The video features Virat Kohli, Divine, Mary Kom, and some killer moves by Kings United, the dance group that won the World of Dance competition last month.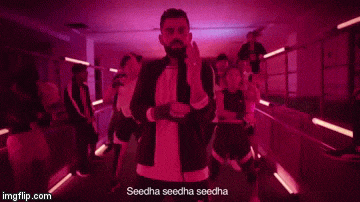 And you know what? PUMA's #SockThem Challenge is taking over netizens with music and sports lovers posting their version of the Kings United choreography on the 'gram! With thousands of dance videos under the #SockThem Challenge, people are going all out to send their support for Virat Kohli and the team while socking the opponents.
Want to meet Virat Kohli? You gotta show some moves!   
Yes, you read that right! You can stand a chance to meet Virat Kohli and win a year's supply of PUMA merchandise. So, keep 'em dance videos coming and cheer for Virat and the team, this cricket season! Think you got those killer moves? Then roll up your sleeves, pull up your socks, breathe fire and get ready to #SockThem.  
Now tell me, isn't it offensive when your friends get glued to their seats while you try to pull off moves like Virat and his gang? While I try my best to ace the hook step (and convince my friends to try it) just like Virat Kohli, Divine and Kings United, here are some of my favourite posts from the #SockThem challenge.