Aam Aadmi Party leader and former law minister in previous 49-day government of AAP in Delhi, Somnath Bharti, has been accused of domestic violence by his wife in a formal complaint before Delhi Commission for Women.
According to ANI reports, Bharti's wife, Lipika Mitra, filed a complaint with the Delhi Commission for Women (DCW) on Wednesday, June 10.
DCW has issued a summon to Somnath Bharti in the case and noticed him to appear before the commission on June 26.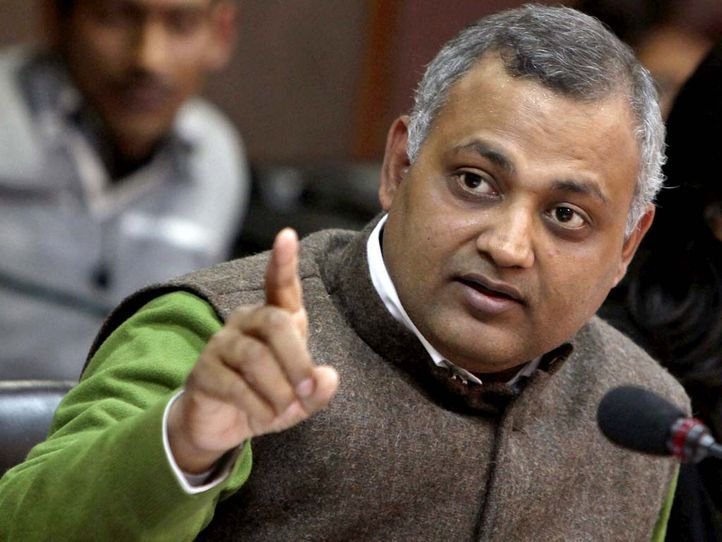 "I can't explain this (issue) in a couple of words, it's been going on since 2010. I want out from this marriage. I want separation and to live with my children with dignity," Mitra said to ANI.
According to Barkha Singh, chairperson of DCW, "His wife (Bharti's) is distressed. She said she was beaten, verbally abused and given death threats. She said that her children were harassed in addition to her being beaten. We have called Bharti on 26th of this month."
The domestic abuse complaint has come at a time when Arvind Kejriwal led AAP government is mired in several controversies and power tussles in capital. A day before, Delhi Law Minister Jitender Tomar resigned following his arrest in a fake degrees case.
However, 41-year-old Bharti is not new to controversy. During his tenure as law minister in 2013 AAP government in Delhi that lasted for only 49-days, Bharti had been booked for molestation and served a show cause notice by National Human Rights Commission.
He had allegedly led a group of AAP supporters in a midnight raid in January 2014 at Khirki Extension in Delhi, against African women accusing them of involvement in a prostitution racket.