While the ODI series between South Africa and India was on, I committed the scarilege of thinking that AB de Villiers might, just for a moment, be the man to take Sachin Tendulkar's place as the greatest mordern cricketer.
To be frank, AB does things on the cricket field that Sachin could perhaps only dream of. He has a 360 degree vision, doesn't really care where his off-stump is and can score at a manic… unmatched pace. To top it all, he does it with a consistency that is bewildering to say the least.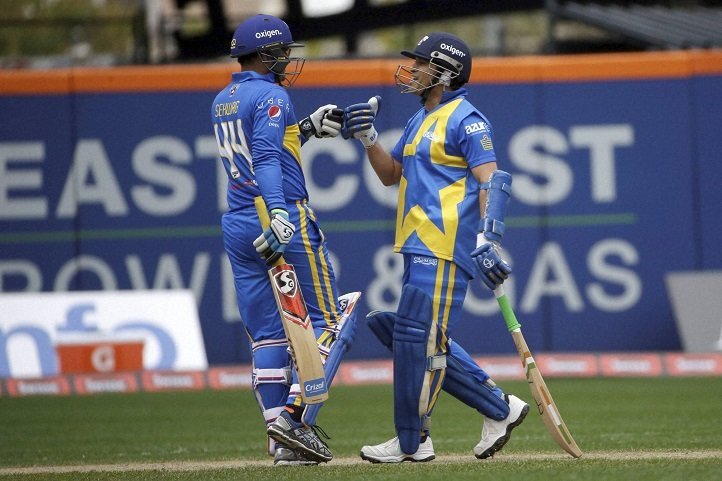 But then on Saturday night, I saw Tendulkar walk out to bat and the emotions came flooding back. There was Virender Sehwag by his side and it just felt right.
It was noisy as hell and my Twitter timeline simultaneously exploded into a series of 'I feel young again' tweets. That is what watching Tendulkar back in the middle does to the lot of us. But more than 'feeling young', it is about reliving some of Indian cricket's finest moments – the debut against Pakistan, the Old Trafford knock, Perth, the Hero Cup, the 1996 World Cup, Desert Storm, John Wright, Winning Abroad, 2003 World Cup, Winning in England and so much more. And with each on those ocassions, a memory is attached.
It almost feels like a journey back in time – to a time when we'd drop almost everything to watch a game a cricket. Things that I would never do for the current lot; not for AB; not for Virat or anyone else in the setup. Maybe cricket doesn't have the same charm anymore; maybe simply because it just doesn't have Sachin anymore.
Yes, the quality of the Cricket All Stars game wasn't that great – they were after all playing in a baseball with lop-sided proportion and a heavy outfield. But to watch this group together was a special experience. Wasim Akram, all of 49, running in off a much-shortened run-up and still managing to swing the ball effortlessly. Shane Warne, after bowling a couple of long hops in his first over, showed us just why he is such a legend. Jonty Rhodes and Ricky Ponting were fielding next to each other at point and cover… still diving around and stopping anything hit in their direction.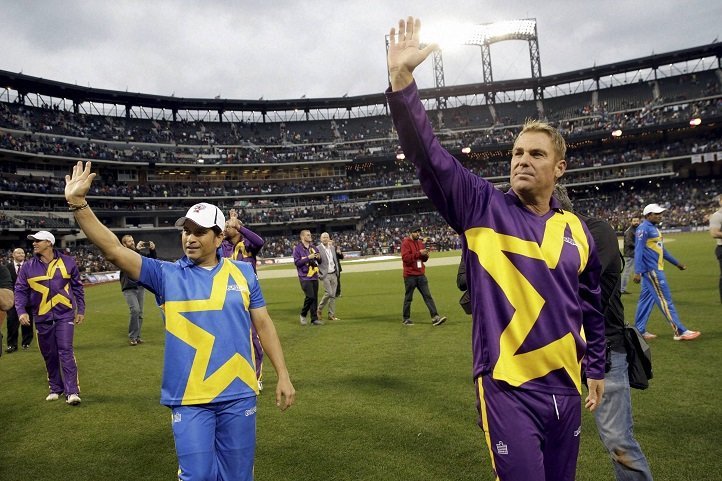 Initially, though, Sachin's timing was off. So rare a sight was it that one couldn't help but be shocked by it. For a batsman who once was famed for seeing the ball early, this must have been a frustrating experience. He was smiling away all the time but still the ego of a champion must have hurt.
Sehwag was going great runs at the other end – reaching his 50 off 20 balls – and that gave Sachin time to find his feet. Of course, those massive billboards just behind the sight screen couldn't have helped either. He surely must have been tempted to get them moved but thankfully, he didn't. He settled into a rhythm soon enough though. A nice backfoot punch was stopped in the covers by a diving Kallis but the touch was coming back. The crowd responded with a simpe 'Sachin, Sachin' and then played that on loop.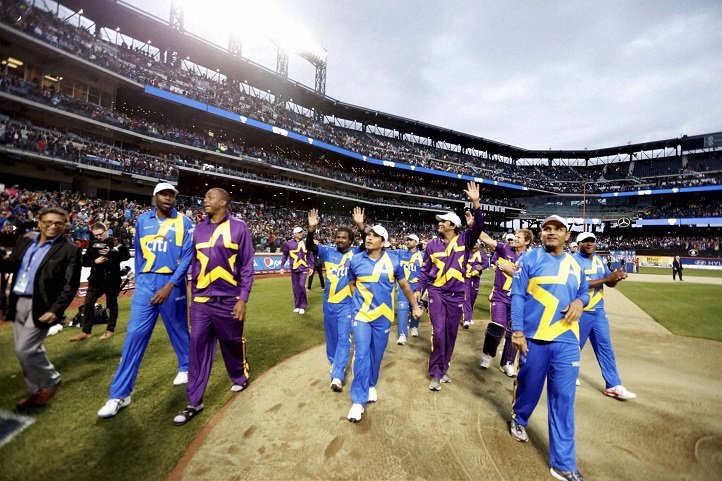 Then came the first four – Courtney Walsh (the same guy whose batting can also be a treat to watch) – ambled in and bowled a slower ball. Sachin picked it up early and hammered it over long-on. In the next over from Kallis, another four off the pads. This was heaven. It really was.
But perhaps Tendulkar's best shot of the day was the six off Walsh's first ball of the second over. He leaned into the shot and just punched it straight into the stands. He didn't even look like he was trying. Sorry AB, all said and done, watching Sachin bat is still the best thing in cricket.
Warne came in to try and stem the tide. And like so many times before, he did just that. Off the last ball of his first over, Tendulkar was dismissed. The right-hander tried to lift it over the infield but didn't get under it enough – a leaping Kallis (who is 40 now) managed to get his hands to the ball and in doing so, he ended a dream.
Sachin walked off with a big smile on his face and the crowd moaned its collective agony. I didn't expect the All Stars to be much fun but it was a bit of an emotional rollercoaster that every cricket fan must ride at least once.
Of course, just like the old days – once Sachin got out, I switched off the TV and went off to sleep. I wouldn't stay awake to watch anyone else.