It doesn't take a MOM to tell you that Delhi is a brutal city. The moment you realise that the film is set in India's power centre, you brace yourself for the worst. As the camera pans its landscape, its flyovers, the looming Hanuman structure next to the Metro, the crowd at Connaught Place, all you can think of is 'Rape'. 
It's a reputation that the city has earned itself. How can we blame the filmmakers? Not a day passes without a report of a horrific crime against women in the NCR region. 
In one of the sequences in MOM, filmmaker Ravi Udyawar uses that very awareness to drive in a point brutally. It's a bird's eye view of a vehicle zooming across Delhi highways in a desolate night. And we all know what that can mean. 
It's a scene that stands out in an otherwise sluggish revenge-drama. It's a scene that shows that Udyawar has the rare cinematic ability to convey a lot without saying much. But the promise of this scene, which comes fairly early in the film, dissolves in the relentless pursuit of getting Sridevi a befitting film to showcase her talents.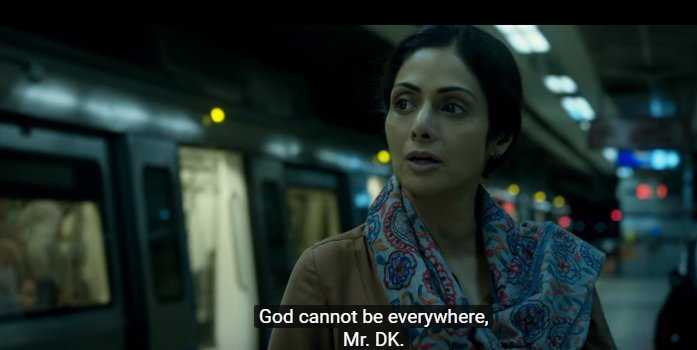 Indeed, Sridevi is a formidable presence in MOM. Her bedraggled, ashened face is a register of pain and anger in equal measure. The saucy smile that defined 'effervescence' to a generation of Indians, is barely a flicker on a face drained of color and expression. Her character, Devaki, who is the second wife of a high-flying executive, has the vitality of a clinically depressed zombie through much of the running time of the film.
The story begins with a confrontation scene involving Devaki, a biology teacher in an upmarket Delhi school and a bratty student. This confrontation has repercussions on her step-daughter, Arya (Sajal Ali). Soon, we get to know that the relationship between the two is strained, mainly because of the daughter's inability to accept Devaki's presence in the family.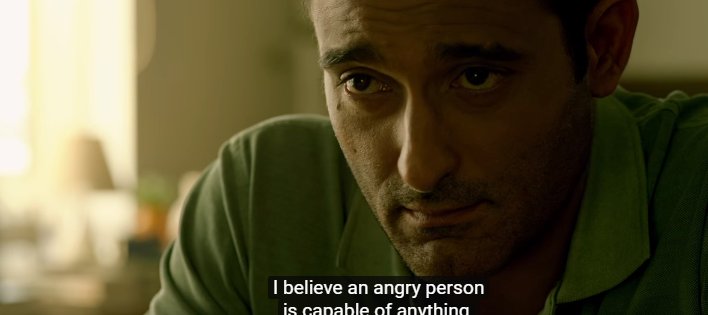 Eventually, Arya is subjected to a horrific sexual assault incident that leaves both her and her family devastated. From there, the movie clumsily boomerangs back and forth between plot devices. There is a tough-as-nails cop (Akshaye Khanna), there is a quirky private detective (Nawazuddin Siddiqui, uncharacteristically hammy) and there are hosts of North-Indian stereotypes who speak in various shades of  Haryanvi accents.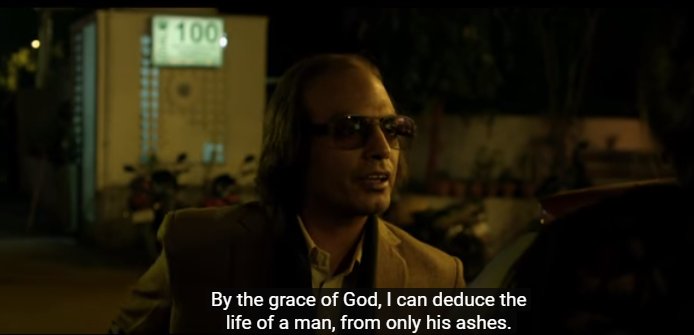 Udywar, who manages to pull off a convincing first half, lets everything go in the second half of the film. He resorts to the most convenient cliches and invests zero effort in fleshing out his characters. 
Because he chooses not to innovate, Udyawar falls back on the Zakhmi Aurat-trope. Like in the 1988 film, where a victim of gangrape starts castrating her rapists after being denied justice, Devaki decides to take the law in her own hands. 
Aniruddha Roy Chowdhury's Pink, which released last year, was effective because it chose to understand the men who perpetuate violence against women. And in that process, it posed uncomfortable questions about the toxic masculinity of Indian men.
MOM makes no such efforts. Here, rapists are shady North Indian men who indulge in rape-y activities – leering at women and cracking jokes about their anatomy. If Pink told you that a sex offender can be anyone around you, MOM tells you the exact opposite. 
As she confronts these stereotypes in her efforts to gain justice for her step-daughter, Sridevi is an ashen ghost of her former self. Indeed, her performance may be a stunt that the movie exploits for all it is worth, but it's still a brave one. It lends this turgid film  most of what little emotional resonance it stirs up.