Rescuers dug with their bare hands and bodies piled up in Nepal on Sunday, April 26 after an earthquake devastated the heavily crowded Kathmandu Valley, killing more than 2,400 people, and triggered a deadly avalanche on Mount Everest.
A big aftershock between Kathmandu and Everest unleashed more avalanches in the Himalayas. In the capital, hospital workers stretchered patients out onto the street to treat them as it was too dangerous to keep them indoors.
"Another one, we have an aftershock right now. Oh shit!" said Indian climber Arjun Vajpai over the phone from Makalu base camp near Everest. "Avalanche!" he shouted. Screams and the roar of crashing snow could be heard over the line as he spoke.
The tremor, measured at 6.7, was the most powerful since Saturday's 7.9 quake – itself the strongest since Nepal's worst earthquake disaster of 1934 that killed 8,500 people.
The aftershock rocked buildings in New Delhi and halted the city metro.
"There is no way one can forecast the intensity of aftershocks so people need to be alert for the next few days," said L.S. Rathore, chief of the India Meteorological Department.
In Everest's worst disaster, the bodies of 17 climbers were recovered from the mountain on Sunday after being caught in avalanches. A plane carrying the first 15 injured climbers landed in Kathmandu at around noon local time.
"There is a lot of confusion on the mountain. The toll will rise," said Gelu Sherpa, one of the walking wounded among the first 15 injured climbers flown to Kathmandu. "Tents have been blown away," said Sherpa, his head in bandages.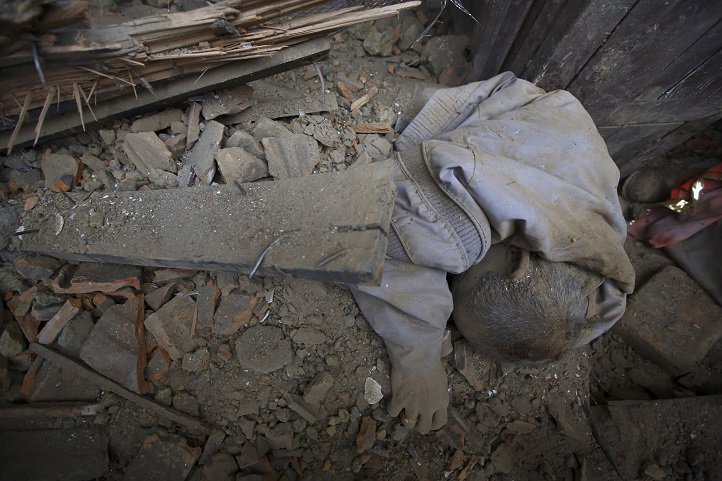 Government overwhelmed
With Nepal's government overwhelmed by the scale of the disaster, India flew in medical supplies and relief crews, while China sent in a 60-strong emergency team. Relief agencies said hospitals in the Kathmandu Valley were overflowing and running out of medical supplies.
Army officer Santosh Nepal and a group of rescuers worked all night to open a passage into a collapsed building in Kathmandu. They had to use pick axes because bulldozers could not get through the ancient city's narrow streets.
Among the capital's landmarks destroyed in the earthquake was the 60-metre Dharahara Tower, built in 1832 for the queen of Nepal, with a viewing balcony that had been open to visitors for the last 10 years.
A jagged stump was all that was left of the lighthouse-like structure. As bodies were pulled from the ruins on Saturday, a policeman said up to 200 people had been trapped inside.
Bodies were still arriving on Sunday at one hospital in Kathmandu, where police officer Sudan Shreshtha said his team had brought 166 corpses overnight.
Bodies were heaped in a dark room, some covered with cloth, some not. A boy aged about seven had his face half missing and his stomach bloated like a football. The stench of death was overpowering.
Outside, a 30-year-old woman who had been widowed wailed: "Oh Lord, oh God, why did you take him alone? Take me along with him also."
"Both private and government hospitals have run out of space and are treating patients outside, in the open," said Nepal's envoy to India, Deep Kumar Upadhyay. Prime Minister Sushil Koirala is back from abroad and will soon address the country.
Need a decision
Save the Children's Peter Olyle said hospitals in the Kathmandu Valley were running out of storage room for bodies and emergency supplies. "There is a need for a government decision on bringing in kits from the military," he said from Kathmandu.
Some buildings in Kathmandu toppled like houses of cards, others leaned at precarious angles, and partial collapses exposed living rooms and furniture in place and belongings stacked on shelves.
Rescuers, some wearing face masks to keep out the dust, scrambled over mounds of splintered timber and broken bricks in the hope of finding survivors. Some used their bare hands to fill small white buckets with dirt and rock.
Thousands of people spent the night outside in chilly temperatures and patchy rain, too afraid to return to their damaged homes.
On Sunday, survivors wandered the streets clutching bed rolls and blankets, while others sat in the street cradling their children, surrounded by a few plastic bags of belongings.
The 7.9 magnitude quake struck at midday on Saturday at a busy time of year for the tourism-reliant country's trekking and climbing season, with an estimated 300,000 foreign tourists in the country, home to many World Heritage sites.
Police put the death toll in Nepal at 2,152, with 5,463 hurt. At least 700 were killed in the capital, a city of about 1 million people where many homes are old, poorly built and packed close together.
Some 49 people were reported killed in India, which has sent military aircraft to Nepal with medical equipment and relief teams. It also said it had dispatched 285 members of its National Disaster Response Force.
In Tibet, the death toll climbed to 17, according to a tweet from China's state news agency, Xinhua. Four people were killed in Bangladesh.
Pakistan's military is sending four C-130 aircraft with a 30-bed hospital, search and rescue teams and relief supplies, the army said.
Worst Everest disaster
There were nearly 1,000 climbers and sherpas on Everest when the first avalanche struck, claiming the highest toll of any disaster on the world's highest mountain.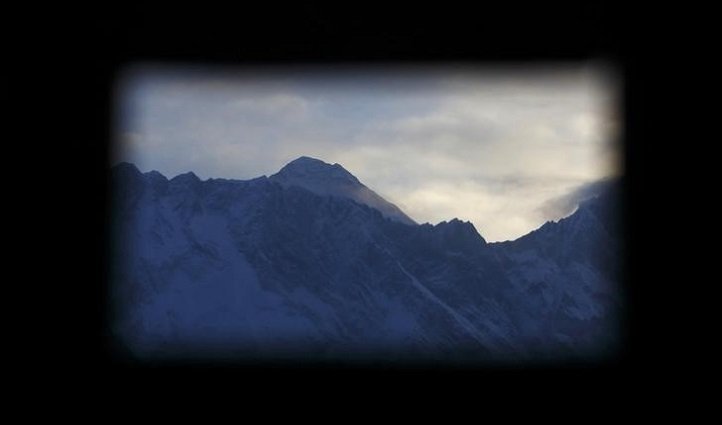 Climber photographs on social media sites showed tents and other structures at Everest base camp flattened by rocks and snow. The first reported photo of the avalanche showed a monster "cloud-like" mass of snow and rock descending down the mountain.
Helicopters were able to fly in on Sunday morning as clouds lifted to evacuate the injured to a lower altitude, from where they were being flown to Kathmandu.
"All badly injured heli evacuated," Romanian climber Alex Gavan tweeted from base camp.
"Caring for those needing. Want sleep."
Another 100 climbers higher up Everest at camps 1 and 2, were safe but their way back down the mountain was blocked by damage to the treacherous Khumbu icefalls, scene of an avalanche that killed 16 climbers last year. Helicopters had started to shuttle them to base camp, Gavan reported.
The main earthquake, centred 50 miles (80 km) east of the second city, Pokhara, was all the more destructive for being shallow.