The University Grant Commission's decision to simply scrap the fellowship awarded to non-National Eligibility Test research scholars, has sparked outrage from all quarters as hundreds of students came out to protest on Tuesday.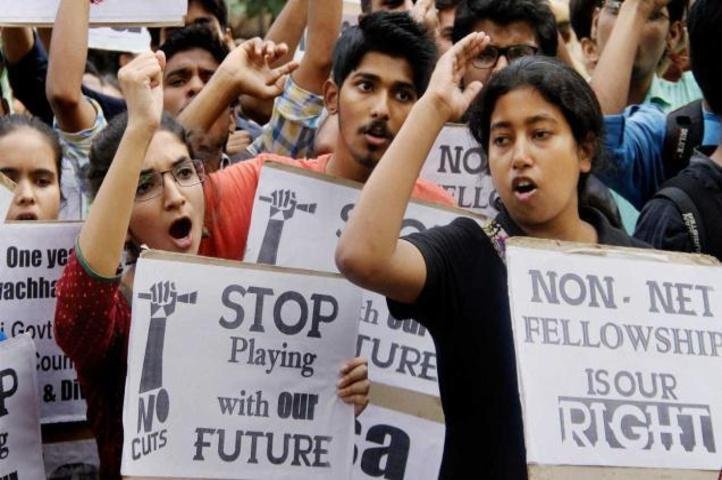 Students from Jawaharlal Nehru University, Delhi University, Jamia Millia Islamia and other institutions have been sitting on a Dharna near the UGC headquarters in New Delhi for four days, which has been termed the Occupy UGC Movement.
Around 300 students block ITO chowk in protest while another 100 are locked up in Bhalaswa police station! We condemn…

Posted by Pinjra Tod: Break the Hostel Locks on Friday, October 23, 2015
The students, who are demanding the restoration of the fellowships, are accompanied by others in different parts of the country. While the National Students Union of India (NSUI) and AISA have been at the forefront of the protest, the decision has also been condemned by the Delhi University Teachers Association (DUTA).
UGC headquarters | Source: PTI
The All India Students Association (AISA) said that, "The UGC Non-NET fellowship which was started in 2008 to encourage research in the universities has proved to be a lifeline for researchers who do not have access to other scholarships."
#IncreaseNonNETFellowship is carrying updates for the occupy UGC movement on Facebook.
Please share widely: Abvp is gathering outside ugc office on the pretext of protesting for non net fellowship. Make no…

Posted by Pankhuri Kolaahal Zaheer on Thursday, October 22, 2015
students, more than 200 of us are sitting in front of the UGC office after blocking ITO for over twenty minutes. Police…

Posted by Arya Thomas on Friday, October 23, 2015
The students also continued the occupy UGC protest, while being held at the Bhalswa Dairy police station, after being arrested for trying to enter the UGC office.
#OccupyUGC Inside Bhalswa Dairy police station.

Posted by Akhil Kumar on Thursday, October 22, 2015
While students are refusing to back off, there have been reports that the police cracked down on them and even "picked them up while they were asleep".