Firing a fresh salvo at Reserve Bank Governor Raghuram Rajan, BJP MP Subramanian Swamy on Thursday levelled six allegations against him including of sending confidential and sensitive financial information around the world and asked the Prime Minister to sack him immediately. 
These are the six allegations levelled by Swamy against Rajan:
"His policy of raising interest rates strangulated the small and medium industries and is thus anti-national in intent."
"Rajan permitted Sharia compliance on financial organisations despite RBI Act not permitting so."
"RBI governor continued to hold on to his US Green Card. He has been making mandatory trips to the US to renew his Green Card."
"He sent confidential and sensitive financial information around the world using unsecured Chicago University email id."
"Rajan publicly disparaged the Modi government."
"He is a member of a US dominated group that was set up to defend America's dominant position in the global economy."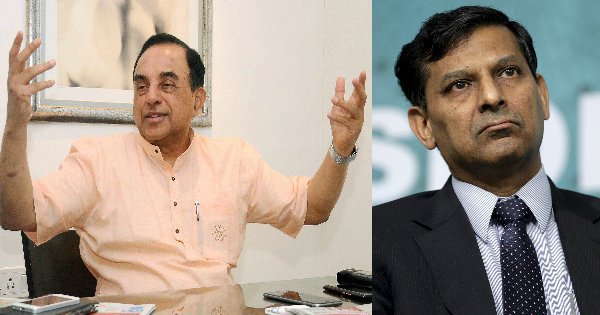 Swamy, who had earlier called Rajan "not appropriate for the country" and "not Indian at heart" in a letter to Modi on Thursday said the six allegations levelled by him against the RBI Governor were "prima facie true" and require termination of Rajan's services "immediately" in the "national interest". 
No immediate comments were available from RBI Governor. 
On Wednesday, BJP President Amit Shah was asked whether Swamy's demand for ouster of Rajan reflected the party's view, to which he replied, "What I say is the party's line".
(Feature image source: Reuters)