In a momentous resolution, the Supreme Court on Thursday asked states and Union territories to frame rules to grant a uniform compensation of Rs 10 lakh to victims of sexual assault and exploitation.
Currently, each state provides arbitrary compensation to rape survivors, ranging from Rs 20,000 to Rs 3 lakh. The exception is Goa, where victims are paid Rs 10 lakh, reported The Hindu. 
The court noted that Maharashtra is the only state which has not framed rules for compensation as per Section 357A of the Criminal Procedure Code, and that no amount is given as victim compensation for the offence of rape.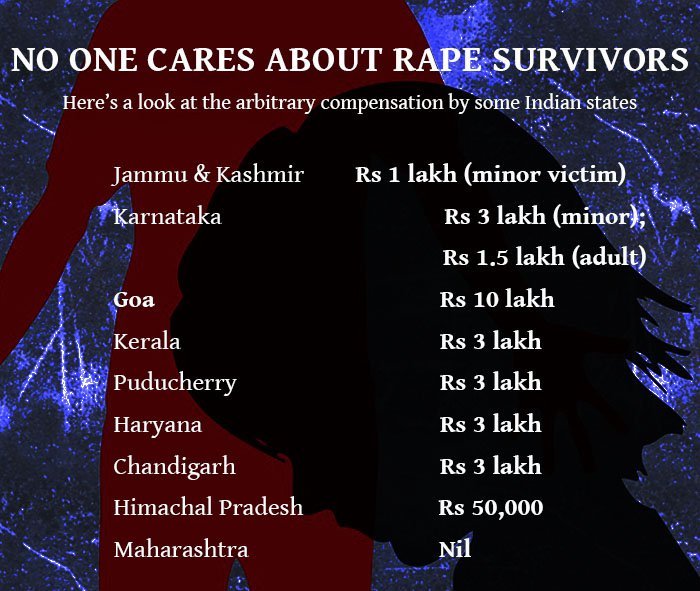 A bench of Justices MY Eqbal and Arun Mishra stated that governments should also frame special rehabilitation packages for rape survivors who are minor or physically challenged.
The bench added,
"Indisputably, no amount of money can restore the dignity and confidence that the accused took away from the victim. No amount of money can erase the trauma and grief the victim suffers. This aid can be crucial with aftermath of crime."
The Supreme Court passed the direction while upholding the seven-year rigorous imprisonment awarded to a person convicted for sexually exploiting an 18-year-old blind girl in 1997 in Durg district of Chhattisgarh. 
The 37-year-old survivor was ostracised by her family and village back then, and now lives alone, surviving on a meagre disability pension of Rs 300 granted by the state. 
The court directed the state to pay Rs 8,000 per month to the survivor for the rest of her life, reported The Times of India. 
Featured image: Wikimedia Commons