After sitting through three hours of Raabta, I was left with a niggling question. The question is directed towards Sushant Singh Rajput's stylist from the film and it's related to the most important aspect of the enterprise- Sushant Singh Rajput's mane. Are those shiny wires that he sports on his gravity-defying braids actually fancy hair clips? If so, are they called male hair clips?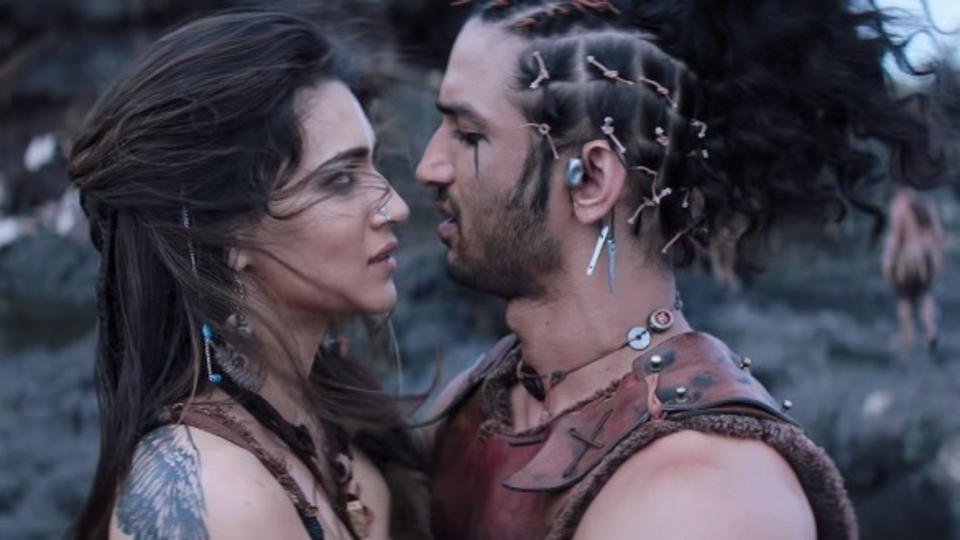 No, I won't ask him or her about the logic behind dressing a 10th century tribal warrior like a high-street model.  By now, especially after Rakeysh OmPrakash Mehra's Mirziya, we should know that Bollywood likes its historical figures ramp fresh. "They should look like they have just wandered off the the ramps of Milan," must have been the director's brief to the costume designers and stylists. "And I want smoky eyes. Actually lets make it smoggy eyes. Delhi winter smog eyes," he must have added. 
And smoggy  eyes we get, oh yes, plenty of smoggy eyes. From Kriti Sanon's is-this-my-big-break smoggy eyes to Jim Sarbh's do-I-have-to-do-this-smoggy eyes. It's like the makeup man held a filter paper against the Delhi air and swiped it on the faces of the the entire cast in a single grand stroke. 
You may wonder why this review is focused on the eye and hair make up of Dinesh Vijan's janam-janmantar love story. Well, what else can one say about a film that takes Bollywood's favourite formula and turns it into a puerile collection of Instagram-worthy frames of goodlooking people in Budapest. 
In the first half of the film, Sushant Singh Rajput, sporting flawless bedroom hair and Kriti Sanon, wearing dewy no-makeup makeup and an excellent moisturizer — battle for close to 70 stupefying minutes to listen to their hearts while their souls take a hammering. 
He walks into her chocolate shop with his white girlfriend. The firang lady is, of course, the Indian stereotype of a white woman- she is whiny, domineering and catty. As soon as Mr Bedroom Hair meets Ms Moisturizer, he dumps the firang girl like half-burnt Pizza. 
Thereafter, like any good Indian boy should, he stalks her for a few days, spurts chaalu lines and before you can scream 'harassment', they are making torrid, Pahlaj Nihalani-friendly (kissing less than one minute, no visible exchange of saliva) love. Ms Moisturizer, who is haunted by strange dreams, just slinks into this stranger's arms, despite having a boyfriend, because, you know, kuch , kuch hota hai. 
Then they sing some interchangeable Pritam numbers and eventually get the boyfriend out of the picture by shaming him for being a nice, sensitive person (Tumhein uske moodswings ke baare mein pata hai, are you a boyfriend or a personal diary?).Following the Bollywood norm, they start considering a life together after the second song.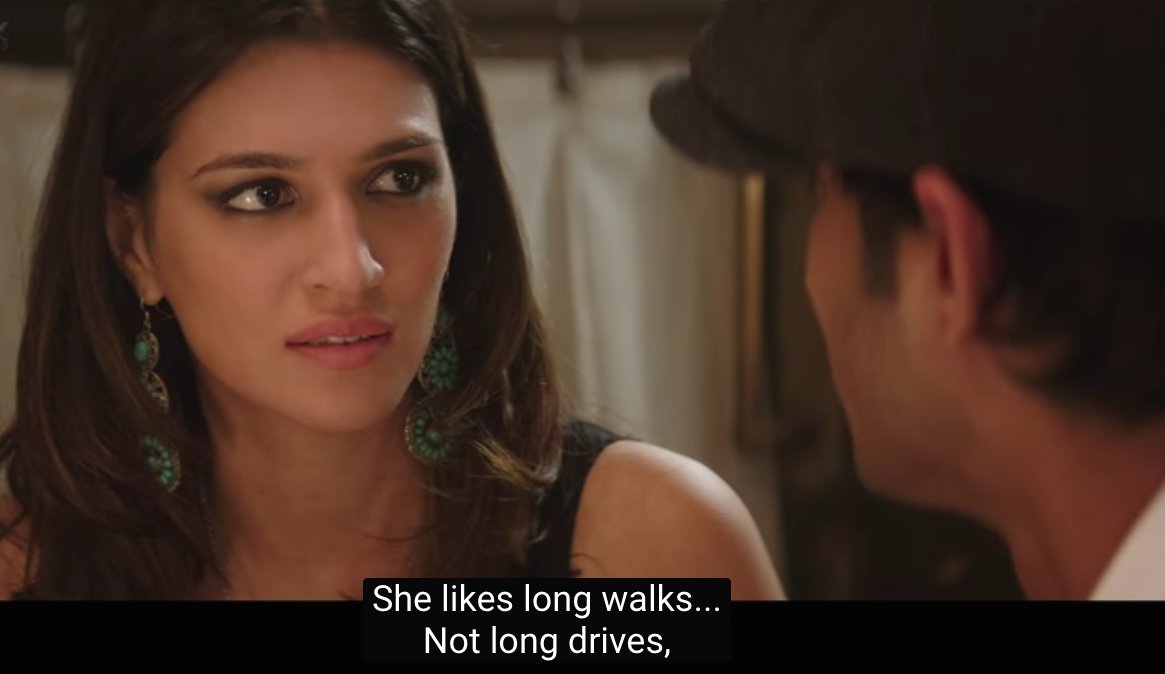 Audiences are more likely to check out and just leave them to it. But there is one distraction, a fortune teller who warns Kriti about the entry of another mysterious prince in her life. Interestingly, Mr Bedroom Hair chooses to dismiss the prediction not because it sounds like a whole lot of mumbo-jumbo, but because the full-bodied fortune-teller does not match his idea of an attractive woman. "Hirimba" he calls her, much to the glee of a giggling Kriti Sanon. 
The prince in question turns out to be a liquor baron played by Jim Sarbh. He mouths his lines like he is forgot his way from the Neerja set. The first half of the film also has the dubious distinction of featuring the following line of dialogue- "Mere kuch parts chocolate ke banne hue hai". 
It's the second half which unleashes the Prabhas in Mr Bedroom Hair. These lovers are reincarnations of a warrior princess and a warrior prince from 10th Century India, we are told. Sushant Singh Rajput is Baahubali lite, who snaps enemies into two without even bothering a strand of his immaculately coiffured braids. He snarls a lot and the camera lovingly caresses his ripped torso. He also sports fur jackets and leather vests but he is no Prabhas. I mean, where are the elephants to be tamed? Where is the herd of cows to set fire to?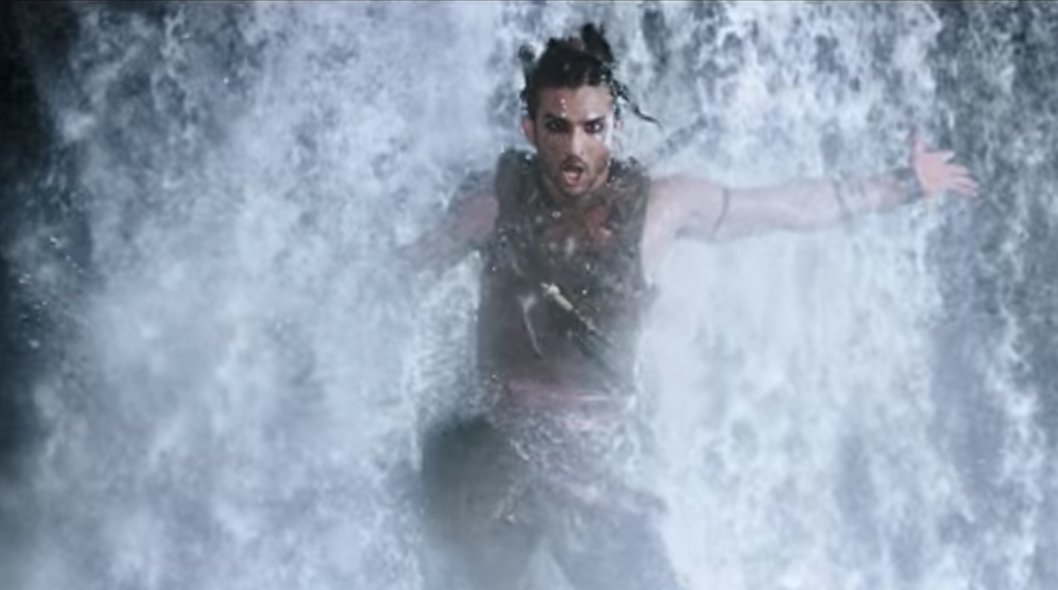 All Sushant Singh gets to tame is a smoggy-eyed Kriti Sanon, whose martial moves look like dance mudhras. She is a headstrong princess who decides to take things into her own hands when invaders attack her kingdom. A Baahubali-like chase sequence follows and by the end of it, the two are in love, much to the chagrin of Sanon's suitor, Jim Sarbh. Actually, the man behind all the hair and beard could very well been some other person. But the awkward dialogue-delivery is a giveaway. Sarbh, who was ridiculously well-cast in Neerja and last week's A Death In The Gunj, is left without moorings in this one. He keeps floundering from scene to scene, making you cringe with embarrassment.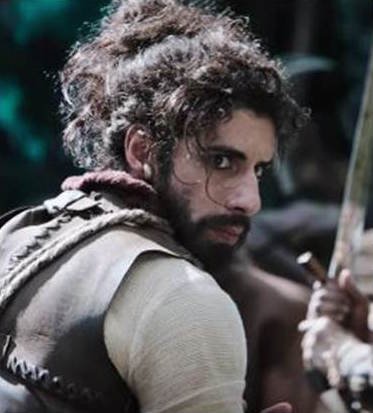 Both Sushant and Sanon are at the other end of the spectrum in Raabta, they know that their sole purpose in this enterprise is to look good and that they manage to do without much difficulty. 
Dinesh Vijan botches up his directorial debut in every which way he can, squandering an impressive cast and failing to establish the one thing that might have saved this sloppy missing-an exciting retelling of a much-told tale. Watch Raabta only if you wan't to check out the latest hairstyle trends for men. But even for that, you can always buy GQ.