External Affairs minister Sushma Swaraj's 'help' to former Indian Premier League (IPL) chief Lalit Modi in procuring travel documents from the British government has blown into a full-fledged controversy. The opposition has hit out at Prime Minister Narendra Modi with Congress asking for Swaraj's resignation on a platter.
On Monday, June 17, Lalit Modi's lawyer Mehmood Abdi denied the controversy surrounding the IPL chief saying, " There is no scam and that it is being invented". He also emphasized the issue is being blown out of proportion and that Lalit Modi was media's favourite controversy child.
Using this as an excuse to take Bharatiya Janata Party's (BJP) case, Congress leader Shakeel Ahmed said, "It is very unfortunate that a foreign minister of the country is helping an ED offender. Lalit Modi is close to a number of BJP leaders, including the chief minister of Rajasthan."
The controversy
On Sunday, June 14, British newspaper The Sunday Times reported that the British MP of Indian origin, Keith Vaz, used the name of a senior Indian minister to put pressure on the UK's top immigration official to grant British travel papers to a controversial Indian cricketing tycoon.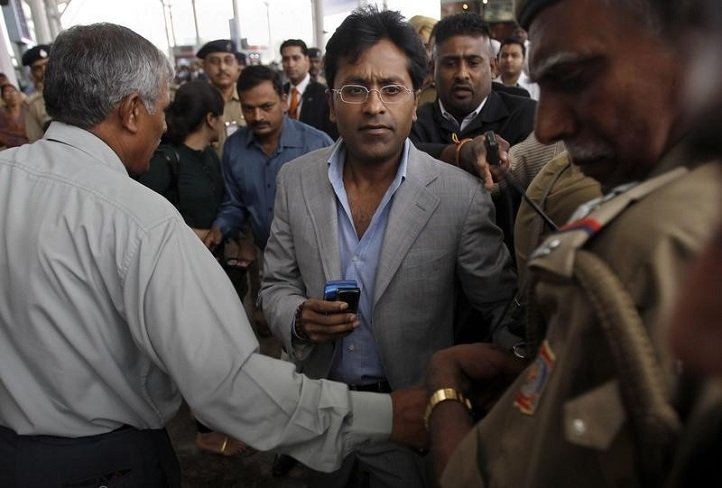 According to the report the leaked correspondence reveals how Vaz cited Swaraj, India's foreign minister, to the Home Office in an effort to expedite the case of Lalit Modi, a mutual acquaintance. Vaz had previously offered to help Swaraj's nephew to apply for a British law degree course.
The new information shows the extent to which Vaz intervened on behalf of Modi with Sarah Rapson, the head of UK visas and immigration, it said. Less than 24 hours after Vaz had invoked Swaraj's name — and that of Sir James Bevan, the British high commissioner to India, Modi was granted his travel papers, The Sunday Times report said.
Sushma's acknowledgment, BJP backs, Congress fumes
This is how Sushma Swaraj responded to the The Sunday Times report:
Sometime in July 2014 Lalit Modi spoke to me that his wife was suffering from Cancer and her surgery was fixed for 4th Aug in Portugal.

— Sushma Swaraj (@SushmaSwaraj) June 14, 2015
He told me that he had to be present in the Hospital to sign the consent papers.

— Sushma Swaraj (@SushmaSwaraj) June 14, 2015
He informed me that he had applied for travel documents in London and UK Government was prepared to give him the travel documents.

— Sushma Swaraj (@SushmaSwaraj) June 14, 2015
However, they were restrained by a UPA Government communication that this will spoil Indo-UK relations.

— Sushma Swaraj (@SushmaSwaraj) June 14, 2015
Taking a humanitarian view, I conveyed to the British High Commissioner that "British Government should examine the request of

— Sushma Swaraj (@SushmaSwaraj) June 14, 2015
Lalit Modi as per British rules and regulations. If the British Government chooses to give travel documents to Lalit Modi,

— Sushma Swaraj (@SushmaSwaraj) June 14, 2015
– that will not spoil our bilateral relations.

— Sushma Swaraj (@SushmaSwaraj) June 14, 2015
Keith Vaz also spoke to me and I told him precisely what I told the British High Commissioner.

— Sushma Swaraj (@SushmaSwaraj) June 14, 2015
I genuinely believe that in a situation such as this, giving emergency travel documents to an Indian citizen cannot and should not

— Sushma Swaraj (@SushmaSwaraj) June 14, 2015
spoil relations between the two countries.

— Sushma Swaraj (@SushmaSwaraj) June 14, 2015
Soon after her acknowledgement, Swaraj landed right in the middle of a political storm with opposition asking her to step down and accusing her of misusing her authority.
But soon after the outrage both BJP and Rashtriya Swayamsevak Sangh (RSS) came in full support of Swaraj's 'humanitarian' action.
BJP party chief Amit Shah defended Swaraj saying she had done no wrong and no moral issue was involved in the matter. "The matter is clear; an Indian sought Sushmaji's help in treatment of his wife who's suffering from cancer," he said.
Home minister Rajnath Singh too backed his Cabinet colleague, saying whatever Swaraj did was appropriate."We want to make it clear that whatever she has done is right. We justify it and the government completely stands by her," he said after meeting the prime minister.
While it didn't apparently go well with the Congress, Aam Aadmi Party, the Bahujan Samaj Party (BSP) and the Left parties too questioned Swaraj's action and sought her resignation.BSP chief Mayawati demanded a thorough investigation into the matter while as CPI-M leader Brinda Karat said, "This is unwarranted and unethical."D Raja of the CPI questioned what might have prompted Swaraj to help Modi. "What forced Sushma Swaraj to go out of the way to help an economic offender? She must explain," the HT report added.
Reports also said Swaraj's daughter, Bansuri, a law graduate, was consistently appearing on Modi's behalf in Delhi High Court in a legal battle after Enforcement Directorate's summons to Modi in 2010 for an inquiry under FEMA.
Lalit Modi replies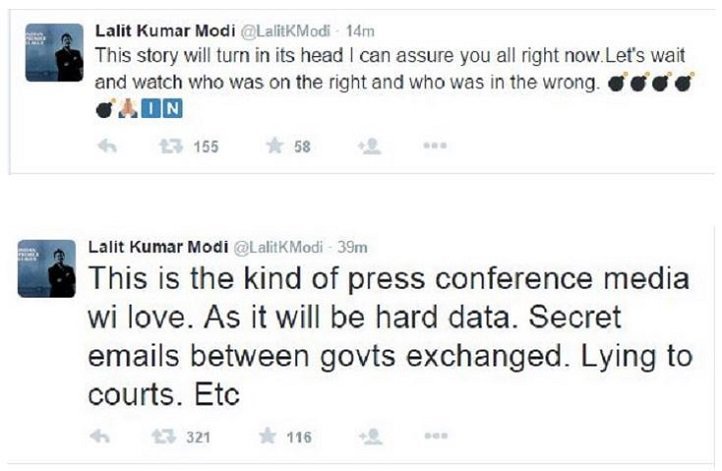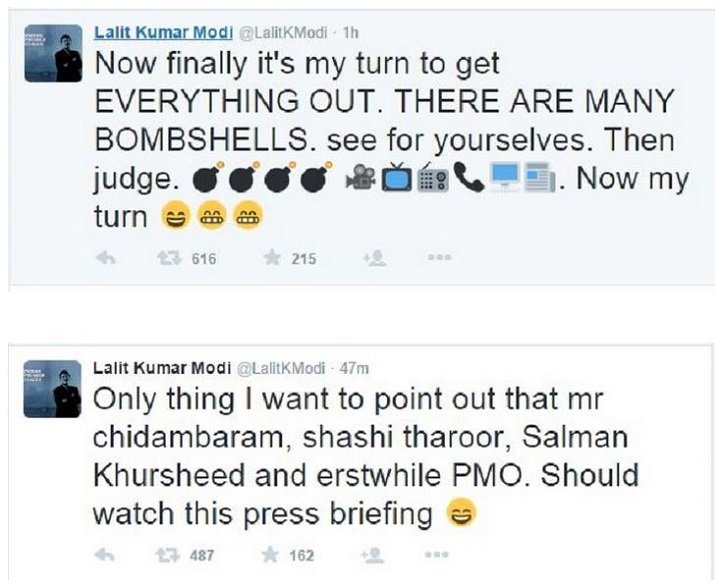 What did Modi's lawyer say?
Addressing a press conference Lalit Modi's lawyers Mehmood Abdi denied that his client was a 'fugitive'. Accusing the Congress of hounding him, Abdi also said that Swaraj 'lived up to her duty as Foreign Minister' by helping an Indian in trouble outside the country.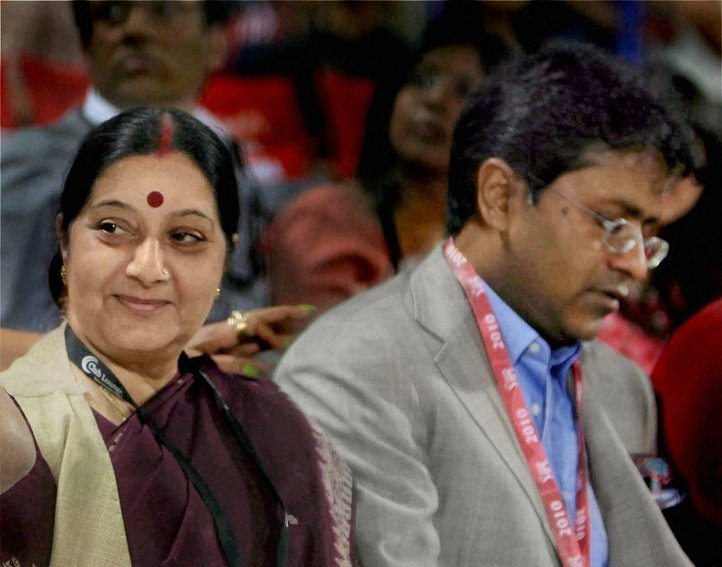 Source: PTI
"Interpol secretariat says no blue corner notice has been issued, this claim that has been flying around for the last two days has been demolished," Abdi said.He alleged that Lalit Modi had been hounded and persecuted ever since he exposed Congress MP Shashi Tharoor's wife Sunanda Pushkar's sweat equity in the Kochi IPL franchise, NDTV reported.
Meanwhile, The Indian Express reported that Sujatha Singh, who was foreign secretary at the time Lalit Modi got his travel documents, was not consulted by Swaraj on the issue.
Asked whether she was consulted by Swaraj, Singh told The Indian Express, "I knew nothing about this… Zero… I have nothing more to say."
While this remains unclear what actually transpired between Swaraj and lalit Modi, Congress is unlikely to let go this opportunity to corner BJP and Narendra Modi.
Feature image source: India Today
Read more: