India's External Affairs Minister Sushma Swaraj is the most followed female world leader on Twitter with a follower base of 5 million Twitter users, a study by the global communications firm Burson-Marsteller has revealed.
According to an IANS report, it's the first time that Swaraj, known for her constant engagement with Indians in distress on Twitter, has made it to the list of top 10 leaders in the world with most Twitter followers. The Twitter handle of Prime Minister's Office (PMO) has also made its debut in the list. 
"@SushmaSwaraj is the most followed female world leader with 5 million followers at 10th spot, ahead of Jordan's @QueenRania who has 4.7 million followers," said the study titled "2016 Twiplomacy" conducted by Burson-Marsteller.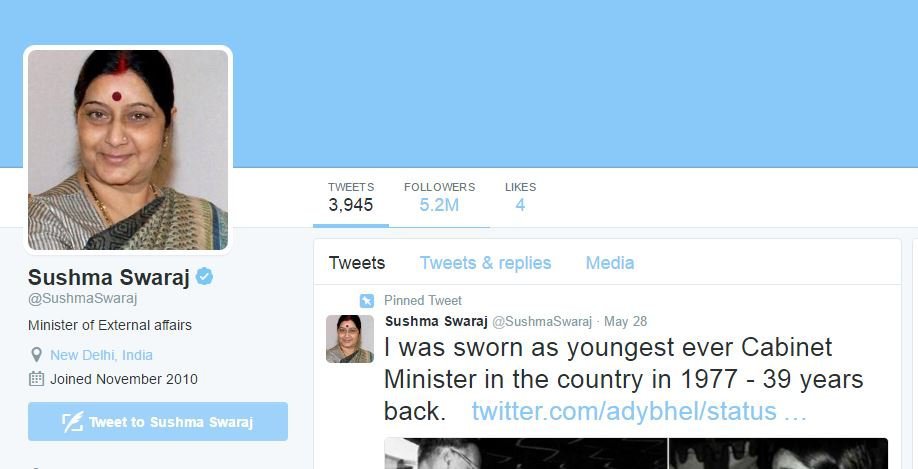 While US President Barack Obama still tops the list, Prime Minister Narendra Modi's ranking on the list remained intact at third sport with close to 20 million followers. 
"His @BarackObama Twitter account now has 75 million followers. He also leads the rankings on Facebook, Instagram, YouTube and Google+ with his campaign accounts," the study added.
The second spot has been clinched by Pope Francis (@Pontifex) who has more than 28 million followers on his nine language accounts.
According to the study, Twitter was used by world leaders or governments in 173 nations — equal to 90 percent of United Nations (UN) member states, the IANS report added. 
By comparison, the social networking site Facebook was being used by 169 governments (87 percent), it added.
Abdullah Bin Zayed, @ABZayed, Foreign Minister of the United Arab Emirates, is the second-most followed foreign minister with three million followers, with US Secretary of State @JohnKerry behind him with 1.3 million followers.
Feature image source: PTI