It is only after Salman Khan's heroic efforts in Bajrangi Bhaijaan that India's Ministry of External Affairs seems to be inspired to bring back home a hearing and speech-impaired girl, who is in Pakistan for the last 12 years.
In 2003, Geeta, then nine-years old, was spotted by Pakistani rangers in Lahore, after she had strayed across the border.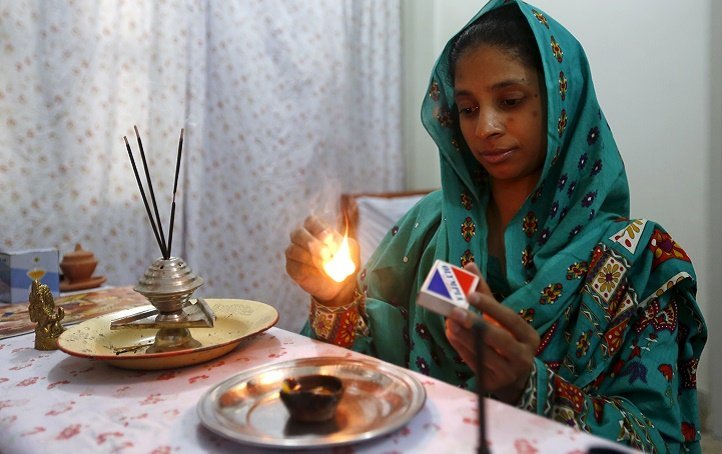 Geeta lights a match as she prepares to pray at the Bilquis Edhi Foundation in Karachi. | Source: Reuters
The girl was later handed over to Pakistan's largest non-governmental social welfare organisation Edhi Foundation. Bilqis Edhi, who runs the Edhi foundation, had named the girl as Geeta. According to reports, Geeta in her room at the Edhi Foundation has set up a small mandir (temple) where she prays.
Three families have so far came forward claiming that Geeta is their daughter. On Saturday, August 8, PTI reported that a couple from a village in Uttar Pradesh's Pratapgarh district has claimed that Geeta is their daughter.
Anara Devi and her husband Ramraj Gautam of Thammohan has said that the girl, addressed as Geeta in Pakistan, is their daughter Savita who went missing in 2004. Devi claimed she had left the then four-year-old daughter with her brother Narain Das in Chhapra district of Bihar in 2004. The family has said that they had also registered a missing report with the police station concerned.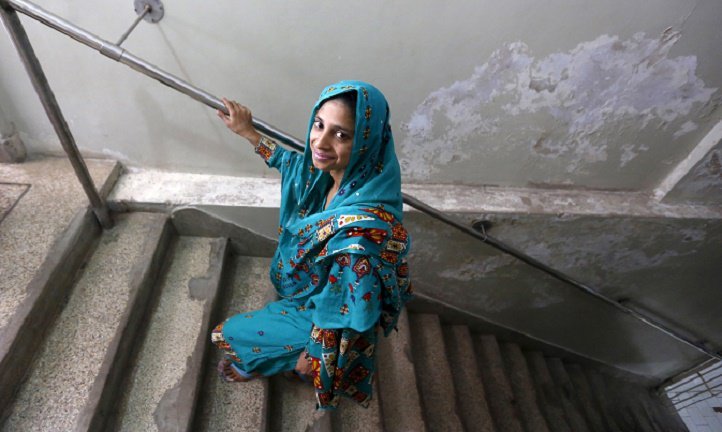 Geeta walks up a flight of stairs at the Bilquis Edhi Foundation in Karachi, Pakistan. | Source: Reuters
Few days ago another family from Bokaro in Jharkhand claimed that Geeta is their fourth child- Kokia Kumari who went missing more than a decade ago after she went out to graze cattle.
The first couple to make a claim was Rajesh Kumar and Ram Dulari from Amritsar who said Geeta is their daughter Pooja, whom they used to call Guddi. The family which had migrated from Bihar to Punjab, said the girl went missing more than a decade ago while they were out begging at the Amritsar railway station.
Similar to the plot of Bajrangi Bhaijaan , External Affairs Minister Sushma Swaraj is trying to be a real life Pawan Kumar Chaturvedi (Salman's name in the movie).
And some more revelation by Swaraj.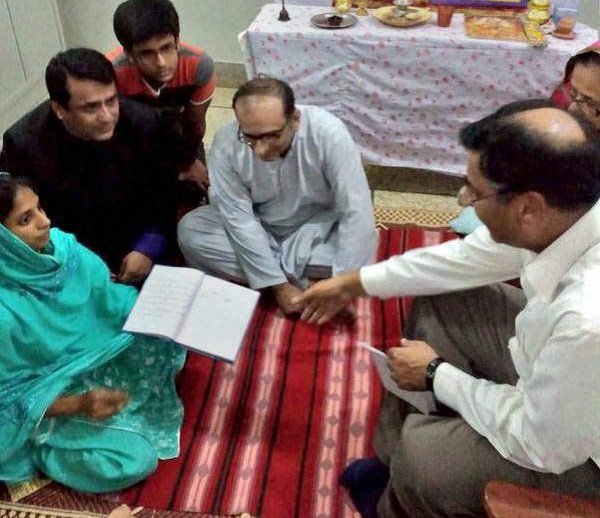 Indian High Commissioner TCA Raghavan meets Geeta at her residence in Karachi. | Source: Reuters
Sushma Swaraj retweeted Geeta's drawing and scribbles that was tweeted by Yusra Askari, an NDTV journalist. Askari raises a pertinent point in one of her tweets.
Here is a video report by NDTV about Geeta.
Source: Youtube
Unlike Salman Khan, who surpasses all hurdles to reunite Munni with her family, Sushma is using Twitter and other official sources to trace the girl's native place.
Read More:
Feature image source: Reuters