On Tuesday, Supreme Court lawyer and ex-governor of Mizoram, Swaraj Kaushal, tweeted about the plea on marital rape being heard by the Delhi High Court. Kaushal shared an article that says criminalising marital rape may put the family system under stress.  Kaushal tweeted, "There will be more husbands in the jail, than in the house". To this, a Twitter user asked him if he was defending marital rape?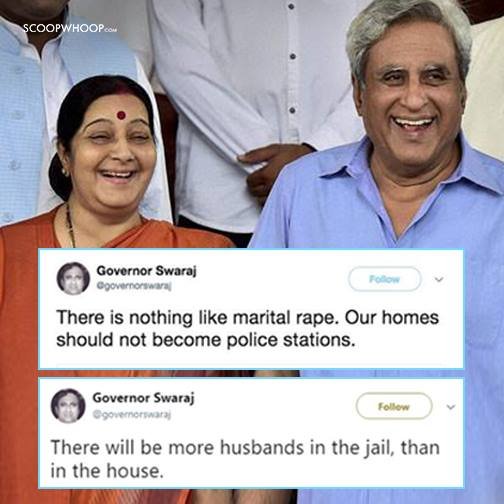 To which Kaushal replied, "There is nothing like marital rape. Our homes should not become police stations."
If you thought a Supreme Court lawyer made that statement without any deliberation, think again. 
Kaushal was right, marital rape is not defined in the Indian Penal Code. Our Home Affairs minister, Haribhai Parthibhai Chaudhary has said, "It is considered that the concept of marital rape, as understood internationally, cannot be suitably applied in the Indian context due to various factors, including level of education, illiteracy, poverty, myriad social customs and values, religious beliefs, mindset of the society to treat the marriage as a sacrament."
For the longest time, the government has hidden behind a central logic – if the law allows wives to bring rape charges against their husbands, the latter will find it difficult to defend themselves. Swaraj's statement follows that very train of thought. 
So firm is this belief that the Centre told the Delhi High Court on Tuesday that if marital rape is recognized as a crime, it could "destabilize the institution of marriage, apart from being an easy tool for harassing husbands".
It further stated that courts, too, would find it difficult to rely upon evidence in such circumstances as there could be "no lasting evidence in case of sexual acts between a man and his own wife".
This argument is not new and not altogether unfounded. How indeed does a man prove that his sexual relationship with his wife on a particular night was consensual? Moreover, how does one collect evidence in such a case?
But is the evidence issue such a big impediment? 
It goes without saying that evidence in any rape case is a major issue, more so, in case of an incident where the victim does not bear physical signs of violence. However, this argument rings hollow because of one primary reason. Let's say even if marital rape is recognised by the law, the burden will be much more on the wife to prove that the alleged sexual act was without her consent than that on the husband to prove the opposite. 
To drive this point in, let's look at some numbers. 
According to National Crime Records Bureau (NCRB) in 2016, one in four rape cases in India ended in conviction. In other words, one out of four women who claimed to have been raped were able to prove that they were indeed raped. 
This means India's conviction rate for rape, at 25.5%, remains abysmally low. 
The other argument against Domestic Rape law
The other line of argument against the domestic rape law is that sexual assault is already covered by the existing Domestic Violence Act. "Yes, non-consensual sex with husband is recognised as sexual abuse under this act. It also amounts to cruelty, which is a ground for divorce. But this does not lead to criminal persecution," says Saptarshi Mandal, assistant professor, Jindal Global Law school. Which means you can divorce your husband for raping you, but not criminally persecute him. 
How has Supreme Court dealt with the issue? 
Two years ago, a woman came forward about having been raped and assaulted by her husband. A Delhi-based MNC executive told the Supreme Court that her husband repeatedly resorted to sexual violence, but she was helpless as marital rape was not a crime in India. According to this report in Hindustan Times, the woman had challenged the validity of an exception to Section 375 of the IPC that says sexual intercourse by a man with his wife, who is 15 or above, is not rape even if it is without consent.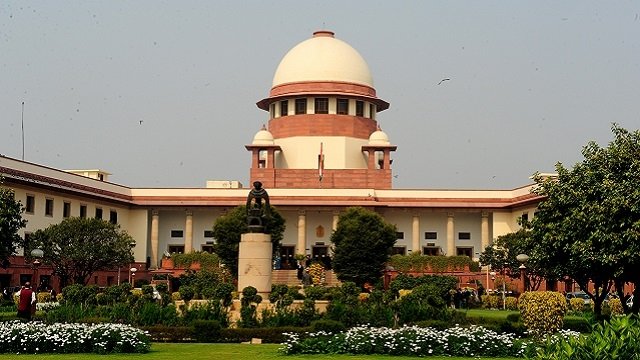 The Supreme Court, however, rejected her plea. "You are espousing a personal cause and not a public cause…This is an individual case," a bench of justice AR Dave and justice R Banumathi said. 
How do other countries treat marital rape? 
Many countries have the strictest possible rules against marital rape. Many have criminalised it in recent years. Malaysia changed its laws to that effect in 2007; Turkey in 2005; and Bolivia in 2013. The United States began criminalising marital rape in 1970s and most European countries in the 1990s.
Feature image source: Twitter