While hundreds of workers are stranded in Saudi Arabia in inhuman conditions with their dues not being settled, India's foreign minister has given them till September 25 to file their claims and pack their bags if they want a free ride back home. 
After this she has said that they would have to fend for themselves and arrange their own return home, 
In a series of tweets, the minister said:
Indian workers who have lost their jobs should file their claims and return by 25th September. We will bring them back free of charge./2

— Sushma Swaraj (@SushmaSwaraj) August 23, 2016
When Saudi Government settles with the Companies, the worker's claims will also be settled. /3

— Sushma Swaraj (@SushmaSwaraj) August 23, 2016
Those who do not return by 25th September will have to make their own arrangements for boarding, lodging and return journey. /4

— Sushma Swaraj (@SushmaSwaraj) August 23, 2016
The foreign minister's deadline comes after her deputy VK Singh made multiple trips to aid workers stranded there. 
The foreign minister had earlier arranged for food for workers stranded there as a result of them losing their employment.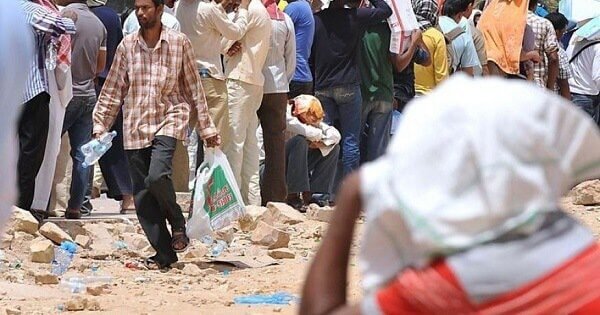 Low oil prices have forced the Saudi government to slash spending since last year, putting heavy pressure on the finances of local construction firms which rely on state contracts. As a result, some companies have been struggling to pay foreign workers and have laid off tens of thousands, leaving many with no money for food let alone for tickets home.
The Saudi government had earlier said "immediate and urgent action" would be taken to resolve the issues of "2,500 Indian workers from Saudi Oger who have faced difficulties due the delays in their salaries" and cut-offs in electricity and food supplies from their camps. However, he refuted the claims that there were 10,000 Indians stranded there.