Amid all the hue and cry over comedian Tanmay Bhat's Sachin-Lata video, the tabloid Mumbai Mirror decided to be different. Instead of offering any opinion on Bhat's latest attempt at humour, the tabloid carried a snippet on how Bhat's girlfriend Rega Jha is standing by him in this hour of crisis when most of Bollywood and the political class is baying for his blood.
Mirror tried to make the snippet juicier by adding this crucial bit that Rega, the editor of Buzzfeed India, is the daughter of Congress spokesperson Sanjay Jha. Only that she is NOT, and it's obvious that Mirror cared little about confirming this piece of information.
The result? A comedy of errors that played out on Twitter all of Tuesday morning.
This is what Mumbai Mirror wrote about Bhat and his "long-time girlfriend" Rega Jha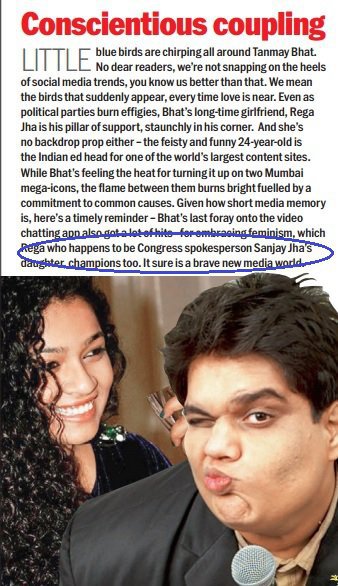 Twitter went crazy as some users sensed the "political nexus". Rega Jha became the trend India woke up to
Bimbo Rega Jha, who is Sanjay Jha's daughter, is Tanmay Bhat's longtime girlfriend.

Now you know the nexus!— Shubhendu (@AnandShubhendu) May 31, 2016
Tanmay Bhat is dating Sanjay Jha's daughter, Rega Jha. Made for each other, these two. Anti-India, Anti-Hindu.

— Media Insider (@InternalSources) May 31, 2016
Some weren't so sure, and approached Jha for clarification
Thankfully, Sanjay Jha stepped in to clear the air
Dear @RegaJha ; very proud of my feisty, fearless, fiery " daughter". Since we have unfortunately never met, shall we do a Starbucks?? )

— Sanjay Jha (@JhaSanjay) May 31, 2016
Egg on its face, the tabloid quickly tweeted out an apology
We erroneously mentioned that @RegaJha is the daughter of Congress spokesman @JhaSanjay.We were misinformed and profusely apologize to them.

— Mumbai Mirror (@MumbaiMirror) May 31, 2016
So, after Tanmay Bhat trended all of Monday, it was his girlfriend's turn to trend the next day. Wow, what a couple!