Well-known Bangladeshi blogger and human rights activist, Taslima Nasreen has been courting controversy for decades for her writings against radical Islamism.
Living in exile for 21 years, she has lived in many countries. She has spent a decade in Europe and the US before she came to India on a temporary residential permit in 2004.
Recently, she relocated herself to US from India with the help of Centre for Inquiry after receiving threats by the al Qaeda extremists.
Nasreen, who advocates gender equality, freedom of thought, secular humanism and human rights has often come under attack verbally and physically by extremists not only in Bangladesh but also in India.
(Disclaimer: The video contains abusive content.)
The Center for Inquiry (CFI) in a statement said that it helped Ms Nasreen to move to the US in order "to alleviate the immediate threat to her life".
CFI statement also said,"Her safety is only temporary if she cannot remain in the US, which is why CFI has established an emergency fund to help with food, housing and the means for her to be safely settled," reports BBC .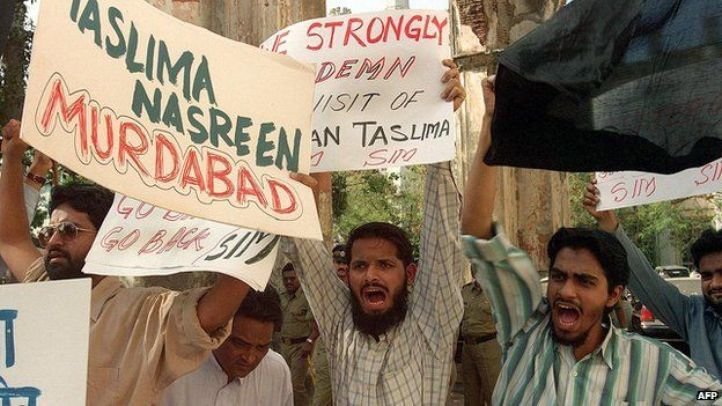 Nasreen is not the only one to have received threats. There are several other writers and activists who are on the list of these extremist groups.
In 2015, three gory murders took place in Bangladesh to quieten the secular voices inside the country.
Avijit roy was killed in Dhaka in February, Washiqur Rehman was murdered in March and another blogger, Ananta Bijoy Das was stabbed to death in the northern city of Sylhet in May.
Last month, Bangladesh banned the Ansarullah Bangla Team (ABT), after a blogger was hacked to death by them. The ABT is the sixth Islamist militant group to be banned.
The move came days after 150 prominent writers from different corners of the world released a joint letter condemning the killings.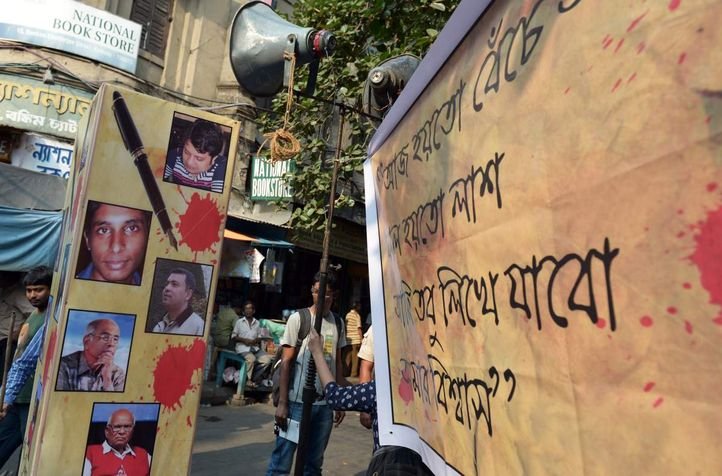 An Indian student looks from behind a poster with pictures of recently killed Bangladeshi bloggers during a protest meeting organized to pay homage in Kolkata | Source: TIME
The voices against radical Islam have been suppressed through violent protests, attacks, and even murders. Bloggers like Taslima Nasreen are living in exile because of the very real death threats. Dominion and violence in the name of religion are not new. Although they are antithesis of what Islam, or any other faith propagates.
Will a decimation of free secular thinkers stifle voices of dissent?