In a bizarre turn of events, 30-year-old Lakhan Manoj from Telangana dug up a national highway in search of a Shiva Linga.
According to The Hindu, Lakhan alleged that he had a dream in which Lord Shiva asked him to excavate a Shiva Linga from that particular area. He also claimed that the Lord asked him to build a temple.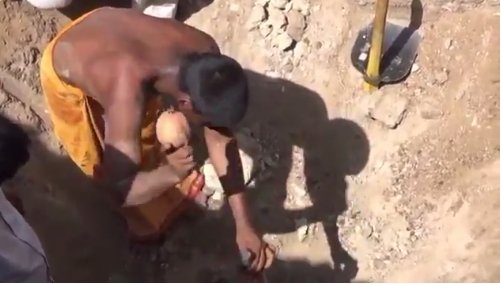 Both the Sarpanch of Jangaon, Siddu Lingam as well as the Municipal Vice-Chairman, Nagarapu Venkat, believed Lakhan's claim and helped him conduct the excavation near Pembarthy village in Telangana. 
"Manoj is an ardent devotee of Lord Shiva and has been getting this dream since three years. He asked us to help him dig up the spot and construct the temple. He used to conduct prayers at this location every Monday. As Manoj swooned in excitement at this spot we believed him," the sarpanch told The Hindu.
India Today reported that curious villagers also joined the hunt and helped Lakhan dig upto 20 feet but failed to find anything. 
The excavation, however, resulted in a traffic jam on the national highway following which the police arrived on the spot and terminated the dugout. A case of damaging public property has been booked against Lakhan and others involved.
According to The Hindu, West Zone DCP T. Venkanna and Jangaon ACP Padmanabha Reddy visited the site and covered the pit. 
(Feature image source: Twitter)