Gunmen on motorcycles killed 43 people in an attack on a bus in Pakistan's southern city of Karachi on Wednesday, police said, in what appeared to be the latest violence directed against religious minorities this year. Rebel group Islamic State or ISIS has claimed responsibilty for the attack.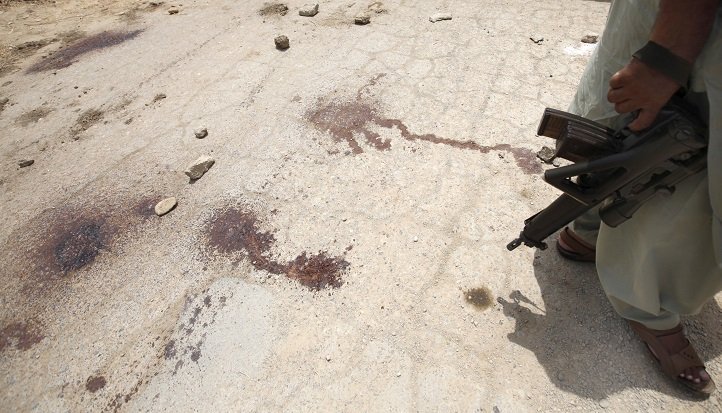 A security official stands with his gun beside blood stains at the scene of an attack on a bus in Karachi , Karachi , May 13, 2015 | Source: Reuters
As per NDTV news flash, 16 women were killed in the attack and the gunmen shot the passengers in the head.
At least 43 people had been killed and 13 wounded, provincial police chief Ghulam Haider Jamali told media.
Television channels carried pictures of a pink bus covered in bullet holes and lines of waiting ambulances. Police said the passengers were from a religious minority.
The bus was carrying members of the Ismaili community near Safoora Chowk area in Karachi, reports DAWN . The bus belongs to Al-Azhar Garden Colony, which is an Ismaili community housing project in Karachi.
An eye-witness said around eight men riding three to four motorcycles opened fire on the bus.
A splinter group of the Pakistani Taliban called Jundullah also claimed responsibility.
"These killed people were Ismaili and we consider them kafir (non-Muslim). We had four attackers. In the coming days we will attack Ismailis, Shi'ites and Christians," spokesman Ahmed Marwat said.
Taliban splinter groups have bombed several mosques belonging to religious minorities this year.
Ayesha Aly, a member of the Ismaili community, wept on television as she explained that the bus picked up people for work and dropped them off every day.
"It was on its usual rounds when this attack happened. People were just getting on with their normal lives, out to earn a living," she said.
Prime Minister Narendra Modi has also reacted on Twitter.
As per a PTI report, the death toll could further rise as about 20 others are seriously injured. The injured and dead were shifted to various hospitals by rescue workers.
Feature image source: Demotix.com