In a pre-dawn attack, a group of heavily-armed Pakistani terrorists, suspected to belong to Jaish-e-Mohammed outfit, struck at an Air Force base here in Punjab, leading to a fierce gunbattle in which three security personnel were killed along with five attackers.
The terrorists, who struck just a week after Prime Minister Narendra Modi's unscheduled visit to Lahore, could not, however, penetrate the defence cordon at the Air base which is located close to the border with Pakistan as they met with effective response from the security forces, police and security officials said.
The attack by terrorists, suspected to belong to JeM outfit, took place at around 3.30 am and three security personnel, including a Garud commando of the IAF, were killed in it,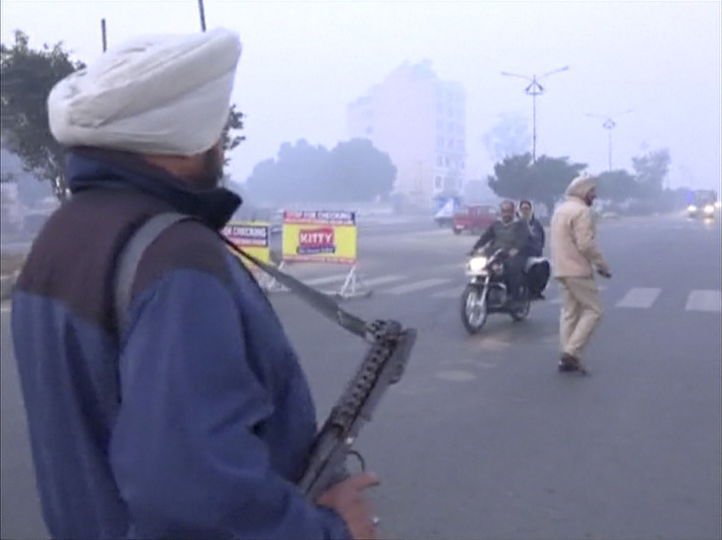 "The moment that Modi touched down in Lahore (and probably even before), something like this was doomed to happen," said Michael Kugelman, a South Asia expert at the Wilson Center think tank in Washington.
"At this point, there's sufficient goodwill in India-Pakistan relations to weather this attack. Saboteurs won't win this one," he said.
Border police chief Vijay Singh said the operation to eliminate the gunmen had lasted three hours. The airbase was being combed to determine the fate of the remaining attackers.
According to news reports, the gunmen wore army uniform. One Indian security source blamed the attack on a Pakistan-based militant group, but said it posed no threat to civilians.
The raid resembled an assault last July by gunmen on a police post in Gurdaspur that killed nine people. However, Saturday's pre-dawn attack appeared to have been much more audacious by targeting a large military facility.
One home ministry official said Punjab and Jammu states were on high alert and all defence bases had been sealed.
"Attacking an air base is a serious security threat. The new strategy of the terrorists is to identify defence bases near the border and launch attacks," said the official, who was not authorised to comment on the record.