At least four suicide bombers attacked a Christian neighbourhood in northwestern Pakistan early on Friday morning, the military said. 
The firing reportedly began around 6 am when the terrorists attacked the colony and in the exchange of fire between gunmen and security forces, one civilian was killed.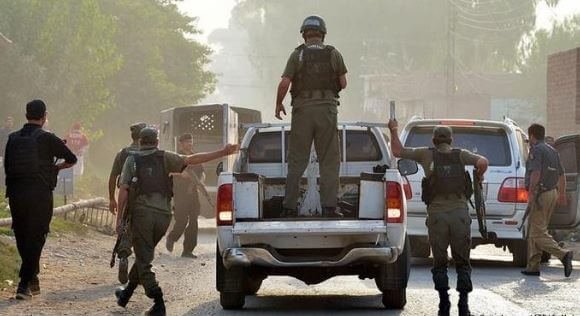 The sound of explosions was heard in the area, eyewitnesses claimed, and a helicopter was spotted conducting aerial surveillance. Additional contingents of security forces, including police, Frontier Corps and Pakistan Army commandos have been deployed to the area and an operation is ongoing, the daily reported. 
The area has been cordoned off. The colony lies near the Pak-Afghan border and the Warsak Dam.
Authorities "promptly responded" and all four attackers were dead, army spokesman Lt. General Asim Bajwa said in a tweet.
Terrorist attacked Christian Colony Warsak Road, Peshawar.Sec forces Promptly responded,all 4 suicide bombers killed.Search in progress.

— Gen Asim Bajwa (@AsimBajwaISPR) September 2, 2016
He gave no other information on casualties.
(Feature image source: Twitter| Samaa TV)
(With inputs from Reuters, PTI)