Police hunting for the perpetrators of Thailand's deadliest bombing arrested a suspect on Saturday, August 29, they said fitted the description of a man seen on security cameras leaving a rucksack at the site of the August 17 Bangkok blast.Police raided an apartment in a northern suburb of the capital on Saturday afternoon and discovered possible bomb-making materials that could have been used in the evening attack in Bangkok's bustling commercial heart.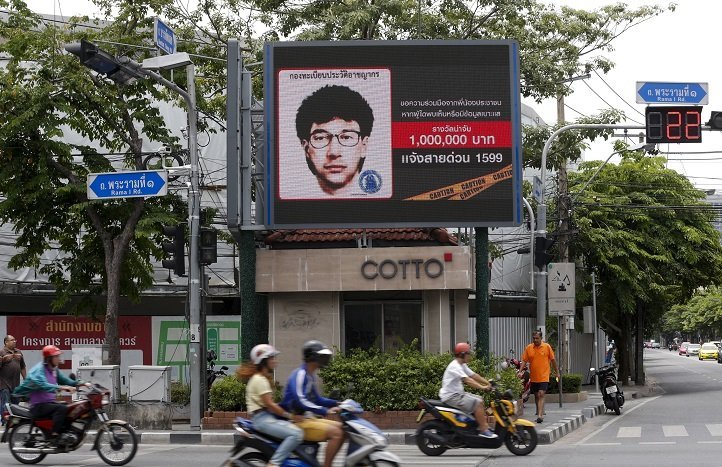 People ride their motorcycles past a digital billboard showing a sketch of the main suspect in the attack on Erawan shrine, in Bangkok, Thailand.
The bomb tore through the crowded Erawan Shrine, one of the country's top tourist attractions and close to high-end hotels and malls, killing 20 people and wounding scores more. Among the dead were 14 foreigners, including seven from mainland China and Hong Kong. The suspect "looks like the one we are looking for", said national police spokesman Prawut Thavornsiri. "They also found a lot of materials which can be used to make bombs."The prime suspect in the attack is a young man with shaggy dark hair dressed in a yellow shirt seen on grainy closed-circuit television footage dropping off a backpack and casually leaving the scene before the bomb went off.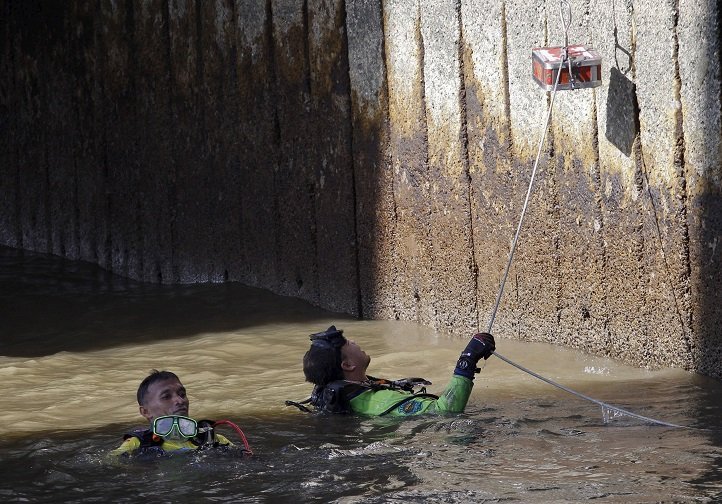 Divers recover pieces of evidence, for members of the Explosive Ordnance Disposal (EOD), after a man threw an explosive from a bridge at Sathorn pier in central Bangkok, Thailand.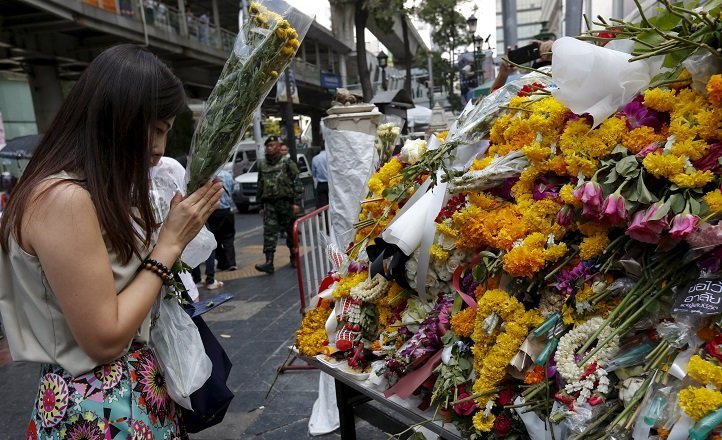 A woman places a bouquet of flowers at the Erawan shrine, the site of deadly blast, in central Bangkok, Thailand.
Thai authorities had offered a $85,000 reward for information leading to the arrest of the main suspect. Officials have had different theories about the identity of the man, saying he could be foreign, or a Thai man pretending to be foreign.