Wales followed Iceland out of Euro 2016 after a defeat to Portugal on Wednesday night – but for the tiny nations to rise above the odds, dream big and get so close to their goal is what Euro 2016 will be remembered for. Not for Italy, not for Spain, not for England or Belgium or the absent Netherlands. But for Iceland. For Wales. And for what football can throw at us when we least expect it.
Thank you Wales, for Gareth Bale's freekicks – for the arrival of a superstar who is now mentioned in the same list as Cristiano Ronaldo, Lionel Messi, Neymar and Luis Suarez. For his driving runs, vanishing from the clutches of defenders in an explosive burst of muscles and veins and a flowing mane.
Thank you Iceland, for Kolbeinn Sigthórsson, Jón Dadi Bödvarsson and Gylfi Sigurdsson – three of your six goalscorers in five matches – a testimony to how much teamwork matters in sport. For Kari Arnason, who had the guts to tell Cristiano Ronaldo the reason the Portuguese star will always be behind Lionel Messi. For proving the Real Madrid superstar wrong by reaching the last eight, and shutting him up like no one has before. 
Thank you Wales, for Hal Robson-Kanu and his sensational goal against England — a moment that put him alongside Johan Cruyff and Dennis Bergkamp in the list of the greatest and most enchanting turns pulled off inside the box in world football. And he doesn't even have a club. What a lesson for England's millionaires.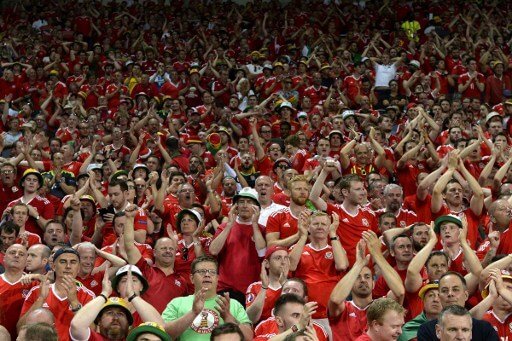 Thank you Iceland, for introducing us to Gudmundur Benediktsson, the commentator who lived and breathed with you on the pitch – whose voice will stay alive, forever – lingering in our heads every time we think of what you achieved. For his shrill screams to his tears-in-my-eyes disbelief that gave goosebumps to whoever heard him.
Thank you Wales and Iceland, for showing the world that size does not matter, passion does. That stars don't matter, teamwork does. That money-spinning leagues don't matter, fans do, hand-in-hand, bouncing up and down in unison with their players, creating a sea of red and white and blue in a show of faith. Faith, that very nearly, took them all the way.
Feature image source: AFP