On Tuesday, Ram Nath Kovind took oath as India's 14th President, who happens to be the second Dalit president after KR Narayanan. It is a well established fact that Kocheril Raman Narayanan, the 10th President of India, was India's first Dalit president.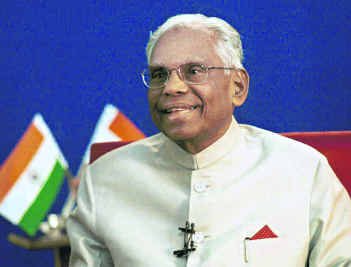 However, Outlook, a weekly magazine, has contested Narayanan's religion, after a gravestone in his name was spotted at a Christian cemetery in the heart of Delhi. Soon, this discovery puzzled everyone who are now questioning how a Hindu's memorial came up at the cemetery? May be, he was a Christian then?
The tomb was alongside his wife Usha Narayanan in the non-denominational cemetery run by the Delhi Cemeteries Committee on Prithviraj Road. The epitaph on the tombstone reads, "KR Narayanan, a gentle Colossus Former President of India (1997-2002)".
Soon controversy theories started popping out. Some claimed he was "converted" to Christianity after his death.
Kerala-based Janam TV channel and Janmabhumi daily, both backed by the RSS, have claimed that the former President was "converted" to Christianity "after his death" in 2005, says a report by Indian Express.
The report claims that though he was initially cremated at Rashtriya Smriti Sthal as per Hindu tradition, he was later baptized by the Church after the death of his wife Usha Narayanan in 2008. The Church, the report further claimed, had kept the matter a secret.
A fact check: Was he cremated or buried after his death?
After Narayanan passed away on November 9, 2005, his mortal remains were consigned to flames with full military honours on the banks of the Yamuna on November 10.
The funeral pyre of the 85-year-old President was lit by his nephew S Ramachandran at a spot between 'Shanti Van', the memorial of Jawaharlal Nehru, and 'Vijay Ghat', that of Lal Bahadur Shastri.
Claims about his religion have been made before. In 1997, Vishwa Hindu Parishad had alleged Narayanan was not really a Dalit
In 1997, VHP had vehemently opposed Narayanan's candidature for president alleging he was not really a Dalit.
"Narayanan has never served the dalit cause throughout his life. He is neither a follower of Dr Ambedkar nor of Mahatma Gandhi. Therefore, it is dangerous to make him the President," VHP president Ashok Singhal told Rediff On The NeT.
"Narayanan is a dalit Hindu only on paper. His bent of mind, philosophy of life and his life-long activities are all distinctly anti-Hindu," said Singhal, adding that the vice-president has close links with the World Council of Churches, the apex body of various Church denominations in the world". 
What is the truth?
So, the truth, according to the Narayanan's daughters, was that their mother, who was a Christian, wanted to be buried with the ashes of their father. After the funeral, ashes were distributed in four parts and was immersed at different places.
His daughters Chitra and Amrita Narayanan, told News 18 , "The final and a small portion of the ashes were retained by his widow Usha Narayanan, a Christian, to be buried alongside her. At her passing in 2008, this was done according to her wishes at the Prithviraj Road cemetery. This was an entirely private wish and should be respected accordingly", 
Can we please end this useless debate?
Now just for the sake of logic, it is established that the former president was INDEED a Dalit. But the colossal question is, does his religion really matter? Digging dirt from the life of such an inspiring person, is both shameful to his legacy and foolish on the part of people who still perceive religion as something greater than an individual's whole being.
Born into a poor Dalit family, he fought against all odds to carve a niche for him and yet here we are wondering whether he was cremated or buried. Also, such a controversy around a private matter is petty, to say the least. It was also said that Narayanan respected all religions equally, may be we can learn something from that?
And Twitter rightfully agrees! 
Many thought that it is totally uncalled for and lambasted Outlook for sensationalising the issue
.