Vaishali Yadav, the 6-year-old from Pune who has been recently treated of a heart disease, has written a gratitude-filled letter to Prime Minister Narendra modi thanking him for financially aiding her heart surgery.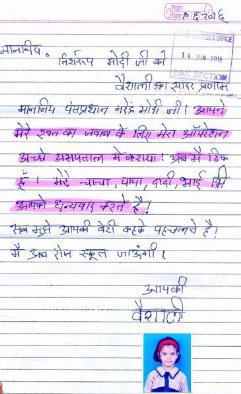 Vaishali was diagnosed with a hole in her heart. Her father, due to poor economic condition and lack of below poverty line documents, could not afford the surgery expenses that amounted to Rs 3 lakh.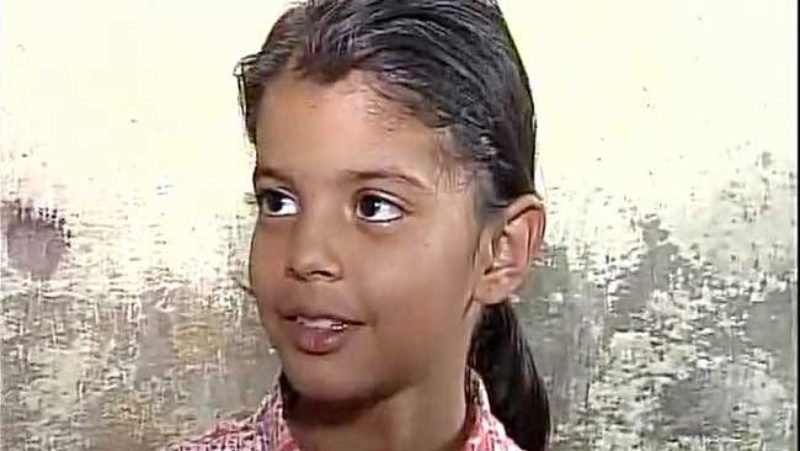 In her thank you note, Vaishali has conveyed to the Prime Minister that she is fine and in good health. The six-year-old writes:
In response to my letter, you facilitated my operation in a prominent hospital. I am fine now. My uncle, father, grand father and brother are also grateful to you. Everyone recognizes me as your daughter. Now, i will go to school everyday.
Pune District Collector Saurabh Rao, who took care of things after receiving the letter from Prime Minister's Office (PMO) directing him to provide necessary assistance to the girl, received a letter of appreciation from PMO. The letter also acknowledged the medical assistance extended by Ruby Health Clinic.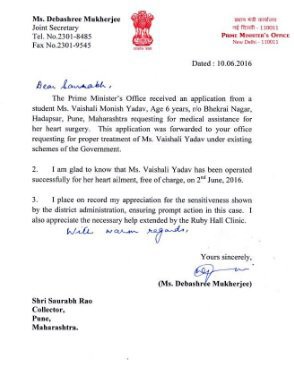 Vaishali was admitted to Ruby Hall Clinic in Pune, where she was successfully operated free of charge on June 4.