Surpassing China, India now accounts for the maximum number of premature deaths from ozone air pollution in the world, a new study said today. The number of lives lost in India to the tiny particulate matter (PM2.5) is "approaching" China's numbers. 
The study added that both the countries together accounted for 52 per cent of the total global deaths attributable to PM2.5 and recorded about 1.1 million early deaths due to it in 2015. 
India has witnessed a 150 per cent rise in lives lost over the past two decades from ozone pollutants, according to the 'State of Global Air 2017′ report.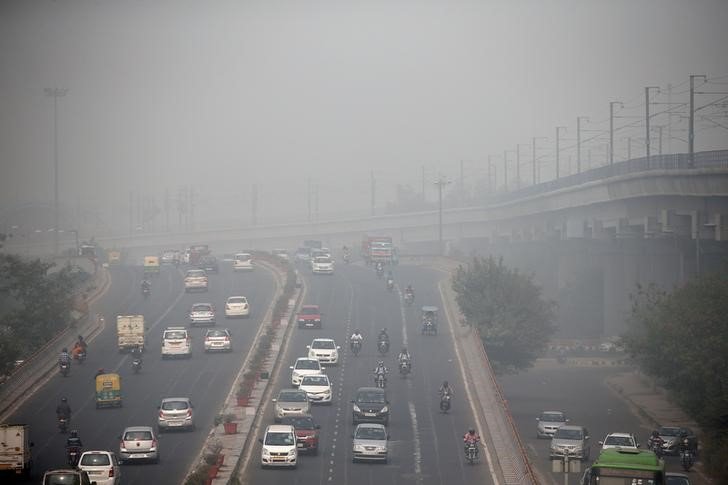 As the most populous countries, India and China account for most of the ozone-attributable Chronic Obstructive Pulmonary Disease (COPD) deaths across all years, but India accounts for much (about 67 per cent) of the global increase since 1990. 

"Over the past 25 years, India experienced a nearly 150 per cent increase in ozone-attributable deaths, while China's number remained about the same," the report said.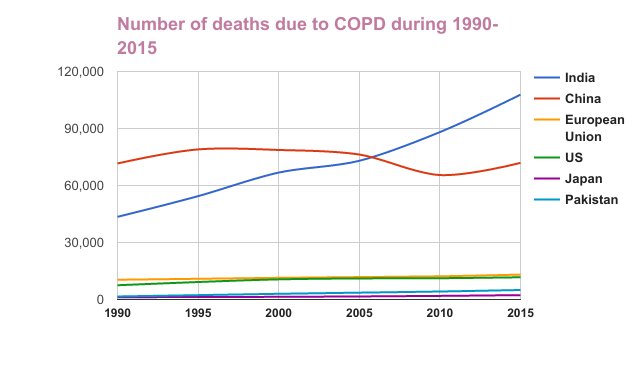 It suggested that India outpaced China in 2015, with 8.6 ozone-related deaths for every 100,000 people, compared to China's 5.3. According to the report, while 11,08,100 deaths were attributed to PM2.5 exposure in China in 2015, in India, it was 10,90,400. 
Around 92 per cent of the world's population lives in areas with "unhealthy" air. The COPD mortality rate decreased by about 1 per cent over this time period in the US and Indonesia and remained relatively stable in Russia and the European Union. 
The rise in deaths due to ozone exposure from 1990 to 2015 was driven by increases in concentrations of ozone throughout most of the globe by population aging and by the increased rates of mortality from COPD, especially in South Asia. 

The report said that among the 10 most populous countries and the European Union (EU), Bangladesh and India have the highest exposure to PM2.5, the "steepest" rise since 2010. 
"In 2015, long-term exposure to PM2.5 contributed to 4.2 million deaths and to a loss of 103 million years of healthy life. China and India together accounted for 52 per cent of the total global deaths attributable to PM2.5."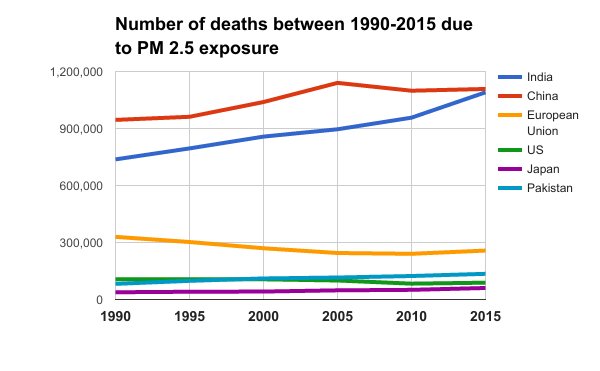 "It found that increasing exposure and a growing and aging population have meant that India now rivals China for among the highest air pollution health burdens in the world, with both countries facing some 1.1 million early deaths due to it in 2015," it said. 
The 'State of Global Air 2017' is the first of a new series of annual reports and accompanying interactive website, designed by Health Effects Institute in cooperation with the Institute of Health Metrics and Evaluation (IHME) at the University of Washington and University of British Columbia.
(With inputs from PTI)
(Feature image source: Reuters)