India's Olympic contingent in 2016 has a lot of firsts to boast of. The first time the country is sending over 100 athletes, the first time the contingent boasts of five different medal-winners, to mention a few.
This is also the first time the country will have THREE women wrestlers at Rio Olympics and here is their incredible journey to the top.
Pinning her opponent in a merciless half-nelson — a common wrestling move — women's wrestler Vinesh Phogat hones her skills for the Rio Olympics, where, win or lose, she has already scored a significant victory over sexism in one of India's most conservative states.
Vinesh, her cousin Babita and their team-mate Sakshi Malik have all qualified for Rio despite hailing from Haryana, where women have long been treated as second-class citizens and "honour killings" and sex-selective abortions are rife.
Vinesh and Sakshi recall villagers sniggering and finger-pointing when they wrestled with boys or wore shorts in a state where women are usually covered head-to-toe and confined to their homes.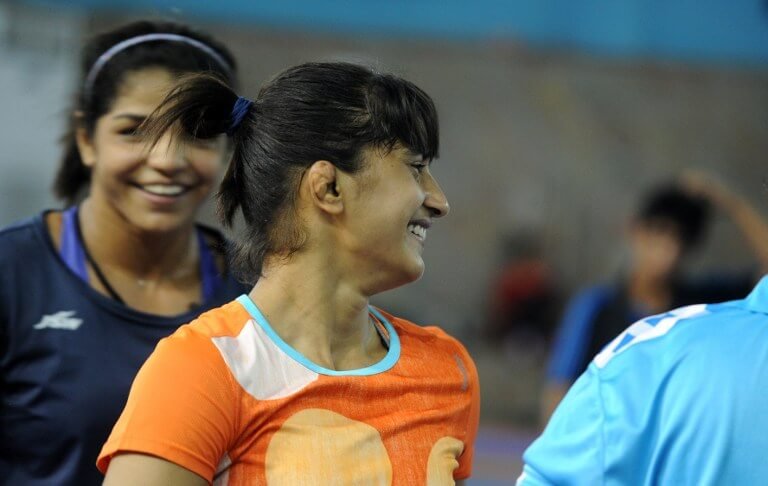 "People would throw us dirty looks when we wore shorts to practise. They would gossip and… say 'this is wrong'," said 21-year-old Vinesh, who comes from a prestigious wrestling family, at a stadium in the northern city of Lucknow.
Haryana, neighbouring New Delhi, is renowned for its male-dominated village councils which control life in the largely farming region, issuing diktats to prevent women defying conservative norms.
Marriage outside caste or religion brings punishment including "honour killings" — murder, usually of the woman, for dishonouring her family — while sex-selective abortions still occur in an area that values boys above girls.
Haryana has the worst sex ratio in the country, with 877 women for every 1,000 men, against the national figure of 940, according to the last official census of 2011.
Locals used to berate Sakshi's parents when she was growing up, warning that their daughter would develop puffed-out cauliflower ears, common among wrestlers, and become undesirable to potential husbands.
"It hurt a little and I wondered why people said such mean things, especially when I was so young, and made me doubt myself," said the 23-year-old, who began training when she was 12.
They believe, however, that attitudes started to shift after Geeta Phogat — Babita's elder sister — won gold at the 2010 Commonwealth Games and became the first Indian woman wrestler to qualify for an Olympics two years later.
The Phogat women credit their success to their ex-wrestler father and uncle, Mahavir Singh Phogat, an acclaimed amateur wrestler, whose coaching career is the story of Aamir Khan's upcoming movie Dangal.