As someone who has frequented JNU ever since the row erupted on February 9, support for Umar Khalid in the campus has been largely conspicuous by its absence.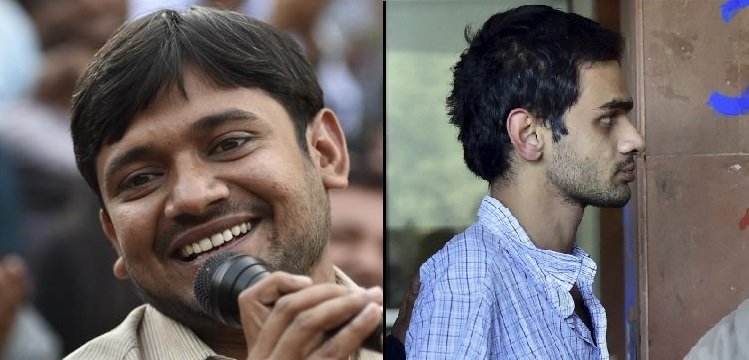 Yes, there has been the odd mention by Kanhaiya and others; there has been talk of support but the reality is that Umar alongwith fellow student Anirban is languishing in Delhi's Tihar Jail and his bail appeal will not be heard before March 15.
And that brings us to the current issue: Where are the rallies that spilled on the streets demanding Kanhaiya's release? Where are the angry Facebook status demanding Umar's return? Where is the support?
Let's get things straight. Both Kanhaiya and Umar were booked for the same charge: that of raising anti-national slogans – Afzal Guru Zindabad, Pakistan Zindabad and Jang rahegi, Bharat ki barbadi tak. Out on bail, Kanhaiya isn't absolved of the charges, but is – if only temporarily – a free man because there is no evidence that he actually raised the slogans. However, the videos show he is seen at the event where such slogans were allegedly raised. 
All this holds true for Umar Khalid too.
So it seems while Kanhaiya is JNU's darling, Umar Khalid is a liability everyone prefers keeping at a safe distance. But why is it so?
Maybe because Umar, a member of the now defunct Democratic Students Union (DSU), represents the extremist leftist ideology in JNU. It was DSU that organised the Afzal Guru event, and Umar – a hero among JNU's Kashmiri students for his pro-Kashmir stand – even defended the move on national TV. Maharashtra's anti-Naxal operations wing claimed he is a Maoist, and some unverified media reports have said he has links with militant groups in Pakistan – a charge denied by Umar's family who said he doesn't even possess a passport. 
So, Umar is really the one posing inconvenient questions to the state. But JNU would rather fight for Kanhaiya, the new revolutionary-on-the-block.
Why, Kanhaiya seems to have set his demands of 'azaadi' for long-term goals like poverty and Manuwaad and not mundane, immediate issue such as Umar Khalid's release. This week, he told PTI: "Though our primary focus is to get them (Umar and Anirban) released but one thing I am sure of is if I adopt this ideology of raising our voice these trips to prison will become a frequent thing."
So, is he dreading another prison trip? He may choose to… but what is stopping the rest to come out in open support of Umar? We are yet to see the anger we saw for Kanhaiya.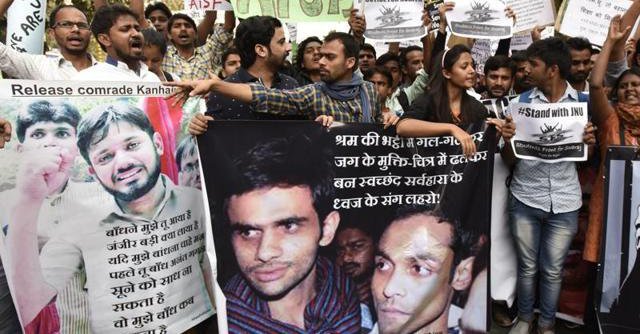 So it wouldn't be wrong to say that JNU has dropped Umar like a hot potato. On March 7, the JNUSU released a statement condemning "destructive and divisive slogans that were allegedly raised on the 9th of February".
Wait, wait, what? 
Wasn't the whole fight and activism in JNU about freedom of speech? If we break down JNU's defense (and attack) in the entire row, it is this: Merely raising slogans of separatism isn't sedition; court's conviction of Afzal Guru is questionable; the government should acknowledge the very real support in a part of India to Guru and to Kashmir's separatism.
Wasn't the fight about the freedom to raise any kind of questions? Didn't JNU students go to streets with placards say "Feeling seditious"?
But with great cunning, both Kanhaiya and JNU have put the fight for FoS in the back burner. If Kanhaiya really stands vindicated as he claims, he would be telling the world this: "I did not raise the said slogans. But I support Umar's FoS that hanging Afzal Guru was wrong and he was indeed judicially killed."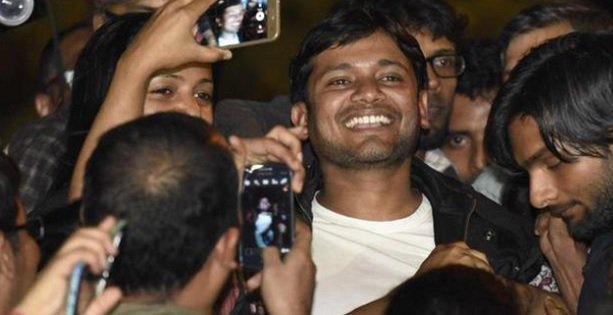 But no, none of that. 
Of course, they'll tell us their heart beats for Umar as much as Kanhaiya. Umar's father Syed Qasim Illyas Rasool, told ScoopWhoop on Friday that JNU is lending its whole-hearted support to JNU, and it is only the media that it biased against his son.
The problem is, the reality on the campus is different.
All this goes on to show that JNU has really forgotten what it stood up for: freedom of speech. Now, it seems, they stand only for Kanhaiya.