It is the week after our particular BLACK FRIDAY SALE at the box office—and probably safe to start commenting on all the "What The?" moments on screen without fearing that we may sneak in a spoiler or two.
I watched Dilwale and Bajirao Mastani back-to-back this weekend and lets say a louder, more full colour Technicolor overwhelming weekend I haven't had in a couple of months. There was much suspense about the alleged competition at the turnstiles this December. However, in any race between Shetty and Bhansali; Bhansali would clearly have an easier time with the critics because, you know, Bhansali… Bhansali Hai.
This reminds me of a gentleman I once knew, who was quite convinced that if you have a Maruti 800 and Mercedes both racing at 80km/hr; the Mercedes would still win, for you know MERECEDES… MERCEDES hai. So even if Shetty and Bhansali play the same visual eye candy, lavish sets and and over wrought Sentiments Express card; we see less hahahas when it comes to BAJIRAO MASTANI, because you know Bhansali… Bhansali Hai.
Bajirao Mastani will not kill your grey cells as Dilwale may, but for me both film makers have been betting heavily on the pedigree of the thoroughbreds in their stable, and I feel the race results should be read in the same vein.
Now what does BAJIRAO MASTANI have going for it? Of course that it has a lot of heart, ironically more bade dil wala compared to DILWALE and a defiant opening twenty minutes but it soon loses steam. And so I started compiling my list of What The?
Bajirao can do EVERYTHING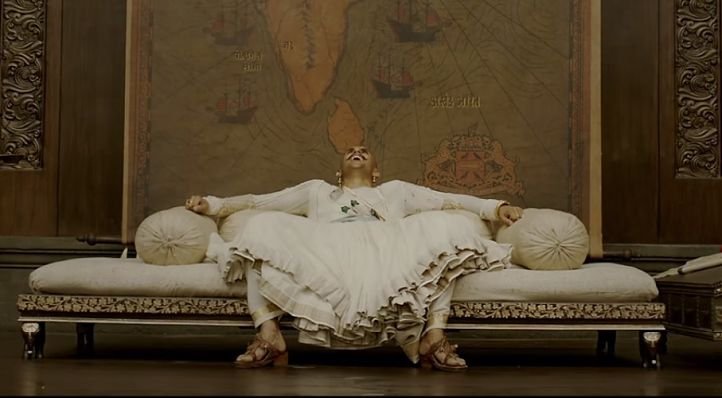 Bajirao can do it all. Image source: Youtube.
So a strapping young man, he is introduced by his colleagues for his track record of 40 not out aise ke Pune Warriors ke asal pinch hitter toh yahi the. But wait, wait, as the movie progresses I realise our good man indulges in some prompt paramedic services too—no one in Bundelkhand is aware of cauterizing wounds you see.
Poor Mastani going to the ved ji, most hearing probably a Nahi , Dettol wali koi chot nahi. Bajirao manages to diagnose, seal and close that wound. But his good work doesn't end there. Bajirao is also that annoying desi mausi ji who will take one look at the glow on your face and goes "Koi good news?" Here is Mastani thinking "Awesome! This Dove Soap Challenge Is Really Kicking In With That Chehre Ka Nur" for Bajirao to burst that bubble with a "Hey Girl, You Look Pregnant!"
Is there a baby that needs delivering? Yup, Bajirao steps in as midwife too. DIY Nikah, giving ayuverdic scrub baths, baby ka naamkaran, diplomat and negotiator extraordinaire, warrior, borrowing Rumi's "There is a field I'll meet you there" as the movie wraps up in typical heavy emotion wala climax Bhansali style; is there anything this man cannot do? Arey, Bajirao ye hain, Bajirao wo hain, hum tou kahein wo purush hi nahi hain… awkward silence..MAHA PURUSH MAHA PURUSH!
What kind of person is Mastani really?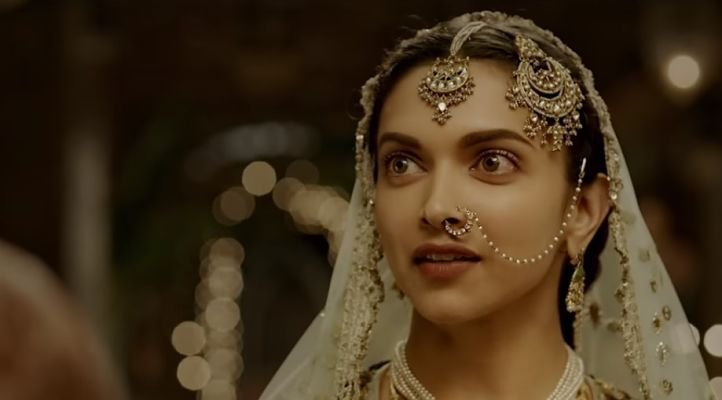 Who was Mastani's eyebrow wali? Image source: Youtube
Next we have a fiery warrior princess; but sadly Bhansali is mighty confused whether he sees her as a mighty fine piece of Rajput-Muslim eugenics, a capable swordswoman, a stubborn young, determined person; is she a raqasa who is as much of a killer with a mandolin and fancy footwork as she is with her sword, or someone with a really good eyebrow wali. (Really, who was Mastani's eyebrow wali. I am betting that sulky sidekick who really wanted to get back to Bundelkhand where the real tips were).
Eid pe theek thak meetha bhi banati hongi. Matlab, how does Bhansali understand Mastani's character as he flits between one frame of reference and the other. Matlab ye party hain ke broker?
And the most memorable character actually was…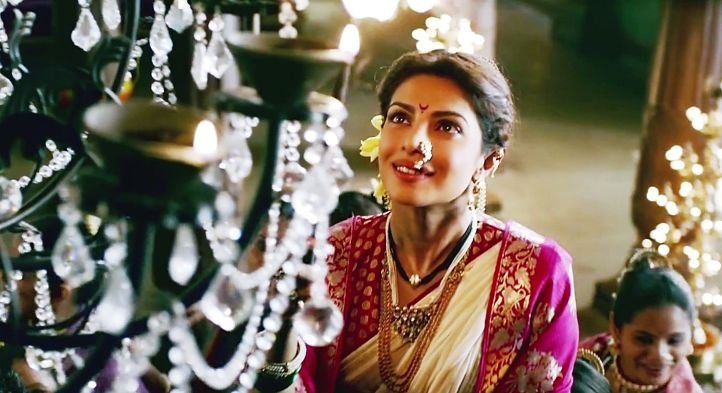 Screenshot.
A character I was very impressed with is surprisingly Kashibai's. I kind of had the same feeling after watching Mughal-E-Azam and realizing I liked Akbar/Prithviraj Kapoor best. Priyanka Chopra/Kashibai too might have had the same haar ke bhi jeet jaane wali Baazigar feeling.
Khair, to his defence Bajirao/Ranveer makes up for all this by a killer angdai (the English 'yawn turned stretch' just doesn't cut it) in Bundelkhand. The angdai compensated being framed by those sheer Lajpat Nagar types Ishq wale curtains in a Bundelkhand that was apparently furnished by the 2015 range of Good Earth products). Forget Mastani's eyebrow wali, a special round of applause for the darzi who most probably on Bhansali's coaxing put a loose fastening just so on the Bajirao's kurta, so—Nipple Gate.
Front stalls erupted into taaliyan and seetiyan right about then.
Arey, wah! Ang pradarshan sirf kahani ki maang tak!
Bhansali phir Bhansali hi hai.