Direct To Home service Tata Sky has made its 'Everywhere TV' service free and it might be the thing that could make life that bit harder for Netflix which just entered the Indian market. 
What is 'Everywhere TV'?
It's the mobile phone app of Tata Sky that allows you to stream live television channel content directly on to your device. But then it has features like allowing you to stream the last five days' worth of your favourite episode and even purchase videos.
How will it work? 
And if you're a subscriber of services like Tata Sky+ Transfer it even allows you transfer recorded content or stream from your set top box to your phone over wi-fi. Which means that you don't need to download it again just to watch it if you already recorded it on your set-top box.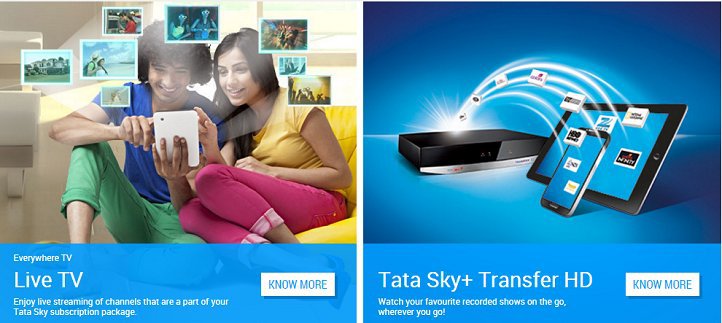 Free for how long?
The service has reportedly been around since 2013 but it required users to pay Rs 60 per month in addition to the subscription charges that were already being paid. It's not very clear how long this service will remain free.
In response to Netflix? 
Tata Sky's decision to make the service free is interesting given Netflix just launched in India and offers free streaming of shows and movies for free for the first month. There are also other competitors like Hotstar and Eros Now which are also allowing users to stream content like serials and films, some of them for free, onto their devices. 
Given services like Netflix and Hotstar have been known to hit television consumption in western markets, Tata Sky might have timed this freebie just right. Whether it will be a Netflix killer though remains to be seen. 
Featured image source: Tata Sky| Netflix