In a shocking incident of racial violence in Bengaluru on Sunday, a violent mob allegedly attacked a 21-year-old Tanzanian woman student, beat her up and allegedly stripped her. The mob also set the car she was travelling in on fire. 
According to reports, she was travelling on a where there had been an accident involving a Sudanese student an hour earlier. One woman had been killed and another injured in that accident. While the police has claimed that the attack on the girl was one of "mistaken identity", it's just another example of how nationals from African countries in India have been targeted because of their race. 
Here are four shocking instances in the past five years when India showed it's racist side
Mob attacks duo at Rajiv Chowk Metro Station in New Delhi
In 2014, a mob beat up three foreign nationals at the Rajiv Chowk Metro station in New Delhi after a woman accused them of passing lewd comments. While the woman did not lodge a complaint of harassment with the police, a mob gathered at the site and decided to take the law into its own hands. 
A video of the incident showed how the mob smashed the booth and beat the duo while the police looked on helplessly. The three had to be hospitalized after they suffered injuries on their arms and face. 
Here's the video of the attack
Bengaluru mob assaults group for "creating a nuisance"
While the Sunday's incident may be this year's first, Bengaluru in recent past has had previous attacks that have targeted African nationals because of their race. In March 2015, violence against nationals from African countries were reported in the city. 
In one such incident, a "riot-like" situation prevailed in the Byrathi area after an angry mob sought out, chased and attacked a black couple living in the area. The violence left four injured. The reason for the violence was that locals were reportedly "annoyed" with them for creating "nuisance" in the area.
In another incident in India's IT capital, three youth, including a girl, were beaten up and chased back home by a mob of locals in March 2015. The mob alleged that the altercation was instigated by the foreigners, who they claimed were allegedly drunk. While the foreign nationals initially took refuge in a church to ensure their safety, the mob continued to chase them till they reached their home. The mob also smashed windows of apartment they were living in. 
Racist comments by ministers against Nigerians 
It was an incident that triggered an diplomatic row between India and Nigeria in 2013. A Nigerian national was murdered during an alleged gang war in Goa. The killing had led to widespread protests from Nigerian nationals living in the state who also attacked a hearse carrying the corpse of the murdered individual. While police detained 51 Nigerian nationals for the violence, the incident sparked multiple racist comments from the state's leaders. 
While Goa's then Art and Culture Minister Dayanand Mandrekar claimed Nigerians were a "cancer", Goan parliamentarian Shantaram Naik accused them of misusing educational schemes, violating Foreign Exchange Management Act and indulging in drug trade in the state. 
Signs like "No to Nigerians, No to Drugs" also sprang up in several neighbourhoods after the violence. 
Fatal Attack on student from Burundi in Jalandhar 
Yannick, a student of computer engineering at Lovely Professional University in Jalandhar, lost his battle with life two years later in his home in Burundi.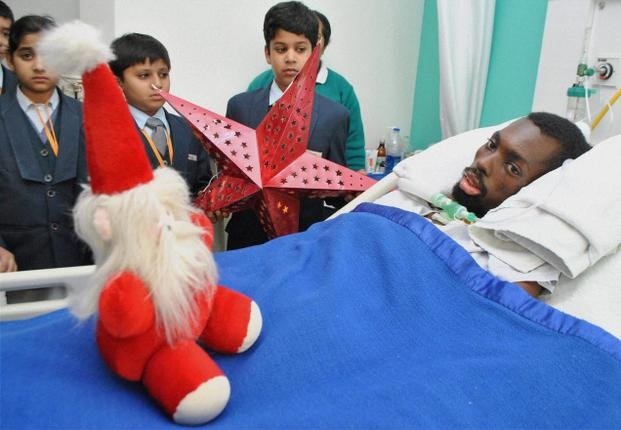 Yannick was thrashed and beaten up after local youths had an altercation with some African students outside a liquor shop. He was targeted even though he had no links with the group that had been involved in the altercation earlier. 
In October, 2013, seven of the nine accused for beating Yannick were convicted and sentenced to 10 years rigorous imprisonment by a Jalandhar court for attempt to murder. 
Somnath Bharti's night raid in South Delhi
During the intervening night of January 15 and 16 in 2014, then Delhi Law Minister and Aam Aadmi Party MLA Somnath Bharti along with some volunteers led a vigilante raid in South Delhi's Khirki Extension claiming that they had a tip-off about a sex-and-drugs racket being operated by some women from Africa there.  
However, the night raid turned into an embarrassment for Delhi government after local SHO of Malviya Nagar police station refused to comply with his orders to raid the house without a warrant. 
In its chargesheet filed in September 2014, Delhi police had mentioned that nine foreign women were victims molestation and manhandling during the raid. 
While establishing that the women were "victims of racial prejudice and unlawful acts" National Human Rights Commission directed Delhi government in November 2014 to pay Rs 25,000 each victim of the January night-raid.
In the aftermath of the raid, Bharti also made racist comments against Nigerians. 
One of his comments, on camera, was that all Nigerian girls and men indulge in prostitution and drug trafficking which is a threat to local maa, behen, beti (mothers, sisters and daughters). He also demanded that 'African people' leave India.
Feature image source: ANI/Twitter