As is the case with all Olympics, hundreds of medals were given away Rio 2016. Around 800 each of gold, silver and bronze. Records were broken, history was made — a certain Michael Phelps & Usain Bolt come to mind — and tears were shed as these medals were given away to athletes who put their life and soul into preparing for the Olympics.
This happens every Olympics. But there is a rare fourth type of medal, which has been bestowed on only on 17 occasions in the history of Olympic games. The Pierre de Coubertin medal, named after the father of the modern Olympic Games, is given to athletes who exhibit true sportsmanship, celebrate the Olympic spirit.
Because, in the words of Coubertin himself, the Olympics is more about participating than winning. It's about embodying the spirit of the games. It's a medal to celebrate "acts of selflessness and exemplary sportsmanship." 
And that elite club grew in number by two as the awards were given out to two athletes who have captured the imagination of the entire world: New Zeland's Nikki Hamblin and USA's Abbey D'Agostino, the athletes who helped each other across the finish line after an accidental mid-race collision in the women's 5,000m.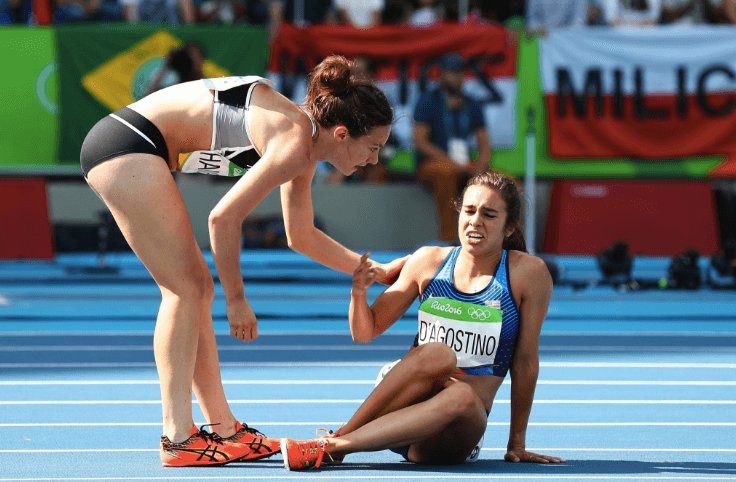 The whole world was enamoured by the sporting spirit shown by the two women as they helped each other cross the finish line, yet again showing there is more to sports than just winning.
The previous winners of the award include long jumper Luz Long, who represented Nazi Germany during the Berlin Games in 1936, and openly befriended Jesse Owens, despite the ostracism of black athletes in that games. The award was also given to sailor Lawrence Lemieux, who sacrificed a near-assured medal, in order to save two Singaporean athletes from drowning!
The drama involving Hamblin & D'Agostino unfolded when American runner D'Agostino clipped New Zealander Hamblin with around 2,000m to go, sending both sprawling to the ground. As Hamblin lay on the track distraught, her hopes for an Olympic medal seemingly evaporated, D'Agostino tenderly helped her to her feet and encouraged her to finish the race.
"I went down, and I was like, 'What's happening? Why am I on the ground?' Then suddenly this hand on my shoulder, like 'Get up, get up, we have to finish this' and I was like, 'Yup, yup, you're right. This is the Olympic Games. We have to finish this,'" Hamblin had said.
"I'm so grateful for Abbey for doing that for me. That girl is the Olympic spirit right there. I've never met her before, like I've never met this girl before, and isn't that just so amazing? Such an amazing woman."
D'Agostino suffered an ankle injury in the collision, but Hamblin deliberately hung back in the field to offer encouragement as the two women completed the race.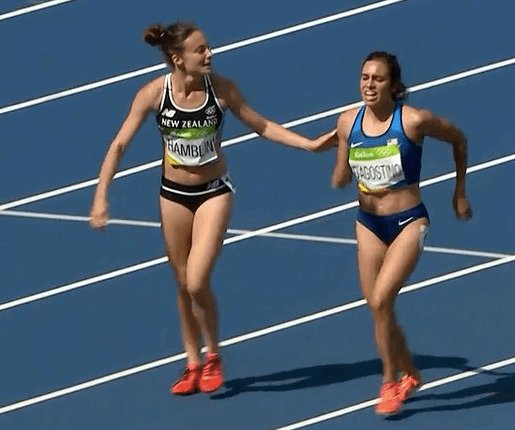 She added:
"If I can even give her like one percent back of what she gave me when she helped me get up off the track that would be amazing. I can't even put into words how amazing it is that she actually finished. When I turned around at the finish line and she's still running I was like, 'Wow'. I'm never going to forget that moment. When someone asks me what happened in Rio in 20 years' time, that's my story."
While Hamblin ran the final, D'Agostino could not. The latter had torn her knee ligaments and had to miss out.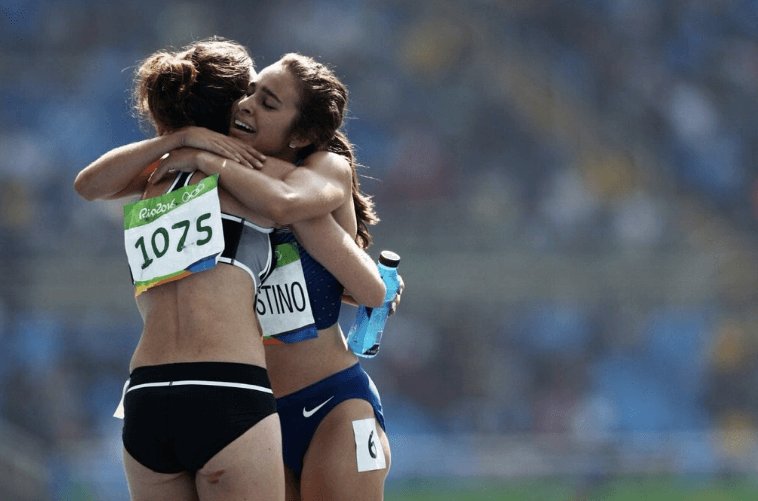 But look at that image above and tell us they are not proud of what they did? It has got to be one of the most beautiful stories, if not the best, to come out of Rio 2016. 
Like the IOC statement said, the D'Agostino and Hamblin story is one of humanity and sacrifice which has already captured the hearts of people across the globe.
And we are sure Pierre de Coubertin was smiling from above, in quiet wonderment.
Way to go girls! The whole world is proud of you two!