The styrofoam cow floated serenely about 50 metres off the ground, held in the air by a blue balloon at the Jawahar Kala Kendra to attract people to the Jaipur Art Summit . It seemed harmless enough. The kind of thing that children look at and go 'wow.'
Then the police arrived and things got messy. "They said it was hurting the sentiments of people. But they refused to say who those people were," Anish Ahluwalia told ScoopWhoop on Monday.
Ahluwalia and another artist, Chintan Upadhyay, were detained by the police on Saturday for putting up the sculpture. They were released later after about three hours.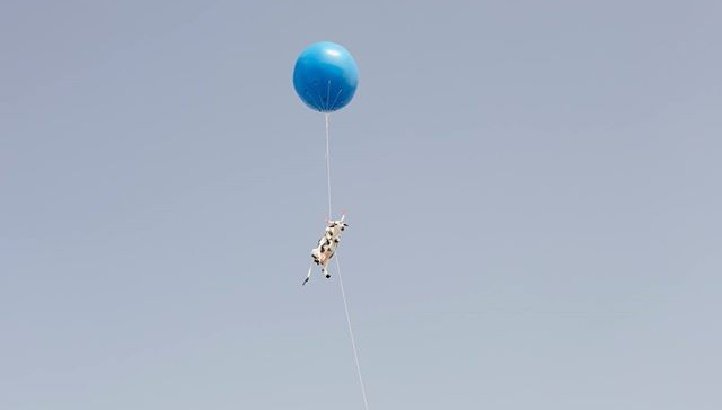 The sculpture titled 'Divine Bovine'. Source: Chintan Upadhyay's Facebook page
Ahluwalia, an artist who is associated with Sandarbh International Artists' Residency, said that the controversial sculpture was created by Siddhartha Karawal and was titled 'Divine Bovine'.
"The sculpture was to talk about the relationship between humans and animals in an urban environment. Many times we see abandoned cows, many of whom die after eating plastic from garbage," he said.
Ahluwalia said that they were roughed up by the personnel of the local police station when they objected to the sculpture being taken down. He said they even brought the sculpture down to the ground, but they were asked to dismantle it completely.
"The police kept saying that we could take the sculpture down and make a painting from which you can send whatever message you want," he said.
But that wasn't the end of it.
"While we were in detention a group of people came and took charge of the sculpture. They performed a puja, garlanded it and shouted slogans like 'Gau Mata Ki Jai'. The police then came to take the sculpture as evidence and had an argument with that group. It is quite ridiculous," the artist said.
The incident made headlines, there was a furore and on Sunday, Rajasthan Chief Minister Vasundhara Raje tweeted:
I am saddened by the incident that took place at JKK yesterday. The Police Commissioner has extended his apology.

— Vasundhara Raje (@VasundharaBJP) November 22, 2015
The SHO and concerned have been removed and I have spoken to the artist personally.

— Vasundhara Raje (@VasundharaBJP) November 22, 2015
So is Ahluwalia happy with the response of the government?
"It doesn't make me happy. The sculpture was for common citizens. Such intimidation can happen to writers or filmmakers also in the future… If people disagree with something they have a right to protest in a civilized way, but you can't do these things," he said.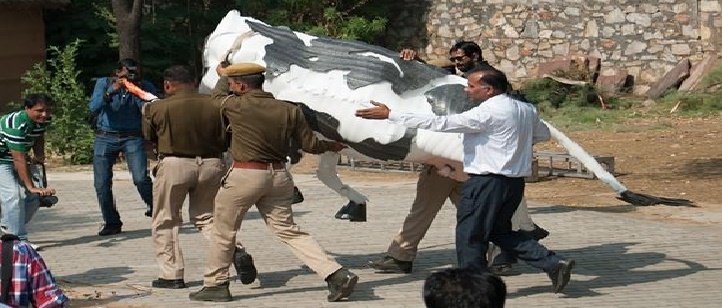 Police officials take the sculpture away. Source: Chintan Upadhyay's Facebook page
However, he said the Chief Minister's statement presented a "small glimmer of hope". The artist said that such responses amounted to the top leadership telling the party's cadre and the police force that such incidents won't be tolerated in the future.
"I hope other police officials will also take note," he said.
While he's never faced such intimidation ever before, Ahluwalia feels such incidents could deter artists in the future.
"Such incidents can be unnerving for artists who are still beginning their careers and their families. It forces self censorship of a kind," he said.
So is it a deterrence to artistic freedom?
"Such incidents create doubt. I feel it creates a sense of terror among people," he said. "If we had made a sculpture of a buffalo then someone could protest it is a vahana of Yamraj. If I use rat they can say it is a vahana of Ganesha. Anything can be made sacred in this manner," the artist said.Ahluwalia pointed out that the intent of the sculpture was to raise awareness about the plight of the cow, and those who protested against it should have been "loving it". "But their lack of imagination and prejudice was so strong that they couldn't see reason," he said.