Yesterday, India was whipped into a frenzy after The Times of India published Kate Middleton's flowing skirt on their front page, so much that it trended all day. While there is no sparing TOI, a look at how the British media is tracking every move of Kate during the India-Bhutan tour will, well, put even the TOI to shame.
So here are some ridiculous ways in which the UK tabloids are recording the visit to the land of "slumdogs".
Kate's 'Marilyn Monroe' moment
Her Royal Thighness – this is what express.co.uk wrote about the Duchess.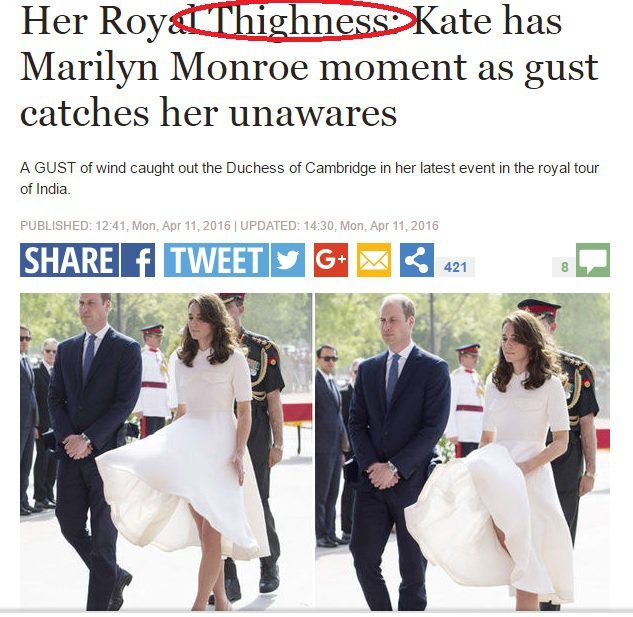 The website also – almost – rebuked her for refusing the Queen's advice in attaching weights to the hem of her dresses.
Kate's 'un-pedicured' feet
This was Dailymail.co.uk's big scoop that kept doing the rounds of social media and, well, got the tabloid considerable flak.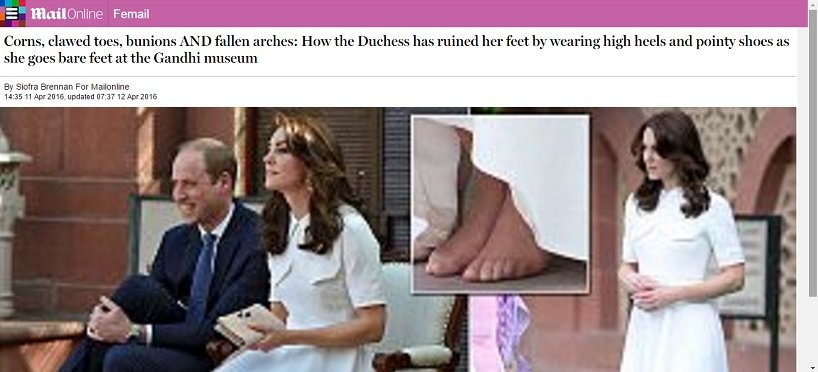 The unforgiving tabloid taunted the Duchess saying,
"While she packed 15 outfits carefully chosen to give a nod to her host's culture and local style – but one element of pre-tour preparation that the Duchess of Cambridge neglected was to get a pedicure."
It also said how Kate hadn't gone in for too much pre-tour preening. But the cake was how they roped in an "expert" who "pointed out several issues such as fifth toe migrating underneath the others, causing Tailor's bunion."
So it happened that when the royal couple was meeting entrepreneurs in Mumbai, William was given the opportunity to make a dosa in an "automatic" machine. William made it, tasted it, declared it "delicious" and offered it to Kate. She didn't feel like, so she turned down the offer. That's it, really. But this gesture of Kate came under great scrutiny of the UK media.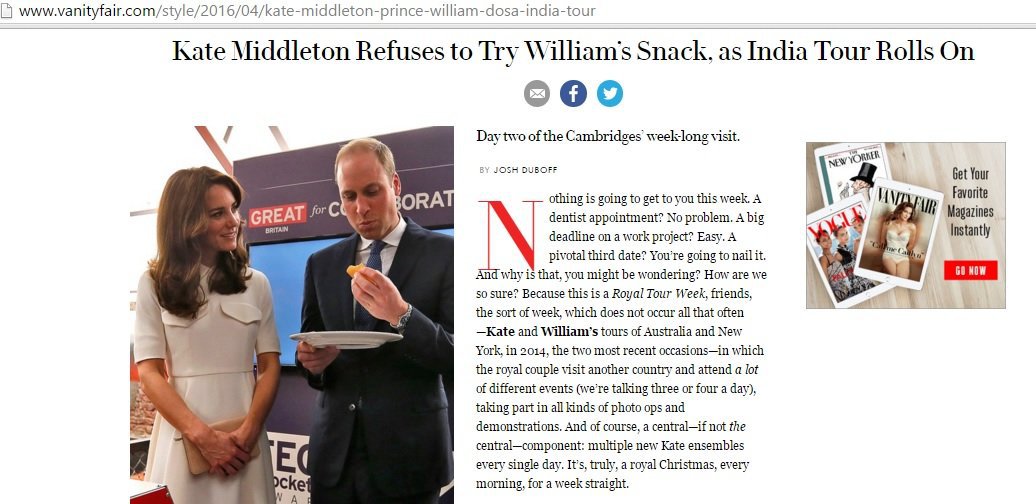 Vanity Fair took a dig at Kate, writing rather elaborately,
"Now, have you ever been in one of those situations where you're at a weird work birthday celebration in a conference room, or at your friend's place for dinner, and you're offered a bite of some sort of food item and you just aren't in the mood for whatever reason, but you feel obliged to say yes, and then you regret that you've had three bites of a food you weren't really in the mood for, just out of some strange sort of social dictum you felt you had to adhere to? Well, next time that happens, remember Kate Middleton and feel empowered and say, "Hey, I'm actually O.K., thanks," and then—if you feel like it—toss your hair back, smile broadly, and wave at an imaginary collection of admirers."
Will-Kate's publicity stunt
Of course, the media is criticising itself over the rather obsessive coverage. An opinion piece in Independent.co.uk ripped apart the British media for haring on the cosmetic and forgetting the harsh history. 
It wrote, "India may have gained independence nearly 70 years ago, but that doesn't stop Kate and William using the country as a playground for their publicity stunt. If we have to watch the two pose with "slum children", lament poverty in India and celebrate an "exotic" culture with cooking lessons, then we could at least do so while telling the truth about Britain's horrendous history. Instead, it's brushed to one side for a good royal photo op."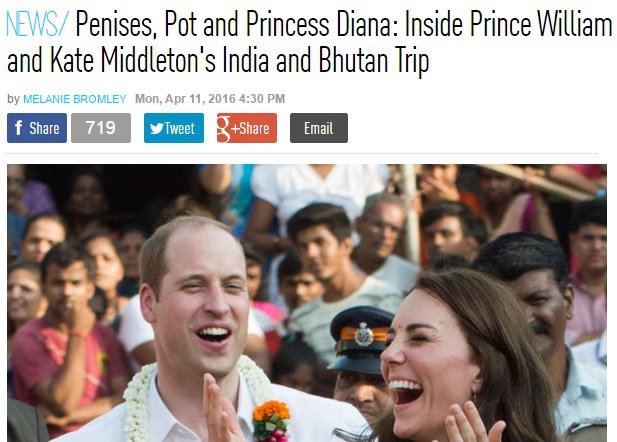 Yeah, your read it right. After a headline like this, www.eonline.com, made this suggestion to Will-Kate:
If they're thinking of giving George and Chlarlotte another sibling… Bhutan might be the place to start practicing. Many of the houses and buildings in the country are decorated with hand-painted pictures of penises. Detailed phalluses are everywhere!