The world's largest cargo aircraft landed in India at the Rajiv Gandhi International airport in Hyderabad on Friday. 
Antonov AN-225 Mriya which is also called as 'The Dream'  (Mriya is Ukrainian word for "dream") has made its first landing in India.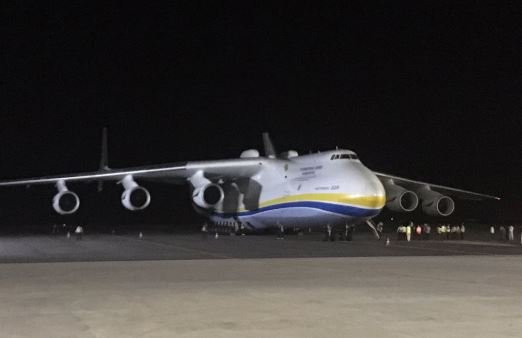 The gigantic airplane came to India as part of a strategic deal between Ukraine-based Antonov Company and Anil Ambani-led Reliance Defence for the assembly, manufacture, and MRO of Antonov platforms in India both for the commercial and the military market.
Watch the video of it landing at the Hyderabad airport here:
#EXCLUSIVE: World's Largest Plane Antonov An-225 Mriya lands at @RGIAHyd #avgeek #Hyderabad pic.twitter.com/8ild0dj8z6

— OMNI FLYERS (@omni_flyers) May 12, 2016
 Here are its awesome features:
It is powered by six turbofan engines and is the longest and heaviest airplane ever built
The plane was developed in the 1980s (had its first flight in 1999) to carry the Soviet version of the space shuttle on its back.

When it was built, it surpassed any airliner built before by 50%.

Specially built to undertake transcontinental route airlifting load between 180-230 tonnes, the aircraft has the maximum takeoff weight of 640 tonnes.
It also has the largest wingspan – twice the size of a football field – of any aircraft in operational service.
The plane can hold the equivalent of ten British battle tanks
It will be used for transport, maritime patrol and military roles.
(With inputs from PTI)
(All images sourced from Twitter| Omni_Flyers)