'Cosplay is Not Consent.' 
The placards are at the Delhi Comic Con just like Comic Cons everywhere else. As the sixth Comic Con India (CCI) wraps up this year with the Delhi edition, there is one subject those attending them rarely associate with the otherwise fun event: sexual harassment.
And those who bear the brunt are the cosplayers, especially women.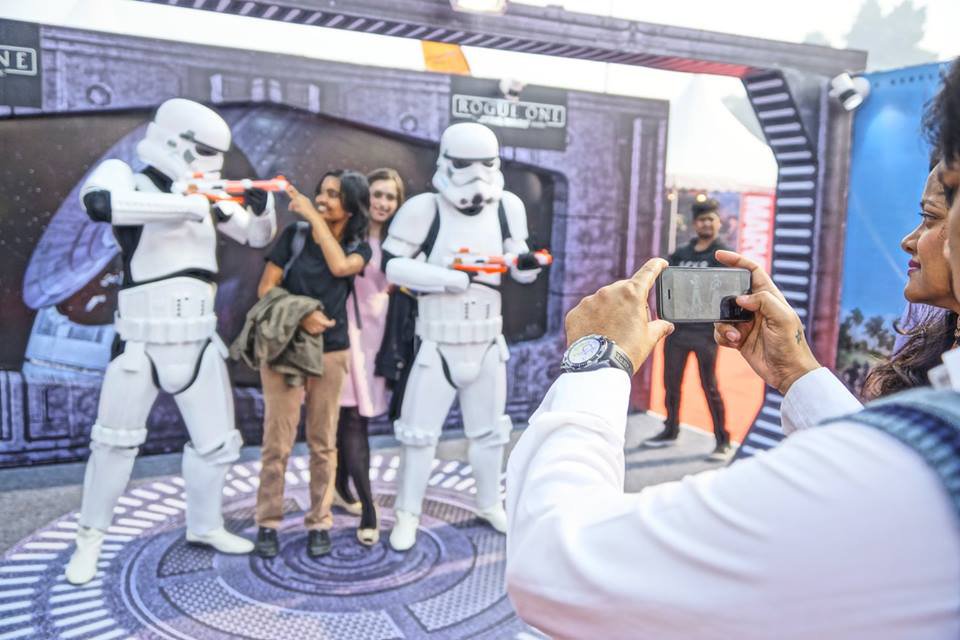 ScoopWhoop News spoke to several members of the Indian cosplay community, spread across the country, about the prevalence of sexual harassment in Comic Cons. And it turns out the biggest problem cosplayers face is the apparent and extremely unwanted 'accessibility' their costume seems to lend them. 
"People don't seem to understand that being in costume is not an invitation to be groped," a Mumbai-based cosplayer told ScoopWhoop News on conditions of anonymity. 
Some have stories of being stalked at comic cons. 
"Guys take pictures from behind without asking for permission. One was following me all around the con in Hyderabad," Amritha Lawrence, a cosplayer from Hyderabad, says. 
Nikita Jadwani from Bangalore, who has been cosplaying for five years, says it difficult to get people to respect their boundaries. 
"Sometimes, a person would want to take a picture with me and then would put their arm around my shoulders or waist when clearly I don't know who the hell they are. And when I ask them, politely, to take it off, they'd call me a 'stuck-up cosplayer," she says.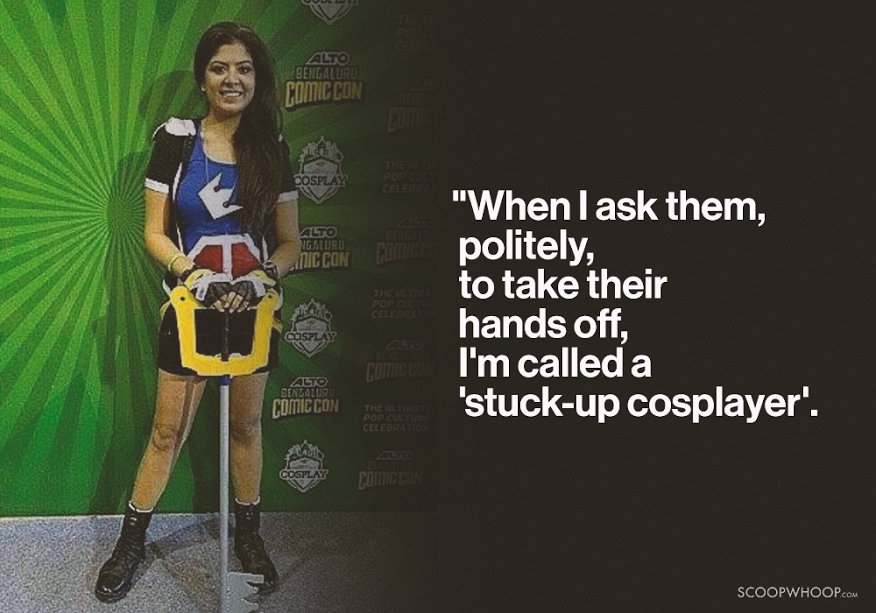 Cosplayers also have to put up with people asking them if they can be touched and if refuse, they are termed "prudes". 
Zara Rebello, a cosplayer from Bengaluru, recounted an incident where she was sexually harassed at an event. 
"I was cosplaying Queen of Pain last year and someone asked me what my breastplate was made of. I answered politely: EVA foam. He then went on to ask if he could touch it "to see how well the foam was sealed" and put his hand out before I could answer," she said. 
Shreanca Bhattacharjee, who is also from Bengaluru, says that people treat them like "show girls".
Sexism in the cosplay industry has been highlighted in the West for some time now. In India, cosplayers say these conventions are yet another avenue for exploiting women since most female characters are expected to dress provocatively.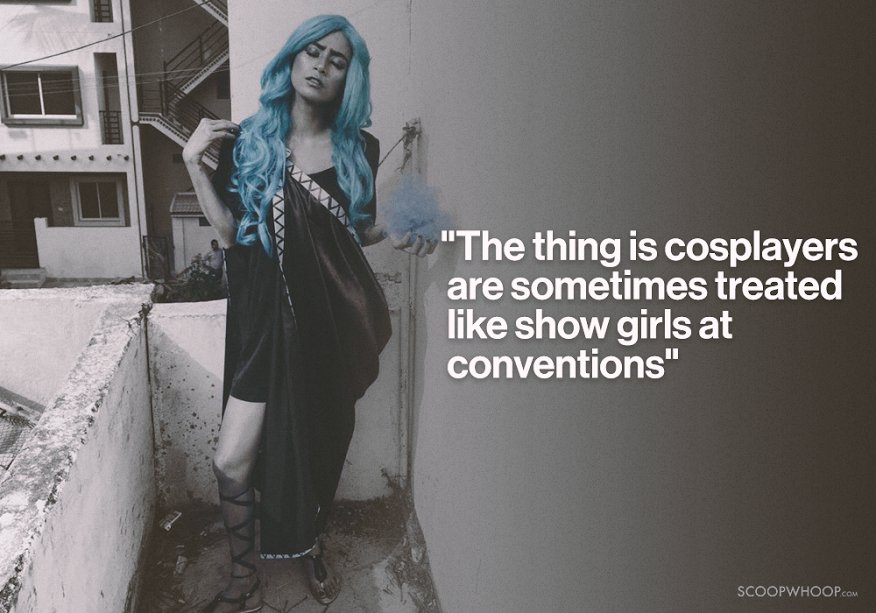 "You're randomly spanked. If you wear a corset, every picture taken will be an 'upwards' angle. I have been groped multiple times, even as part of the security team," cosplayer and comic con volunteer Kelly Gabrielle from Mumbai says.
 A cosplayer from Goa, Christina Alyson David spoke of an incident which ended with her punching a man at the event. 
"At the last Bangalore Comic Con I cosplayed Rangiku Matsumoto from Bleach. The character demanded that I wear a shinigami costume which showed some cleavage. There were a lot of men who just wanted to stand next to me and ogle while pretending to click selfies. One guy even pecked me on the cheek and followed me around. He even passed lewd comments and tried groping me," she says.
But apart from taking matters into their own hands, what can cosplayers do to guard against such perverts? 
"I always have my best friend walking around the con with me ready to bail me out if anything gets too hairy," says a cosplayer from Pune who goes by the name Gaurilla.
She also says that though it is not the ideal solution to the problem, but wearing bigger and more complicated costumes helps keep the creeps away. 
"Larger the con, larger the costume so I can maintain my personal space radius," she says.
Karnik also claims that though volunteers are always around to help, they cannot be everywhere. and because comic cons are so crowded, it is usually impossible to track down offenders. 
And the harassment isn't limited to just women. 
Cosplayer Pranay Bhan from Mumbai told ScoopWhoop that during the Mumbai Comic Con this year, two girls spanked him and ran away giggling.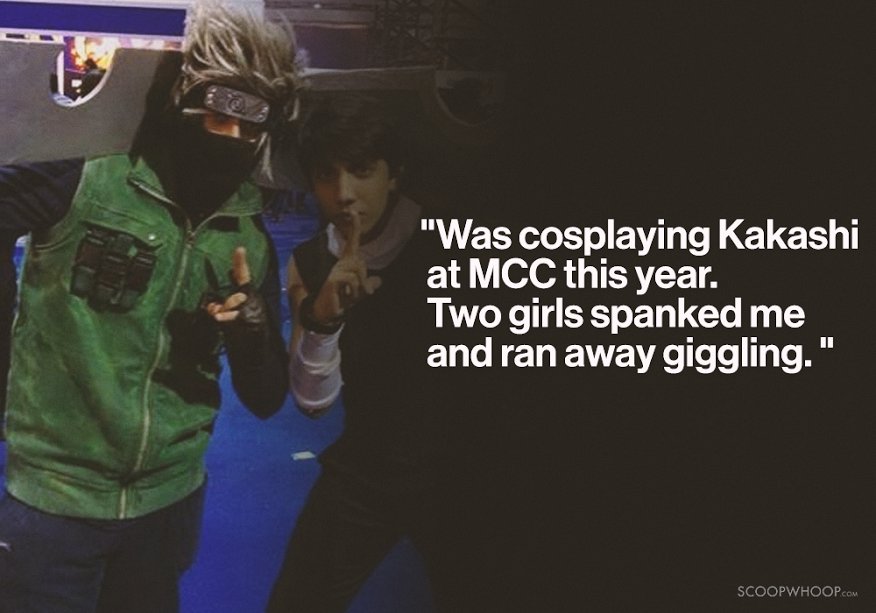 Cosplayers Nishad Nadkarni from Mumbai and Bharat Kumar from Hyderabad complained that people did not respect the costumes and props used by cosplayers for their act. 
Cosplayers usually make their own costumes and props, and damage to them by ignorant and brash crowds can be extremely upsetting for cosplayers. 
Gaurilla said that such events were usually the result of people not knowing how to interact with cosplayers.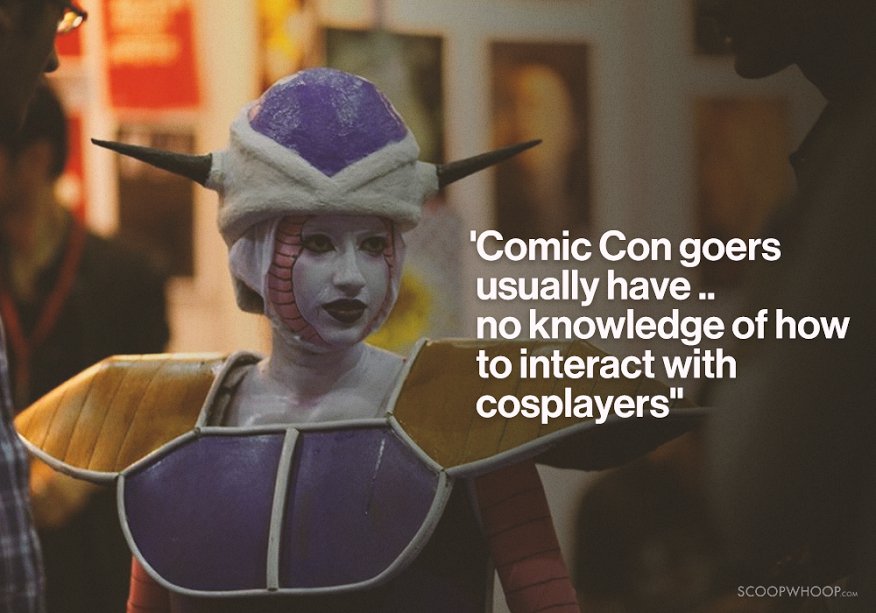 Currently, little is done to ensure the safety and dignity of cosplayers, who are an integral part of comic cons. There is also little room for cosplayers to change in, leaving them vulnerable to voyeurs and unwanted attention. 
But just increasing security will not completely safeguard the players, says Christina Alyson, a cosplayer. She says cosplayers should be given the right 'to get creeps out of the way, no matter what it takes'.  
There should be a volunteer team for cosplayers' safety and every violator's details should be noted and handed over to the nearest police station, Alyson says. 
Cosplayers claim that volunteers and staff of Comic Con are always helpful, as are other cosplayers and the 'nerd-geek' community, which is open-minded and has a sense of humour. 
Cosplayers also see one major problem: the problem is still a dirty secret.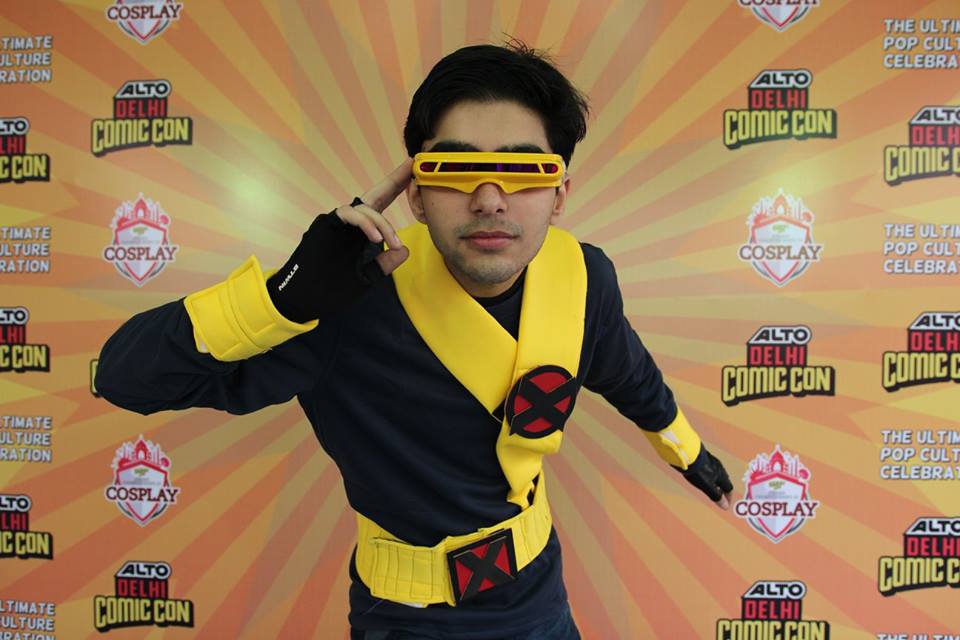 Since the community is a close knit one, often offences are committed by friends or friends of friends. The community usually tends to maintain a silence about harassment except in private social media groups and chat rooms. Which makes it more important for cosplayers to highlight such incidents publicly and stand for their rights. 
As a 21-year-old cosplayer from Delhi said on condition of anonymity, "The only way to deal with sexual harassment in any situation is to stop denying it happens."
Feature Image Source: Reuters