Shoaib Akhtar has laughed off claims by Indian off-spinner Harbhajan Singh that he and Yuvraj Singh were once beaten by the former pacer in a hotel room in Pakistan.
"I think he has made a big deal of it. Yes it did happen during 2004 when we were playing a Test in Rawalpindi. But it was nothing serious and all fun," Akhtar clarified.
"Basically we were horsing around and doing some arm wrestling and that is all but no Bhajji and Yuvi are my younger brothers no question of beating them up," Akhtar said.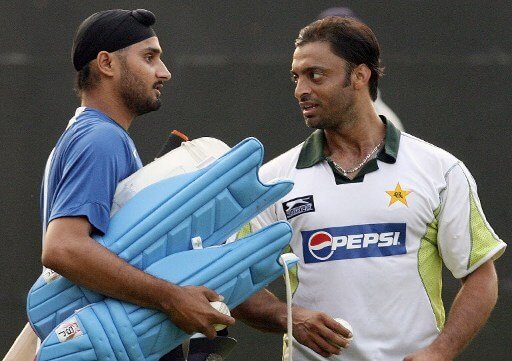 Harbhajan narrated the incident during a show on an Indian television channel and his claims were highlighted by Pakistani media.
Akhtar also said that any rivalry with Indian players was always on the field and not off it.
"They got along well with me and used to come to my room and have dinner together. Yuvi wanted to go for sightseeing in Islamabad. We have been good friends so how can I beat them," he remarked.
Inzamam-ul-Haq who was Pakistan's captain in the Test confirmed that such an incident had taken place in the hotel room.
"But Shoaib was always very muscular and strong and even hugging him or shaking hands with him could be painful for other players," Inzamam joked.
Feature image source: AFP