Cute babies of Instagram have our heart! From little ones who play with dogs to sibling bonding that has us going awww, we just can't get enough. Now, there is a new video on the block that will leave you in happy-tears with all this love in one frame. 
Insta-famous mom Jennifer Borget loves posting videos of her children on Instagram. In her recent post, her adorable toddler can be seen waiting for her older sister to return from school. After waddling towards her older sibling, the sister share a heartwarming embrace that is winning the internet!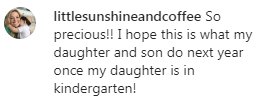 People are in love with this sister duo and we don't blame them, this precious moment is too sweet!