Smart cities may be Prime Minister Narendra Modi's latest mantra but a remote non-decrepit, insurgency-ravaged village in Assam along Indo- Bhutan border has earned the distinction of being northeast's first smart village. 
Barsimaluguri, about 11 km from the Indo-Bhutan border, in Baksa district has been turned into a model smart village with hundred per cent toilets, solar power and pure drinking water, following an initiative taken by a few individuals under the aegis of Nanda Talukdar Foundation (NTF).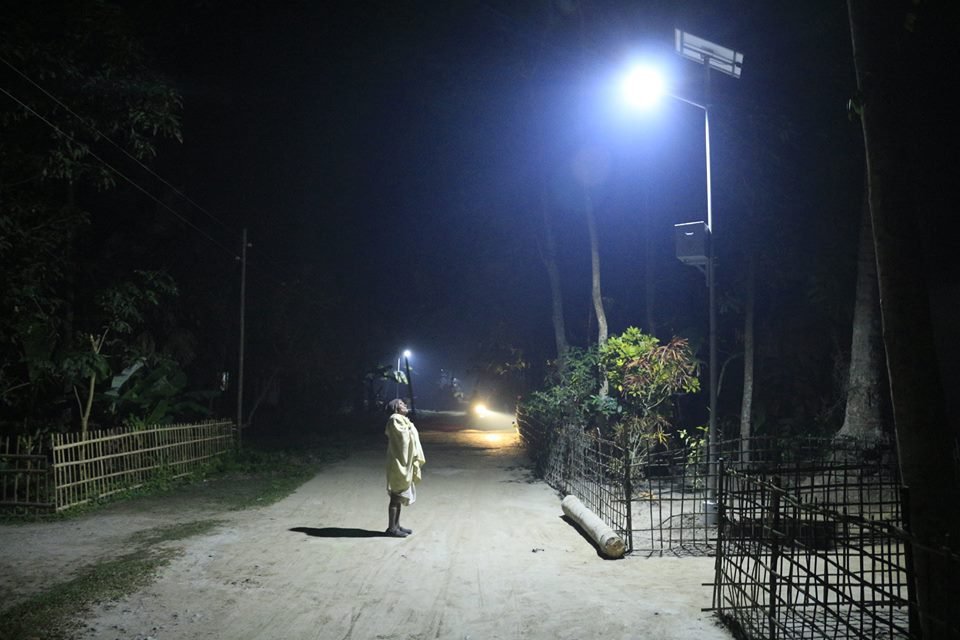 There are more than 20,000 villages in Assam with numerous government schemes being implemented but none has been transformed into a smart village. 
We decided to concentrate on one village and turn it into a model village, independent of government schemes," NTF Secretary Mrinal Talukdar told PTI. 
The idea of turning a village into a smart one germinated in 2014 when "I along with a consultant friend, both spurred by the zeal to do something positive in rural Assam, dared to dream to turn a village ravaged by NDFB insurgents into a model village," he says.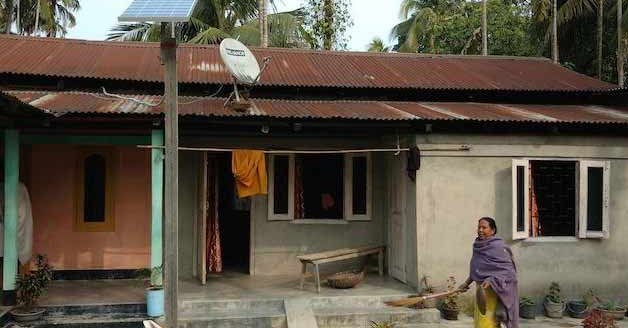 "We have worked along four main verticals — alternative energy, drinking water, sanitation and skill development and also initiated several other intervention works ranging from development of educational facilities, playgrounds, health and legal camps along with the establishment of a yarn bank," he says.
 Talukdar and his consultant friend Aniruddh Goswami had the Detailed Project Report (DPR) ready by 2014 but the task of finding a sponsor was not easy with many organisations approached being sceptical of the project. 
"Some were not sure whether we could successfully implement the project while many others rued why just one village? We were, however, not disheartened and our struggle to find a sponsor continued. Finally, the India Infrastructure Finance Corporation Limited (IIFCL) stepped in to finance our dream project," he adds.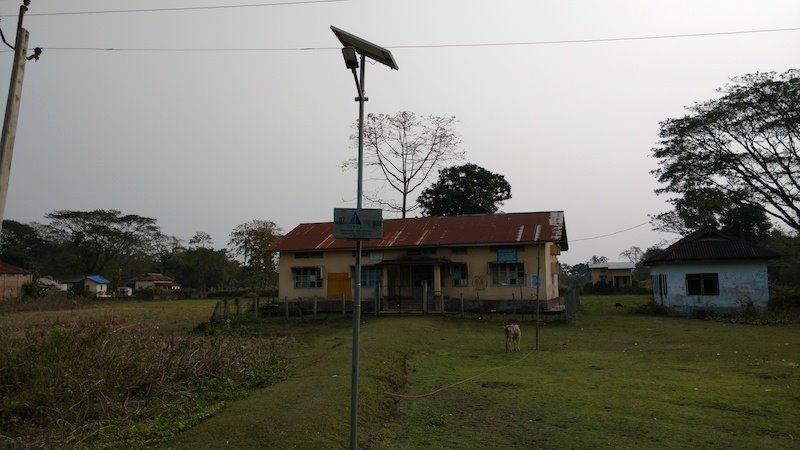 The work to turn Barsimaluguri, a hamlet of 234 households of farmers, small traders and daily wage earners, into a smart village began on January 15, 2015 and the first step in this direction was to set up a model village working committee led by villagers Dinesh Bhuyan and Dipu Choudhury. 
The first work initiated by the committee was setting up the water purification plant and now this village is perhaps the only one in the region to have a reverse osmosis plant. The plant is maintained by the village development committee and villagers pay a nominal amount of Rs 120 per month for maintenance, Talukdar says.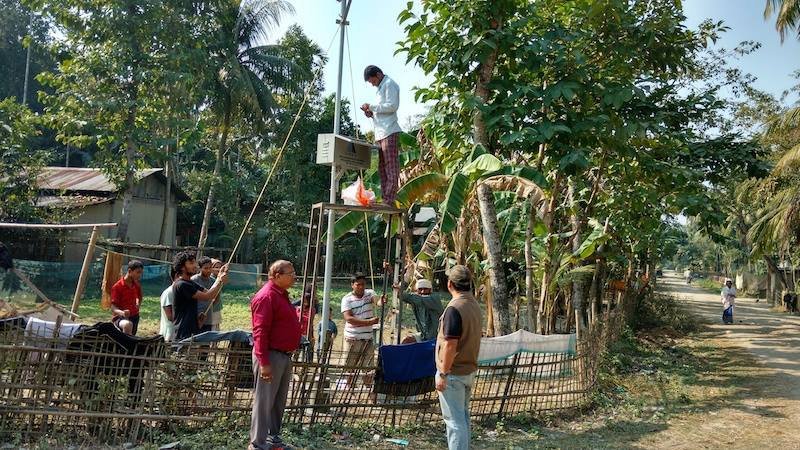 "Earlier, we were spending more than Rs 300 on medicines due to illness caused by water-borne diseases and so making a payment of only Rs 120 to lead a disease-free life was more than welcome," says Choudhury.
 Following the establishment of the water treatment plant, the next step was to set up toilets as most households practised open defecation. "The target was to set up hundred toilets within a year and the task was not easy, particularly during the monsoon but we did manage to complete it at a cost of Rs 16,000 each," Project Coordinator Surajit Dutta says.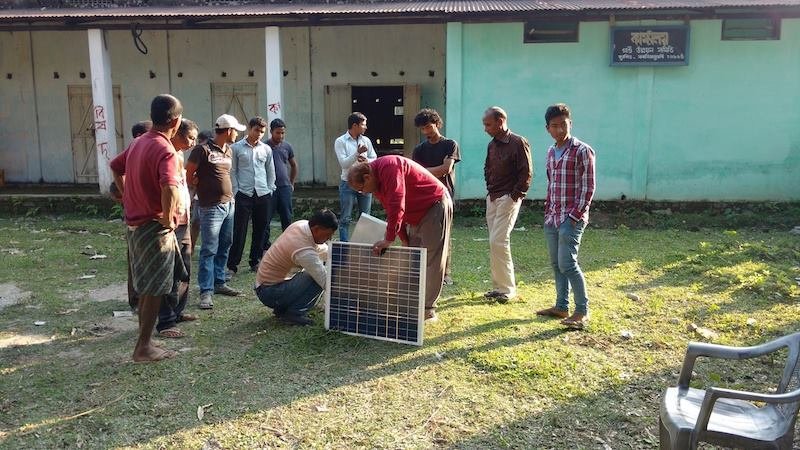 The highlight of the project was, however, providing solar power to homes as well as for street lightning, literally bringing a ray of light for the villagers, he says. Solar Home kits were provided to hundred households and the Rajasthan Electronics and Instruments Limited helped with technical assistance is setting up these panels. 
The Solar Home kits consist of a battery, solar panel, transformer, three LED lights and one fan. Another key area which the project has emphasised on is skill development with several training programmes conducted for weaving, cutting and tailoring along with basic computer courses where ideas were discussed with trainees to maximise their skills and turn it into revenue streams, Dutta says.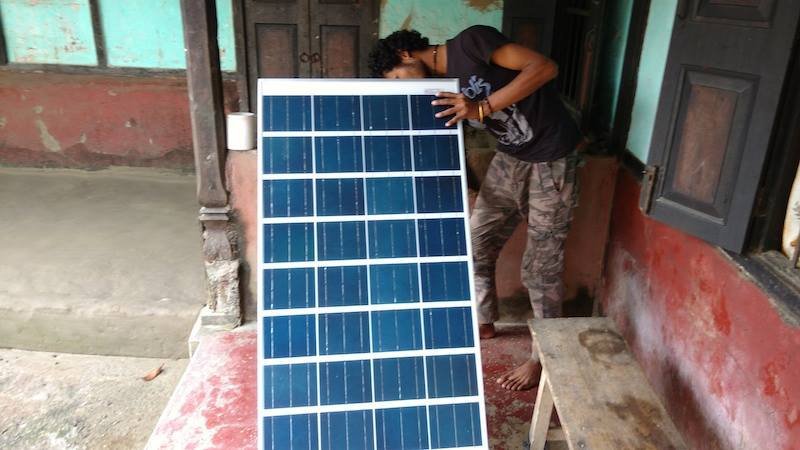 A yarn bank has also been set up in the village which will be managed by the Village Women Committee with an initial deposit of 40 kg of yarn made by NTF while subsequently the Committee will run the bank on a sustainable model.
A warping drum has also been provided to the committee as the weavers had to travel earlier to distance places to get their yarn warped. Several health camps were conducted during the year with free cataract operations being also carried out along with legal and financial awareness camps.
 "We have completed within a year what we had dreamt of and turned Barsimaluguri into a smart village with its residents committed to bring in more improvement in the future," Talukdar adds.