To raise funds for education of millions of underprivileged children in India, Australian ultra marathoner, Samantha Gash is set to begin a 3,800 km run across India.
Kicking off from August 22, Gash will attempt to run nearly 3,800 km from Jaisalmer in Rajasthan to Mawsynram in Meghalaya within a period of 76 days.
A former lawyer by profession, the 31-year-old has taken this Run India project challenge to raise funds to support six World Vision Area projects that focuses on education.
"This is the biggest challenge I have ever undertaken. When you consider the challenges many children face on a daily basis, this is not comparable," she said.
On choosing the world's second largest populous country to run, Gash said "I fell in love with India's diversity. But the problem children here face are heart breaking. I am ready to make my hands dirty to make sure their hands are clean."
The Run India project aims to raise funds to support six World Vision Area Development Projects that focus on education in Jaipur, Barmer, Kanpur, North-West Delhi, Hardoi and Pauri.
Australia's High Commissioner to India, Harinder Sidhu also appreciated Samantha's determination and vitality. She was pleased that Samantha's run will raise money for less-privileged children's education in India. 
"I commend Samantha for undertaking such a challenging adventure. Her run is in keeping with the spirit of adventure for which Australians are known," Sidhu said.
When asked if she would be following a special diet plan during the run, she said "What is the meaning of reaching out to Indians if I don't taste the Indian cuisine? I will love to have dal, roti, palak paneer. But will definitely avoid high carbs."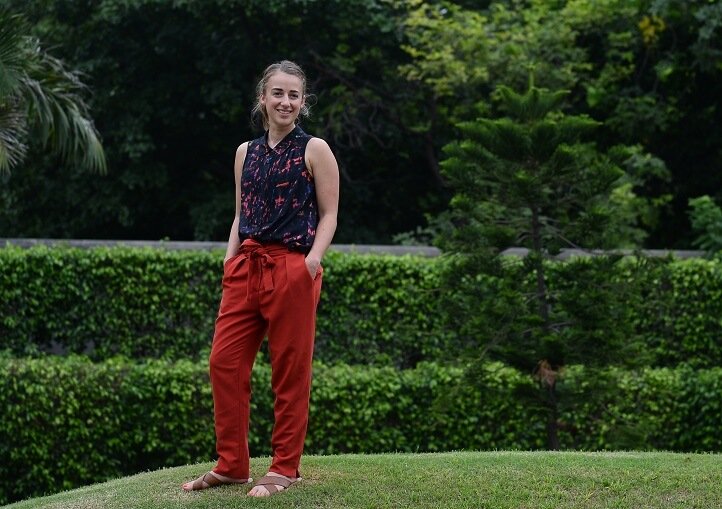 In 2010, Gash became the youngest person and first female ever to finish the Four Desert Grand Slam. At 25 she was the youngest person to attempt the race.
She has run through some of the extreme locations. From deserts in Chile, China, Egypt and Antarctica, to the mountains of Nepal, New Zealand, India.
The journey of her 2010 marathon has also inspired a movie named 'Desert Runners' in which she is the main character.
She follows a mantra to reach out to people -"use what you're good at to impact what you are passionate about".
Samantha is the second ultra marathoner to take such a challenge this year. In January- March, former Australian ultra-marathoner Pat Farmer undertook a 4,600km run through 12 states from Kanyakumari to Srinagar.